The 7 Best Airports In The World
What are the best Airports in the world? When it comes to flying, we not only take into account the airlines that are most convenient for us to make our trip, but also the airports through which we will have to pass. In order to help you plan your next trip, we bring you this article with the best airports in the world.
Throughout the world there are many airports that stand out for the use of ultra-advanced security systems, to ensure greater peace of mind for travelers. 
Other airports stand out for offering a range of opportunities for leisure and entertainment in their facilities, to avoid endless waiting between one flight and another. 
In some airports, on the other hand, it is preferred to offer more common services and focus their excellence on the use of their spaces, maintaining incredible order and cleanliness, and on ensuring that all services comply with strict compliance with regulations.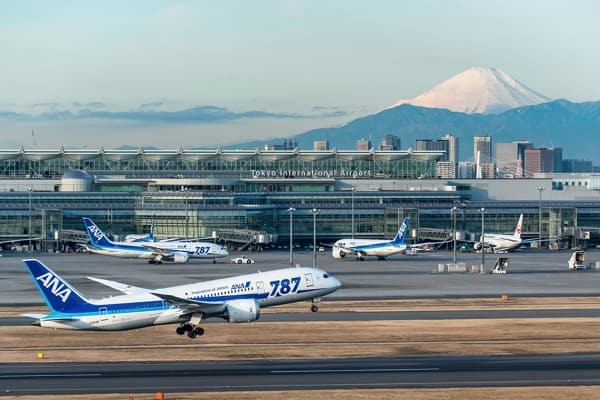 To highlight some of the airports around the globe, we could say that Singapore airport enjoys the prestige of being one of the best airports in the world. Then followed by Haneda, in Tokyo, where you will not see a single piece of paper on the ground. For its part, the Hong Kong airport offers a wide variety of services, including an IMAX cinema. Without a doubt, this place can be extremely tempting for lovers of 3D.
Do you want to know which are, according to the statistics made by travelers, the best airports in the world?
Top 7 Best Airports In The World
1. Changi (SIN), Singapore
Changi Airport in Singapore is one of the best rated in the world. It is the largest airport in Asia in terms of movement. It has been recognized for several consecutive years as one of the best in the world.
This airport is located about 20 kilometers from Changi and has been operating since 1981. It is managed by the Civil Aviation Authority of Singapore.
More than 81 international airlines fly to 200 different destinations. Every week, between arrivals and departures, it accounts for about 5,000 flights. It also has a very good image and has received numerous awards for its careful management.
On an aesthetic level, it is an extraordinary building, with interior gardens and all services, provided with the latest technology in communication and comfort. For any traveler who has to wait at this airport, they will not mean sad hours but hours of total enjoyment.
2. Haneda (HND), Tokyo
Haneda International Airport is one of the key engines of the Japanese economy, and one of the highest-rated airports in the world. In addition, it is the cleanest airport in the world.
It is located 20 kilometers from the metropolitan area of ​​this city and is among the most congested airports in the world, due to a large number of flights and passengers that pass through it.
It is managed by the Tokyo Aviation Bureau and receives around 80 million passengers each year.
Historically it was an important site. It was opened in 1930 as Tokyo-Haneda International Airport. In 1945, during the American invasion, it was used as a military base and changed its name to Haneda Army Air Base. But in the 1960s it regained its original name.
Clean, tidy and technological. Three adjectives that come in handy for this airport. A place that will surprise you a lot.
3. Incheon (ICN), Seoul
Anyone who has been to Incheon, Seoul's airport, knows that it has a well-earned reputation as one of the most important and valuable airports in the world.
It is the largest in South Korea and one of those with the highest global traffic in the world.
It was founded in 2001 and began operating in place of the hitherto domestic airport, Gimpo International Airport. It is run by the South Korean government and has impressive facilities.
It has a varied and solid leisure offer, including a golf course, a casino, a dance hall and a museum where we can get in touch with Korean culture and history.
It is the most technologically advanced airport in the entire Asian continent; Due to the threats of terrorism and epidemics that devastated the region, it was essential to work intensely on those aspects specifically. And, thanks to this, it has achieved a unique prestige in the world.
4. Heathrow (LHR), London
In the United Kingdom, the most prestigious airport is Heathrow, located in London. It is the airport with the highest passenger record in Europe. Some 66 million people pass through its facilities each year.
It is located in the district of Hillingdon, in Heathrow, west of the city of London.
It is divided into five terminals, provided with all the comforts and technological innovations for this type of building. Its newest terminal, the Terminal, is one of the most modern in the world. It has an ecological and intelligent air conditioning system. Its construction was carried out by the same team that built the Warsaw airport.
It is managed by Heathrow Airport Holdings. Connect with more than 180 destinations around the world. Every year more than 80 million passengers pass through this airport.
5. Hong Kong (HKG), Hong Kong
Hong Kong airport is one of the largest in the world. More than 100 aircraft lines pass through it, heading to more than 180 different destinations.
It is operated by the Hong Kong government. It has been operating since 1998, annually receiving some 72 million passengers and up to 420 flights.
It has two separate and well-ordered terminals to manage the entrances and exits in the best possible way. Other buildings that complement the area are used for administrative procedures and procedures related to baggage and claims.
As a curiosity, it should be noted that in the airport itself there is an IMAX cinema with capacity for 350 people. It also has a flight simulator, which symbolizes an excellent opportunity to find out what the pilot of an airplane experiences. Are you going to miss it?
It is also the airport with the best gastronomic offer in the world.
6. Hamad (DOH), Doha
In Qatar we find another of the most interesting airports in the world, Hamad's Doha.
One of the fundamental characteristics of this airport is that it has a wide network of terminals, complex and orderly, which allows it to receive a large number of travelers without congesting its spaces and faithfully complying with the scheduled times for arrival and departure. of their flights.
It is an airport equipped with the highest technology to offer security and comfort to tourists who pass through it.
It is also the most luxurious airport in the world, so any delay or waits in its facilities does not mean a moment of discomfort or unpleasantness at all. However, it is also an airport where flights leave with impeccable punctuality.
7. Munich (MUC), Munich
In Germany, they have a highly valued airport, Munich. It is located 44 minutes from the city center, with which it is connected through the Munich suburban network.
It was opened in 1992 and is operated by Flughafen München GmbH. It is divided into seven terminals, neat, clean and equipped with the latest technology.
It has a large number of flights and connections to destinations around the world. Every year some 44 million passengers pass through it and some 405,000 flights are made annually.
In the facilities of this airport, we find a great gastronomic offer. In addition, it has massage stations and even cabins where you can take a nap. And a museum in which to reflect on the concept of time.
Read Also: The 10 Most Powerful Armies in the World
We have come to the end of the topic "best airports in the world", we hope you find this piece of information helpful, kindly hit the social media buttons below to share this.