How To Book An Appointment In American Embassy 2022 (Nigeria)
Do you need information on how to book an appointment in American Embassy? Every Nigerian dream is to visit America at least if not for work then for a tour or visit of friends or family members. Nevertheless, this isn't a Nigerian thing alone, it is so all over the world and certainly, because America is a world power and a very organized country.
For the records, America's economy thrives even during the global meltdown and the security of their citizens or visitors is top-notch compared to other countries of the world, you now see the reason why America is the first in the mind of the majority?
We are in the era of technology improvement and America leveraged this to provide a fast modern-day bureaucracy using digitalized infrastructures, this is why you are only allowed to book your American visa appointment online via your mobile or desktop gadgets.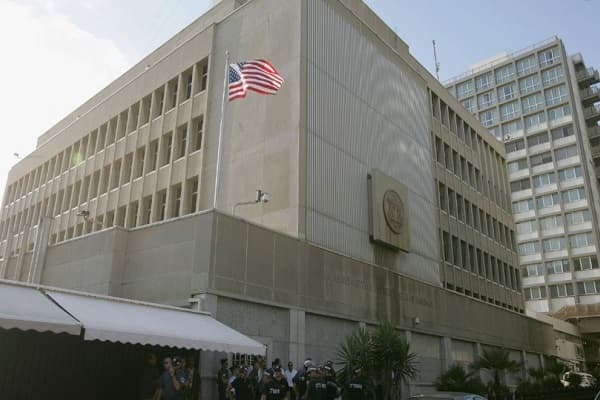 For Africans mostly Nigerians and other continents of the world you cannot visit the United States of America without a visa issued to you by the American Embassy, you either apply for a temporary stay visa or a permanent residence visa.
Without further ado, let us go straight to the reason why you are here which is how to book an Appointment in the American embassy.
How To Book An Appointment In American Embassy
The United States of America has made the booking of an appointment a stress-free process as it can only be done through the call center or through an online application after which you will be given a date to appear in person either in Abuja or in the Lagos consulate general, below are the methods of booking an appointment:
1st Method: Online Appointment Booking
This is the first and most preferred method on how to book an appointment in American Embassy. To book your appointment through the American embassy online application you need to follow the below steps:
Launch your browser and visit this address (https://cgifederal.secure.force.com/?language=English&country=Nigeria)
A form will be displayed where you are expected to input your email address and password to log in, if you are a new user you have to click on "New User"
For new users input information like your valid email address, First Name, Last Name and password
Complete the captcha to show you are human and not a bot
Now you can proceed by submitting the form to book your appointment
2nd Method: Appointment Booking Through Call Centre
If you do not want to make use of the first method on how to book an appointment in American Embassy which is done online then you can book via phone call, a call center agent will attend to you and you are expected to supply every information the person requested from you.
Below are the available phone numbers you can call:
For calls from Nigeria (+23412278955)
For calls from the US (+17035202575)
Terms & Conditions Guiding Your Application
Here are the terms and conditions that guide the application for American visa:
Fees paid by applicants are non-refundable
It is important you are aware that applying for American visa doesn't guarantee entry into the United States
The permission to enter is only granted by a Department of Homeland Security (DHS), Customs & Border Protection official (CBP)
Once granted a visa and permission you are allowed as a foreign citizen to travel to the United States
You will not be allowed to enter the U.S. with an expired visa so make sure you travel based on the date range allocated to you
What Are The Documents Needed For The Visa Interview?
It is important you get all your travel documents ready before applying online or via phone call to book an appointment, we have listed below the needed documents for your interview when called:
You need a valid passport and should have excess 6 six months at least prior to the duration of time you will be staying in the U.S.
A copy of your visa application payment receipt from your bank
Your DS-160 confirmation page print out
Finally, you will be required to tender your valid phone number and e-mail address
Medical Examination For U.S. Visa Appointment
It is mandatory for every visa applicant to complete a medical appointment through an "authorized physician" in your country, this is made compulsory by the United States Citizenship and Immigration Services, it is also the right thing to do for the benefit of the applicant and also for other citizens of the country you want to visit.
The medical process and report will only be done through a US Embassy-approved doctor, using a different doctor's report won't be accepted as valid.
What is the medical examination process? The authorized doctor will carry out rigorous medical checkups on you by examining your ears, eyes, throat, nose, heart, abdomen, lungs, skin, extremities, external genitalia and lymph nodes. You will also need to bring along copies of your immunization records.
Notable Points When Attending US Visa Interview
Following the process on how to book an appointment in American Embassy and after your application, you will be called upon to attend an interview so before going for that we need to get you well prepared in order for you not to have issues that are preventable.
Once you get to the embassy the officer that will handle the interview is the consular officer who will make some brief collection of information from you and also scan your fingerprint.
You won't be spending all day at the embassy so you are not expected to come in with food, laptop, bags, backpack or other materials irrelevant to the purpose of the interview, you are only allowed to come with your travel documents and you need to dress in a smart and simple way.
Quick Arrival At The Consulate
You need to take this seriously as if you are attending a job interview, in short even more than when you are seeking a job, we advise you to arrive at the consulate on time at least 20-30 minutes earlier so you can be calm before the interview. Once you arrive you will be placed in a queue in a comfortable space.
Fingerprint Verification
Once it is you get to the embassy entrance you have to pass through some security checks like scanning and verification of your fingerprint, passing through a metal detector scanner e.t.c.
Once that is done you will be given a token which will enable you to have your interview, further information will also be made known to you.
The Interview
Now, this is the final stage and you are being directed to a lounge area where you need to wait till when your name is called, make sure you have all your documents well arranged then once called you move into the interview office and present every document the interviewer ask of.
Read Also: How To Book An Appointment In German Embassy (Nigeria)
With this guide on how to book an appointment in American Embassy and on the completion of your interview, we hope you get approved, you will be notified if you have been approved for your visa before leaving the office. We wish you the best of luck.