NIMASA Salary Structure 2022; Official Update
For those seeking to know about NIMASA salary structure, we have listed the official NIMASA Salary scale based on grade or level. Nigeria Maritime Administration and Safety Body (NIMASA) is a government-owned agency that oversees every operation all over Nigerian waters or coastline.
The body makes sure optimum security is maintained on goods coming into the country and those going out to other countries. With such a duty to be discharged, you need no one to tell you that the pay will be better than other regular professions out there.
So, if you have been trying to imagine or guess the amount NIMASA pays its employees then you will find the right information in this article. We will reveal NIMASA monthly salary and the sum of NIMASA salary annually with compensations and bonuses included.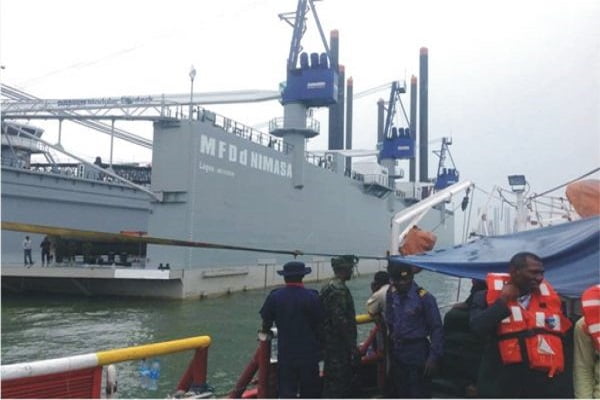 Before we move to NIMASA salary structure we will like to inform you of the duties NIMASA as a body performs, its purpose, and also the duty of the staff of this great agency.
The Nigeria Maritime Administration and Safety Body
The Nigeria Maritime Administration and Safety Body (NIMASA) was established on August 1st, 2007 and its purpose is to regulate the maritime industry in Nigeria and also enforce laws when needed.
Before it was formerly known as the National Maritime Authority (NMA), the institution is into the management and regulation of Nigerian shipping, maritime labor and coastal waters.
Currently, NIMASA headquarters is located at Maritime House, No 4, Burma Road, Apapa, Lagos, Nigeria.
NIMASA also undertakes inspections and provides search and rescue services, it has been in charge of monitoring the domestication of the International Maritime Organization (IMO), International Labour Organization (ILO) and other related bodies.
Read Also: NNPC Salary Structure – Check How Much NNPC Staff Earns
Aside from the formal duties mentioned NIMASA is also into pollution prevention and total control of the Nigerian Marine environment which has been so useful in maintaining a clean, dirt-free and green marine environment.
The Functions Of NIMASA
What are the functions of NIMASA? We have listed the functions below:
NIMASA is a body responsible for the regulation of waterways-related movement or transport, it also handles the certification of seafarers and issues licenses to shipping companies.
The agency has safety requirements and measures in place, it also provides marine training to new staff or officers.
NIMASA is a regulatory body that handles shipping-related matters of seafarers or merchants and ensures the improvement of this service.
The agency is also actively involved in rescue missions or services, and maritime searches based on possible events.
NIMASA is an agency that gives recommendations during shipbuilding and also ensures maximum security is in place on all vessels.
There are laws that guide shipping and activities carried out on Nigeria waters, NIMASA ensures those laws are enforced, it also gives guidelines and makes sure security guidelines are well followed.
NIMASA is also in charge of preventing pollution in the sea and preventing contamination of the sea in any manner.
Ensures that all flag state-related or port duties are completed and operate as intended.
NIMASA provides full security for the shipping industry and also protects the water domain.
During shipbuilding, the agency is always on-site and makes sure ships are built to their standards, it monitors the process and ensures safety is guaranteed through the enacting policies, tactics and programs before full ownership is given.
NIMASA SALARY Structure
For job seekers and those who have developed an interest in working in a maritime organization NIMASA is a good option for you, the agency ensures the welfare of its staff is well handled through attractive salary, this is expected as the agency is one of the leading agencies in Nigeria.
The salary of employees at NIMASA is made through CONRAISS (Consolidated Research and Allied Institutes) Salary structure/scale means you will be paid based on your grade level and experience.
Below we have listed for you the current NIMASA Salary structure:
Entry Level
For entry-level staff the Nigerian Maritime Administration and Safety Agency offer around ₦100,000 – ₦150,000 salary monthly, from the lowest you earn more as you gain more experience in this level and by the end of the year you should have earned up to ₦1.2 – ₦1.8 million.
Grade Level 7
For level 7 staff they are paid ₦90,000 monthly salary and it means at the end of the year a grade level 7 employee would have earned up to ₦1 million.
Grade Level 8
For level 8 staff or employees, they are paid a monthly salary of ₦103,988 and all through the year their earnings will be a total of ₦1,247,854.
Mind you, the payment is prior to taxes and other deductions, bonuses and some mouthwatering benefits are also added, the salary scale of NIMASA can also change based on new policies being put in place.
NIMASA Job Description
If you have made up your mind to work for a leading organization like the Nigeria Maritime Administration and Safety Agency then we have information about the latest NIMASA recruitment requirements.
It is important that you meet the criteria the agency has set for job seekers, this will give you the opportunity of preparing well and coming out successful at the end of the recruitment exercise.
Eligibility
To apply for a position you must be under 35 years of age.
Applicant must be computer literate.
Provide the below-listed papers (documents) and requirements.
Required Documents
The West African School Certificate (WAEC) must be available, also in place of this your National Examination Council (NECO), General Certificate of Education (GCE) or Senior Secondary School Certificate (SSSC)
It is required that applicants must have a degree in engineering or similar discipline recognized by COREN (Nigerian Council for Engineering Regulation).
Must possess either of the following HND, NCE, OND or B.Sc from any NUC accredited university in Nigeria.
Must have updated documents, certificates and also medical fitness certification.
Candidates should have post-graduate professional experience of at least 18 years with an issued certificate of competency from a recognized institution.
Applicant must have his/her NYSC certificate or discharge/exemption letter ready.
A National Diploma (ND) or National Certificate of Education (NCE) document must be available.
Having other professional certifications or postgraduates certificate will serve as an added advantage.
Conclusion
Without a doubt as an agency under the government the Nigerian Maritime Administration and Safety Agency (NIMASA) is one of the best government agencies with good remuneration. The role of this agency is very important to the economy of the country so it is a good organization to work for if you want to serve your country and enjoy providing your service.
Read Also: Nigerian Immigration Salary Structure [Rank Based]
Should in case you need more information on NIMASA recruitment or other important details kindly visit the official website of NIMASA via www.nimasa.gov.ng.