The 10 Richest Presidents In Africa 2022 [Updated]
Want to know who the richest presidents in Africa are? Africa is a continent blessed with numerous natural resources and wildlife that attracts tourists all over the world but the majority of countries in Africa have bad leaders.
This has been the reason why the continent is struggling for basic infrastructures as there is a lack of development due to bad governance and corruption.
Although we have some African leaders that stand out as they have made their riches even before becoming leaders and they also deliver their promises to their people, likewise we have those that are rich and also took advantage of their political post to further enrich their pockets through the government coffers.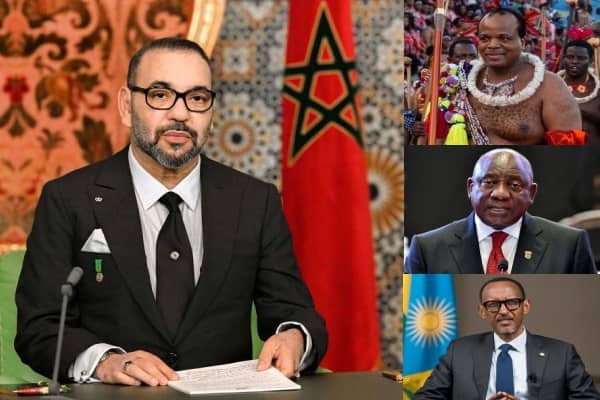 Most African leaders got their money through politics, this is to tell you that their wealth isn't clean, not all of them though but the majority.
The continent has many untapped resources and still, over 54 countries of this continent are considered as third-world or developing countries.
Many African leaders have worked up the government or politics of their countries to benefit their selfish self as they earn a lot of salaries and other benefits from holding a political post (office), this has made the game of politics a deadly one in Africa.
Without further ado, let us dive into the topic of the day as we reveal to you the top 10 richest African presidents according to Forbes and other top publishing platforms. Who is the richest president in Africa? Continue reading.
The 10 Richest Presidents In Africa
Below is the updated list of the richest presidents in Africa:
1. Mohammed VI, Morocco – $6.5 Billion
King Mohammed VI born on the 21st of August 1964 is the richest president in Africa currently, he is the president of Morocco although Morocco operates a monarchial type of government but can be regarded as the president.
It shouldn't be a thing of a surprise seeing African leaders with much wealth and the wealth doesn't benefit their people, this is exactly the best explanation of what Morocco citizens are experiencing as the wealth of their king doesn't influence the country positively.
Never forget that King Mohammed VI is also listed among the top richest leaders in the world and he was able to achieve this feat mainly because he inherited his father "King Hassan" position after he passed away in 1999.
Corruption and bad governance are the order of the day in Morocco while numerous riots and injustice are seen as the norm.
Mohammed VI net worth is estimated to be $6.5 billion which makes him the richest president in Africa, he is also one of the major shareholders in different mining and retails, Atijariwafa, Centrale Danone, and also of ONA Group.
2. Ali Bongo Ondimba, Gabon – $1.9 Billion
President Ali Bongo Ondimba was born on the 9th of February 1959, he made it on the second spot of the richest African presidents, he came into power in October 2009 and he is the son of the former president of Gabon Omar Bongo, the governance of Gabon favors this family a lot and this made him Ali Bongo more wealthy.
Ali Bongo Ondimba owns a lot of properties both in Gabon and also in other foreign countries, he also owns a very expensive townhouse in Paris worth over $138 million.
Ali Bongo Ondimba net worth is currently estimated to be $1.9 billion coupled with numerous assets which placed him on this list.
3. Teodoro Obiang Nguema Mbasogo, Equatorial Guinea – $710 Million
The 3rd richest president in Africa is President Teodoro Obiang Nguema Mbasogo of Equatorial Guinea, he is the 2nd and incumbent president of the country since 1979 when he took the leadership of the country through the country's constitution.
Teodoro Obiang Nguema Mbasogo was born on the 5th of June 1942, he ruled his country through a dictatorship and the constitution gave him the power to do so.
It was made known that the family owns Equitorial Guinea Economy as the leadership of this family has embezzled a lot of public funds. In 2007 Teodoro was investigated on various levels of corruption which has been used to fund the purchase of mansions and luxuries.
Teodoro Obiang Nguema Mbasogo net worth is currently estimated at $710 million, his wealth is attributed to money made from ruling his country.
4. Uhuru Kenyatta, Kenya – $540 Million
Uhuru Kenyatta was born on the 26th of October 1961, he is the president of Kenya and served his second term being the 4th ruler of the country. He is the son of the first president of the country Mzee Jomo Kenyatta.
Never forget he is the heir to the largest land holdings of his country owning over 500,000 acres of land through his father and this serves as the main source of his wealth.
Uhuru Kenyatta net worth is currently estimated to be $540 million and his earnings are mainly from lands although his family also owns Brookside Dairies and shares in some companies.
5. Mswati III, Swaziland – $510 Million
King Mswati III is a monarch in Swaziland and has a lot of wealth being a royal person, he is one of the rulers in Africa who own a private jet that was gifted to him on his 50th birthday in 2018 which is worth $17 million.
As an African King who loves luxuries, he owns a Maybach worth $500,000 with other exotic cars. He has over 13 wives and he lavishes money on them all.
Even with his wealth his citizens still suffer while he lives an extravagant lifestyle with a high level of unemployment in his country.
6. Paul Kagame, Rwanda – $500 Million
Paul Kagame was born in October 1957 in Tambwe Ruanda-Urundi and he is one of the richest African presidents since he became the president of Rwanda. He took over the mantle of command after Pasteur Bizimungu resignation and has done his bit for the citizen of Rwanda.
He is a wealthy man who has investments cut across various businesses, he owns the highest stake of investment in Rwanda, and the major one is Crystal Ventures. He also owns a private jet named Bombardier Global Express which is worth up to $50 million.
President Paul Kagame has a lot of wealth stacked to the names of his children, owns a lot of investments offshore, houses in Beverly Hills in California which is worth over $2 million.
Paul Kagame net worth is currently estimated to be $500 million and this wealth is attributed to his income as a president, businessman and also all his assets combined.
7. Cyril Ramaphosa, South Africa – $455 Million
The president of South Africa Cyril Ramaphosa is also one of the wealthiest presidents in Africa, he is wealthy and very popular to the extent that in 2015 Time Magazine named him among the most influential people.
Never forget he is also one of the richest people in South Africa but he was wealthy even before he became the president of South Africa.
Cyril Ramaphosa is the chairman of the popular Pan African Industrial Holding Group of which Pembani and Shanduka Group was merged with the company worth pegged at $900 million.
President Cyril Ramaphosa net worth according to Forbes is currently estimated at $455 million and this was made possible through his businesses.
8. Paul Biya, Cameroon – $212 Million
Paul Barthélem Biya ruled Cameroon since the 6th of November 1982 when he became the head of state and since then he has accumulated a lot of wealth to himself over the years.
His family owns numerous businesses ranging from oil business, transport, banking, timber and also in the construction sector and his greediness made him append a bill that gives him the power to get another term which cost Cameroon its economy.
Paul Biya net worth is currently estimated at $212 million with various houses, cars and other assets.
9. Abdel Fattah el-Sisi, Egypt – $203 Million
The list of the richest presidents in Africa wouldn't have been complete without making mention of Abdel Fattah el-Sisi the president of Egypt. Abdel Fattah el-Sisi was born in November 1954 to a wealthy family.
In 2018, Forbes Magazine listed him among the top 50 most powerful people in the world. He has a lot of houses, cars, businesses and assets.
Abdel Fattah el-Sisi net worth is $203 million and his wealth is attributed to his inheritance like lands and other family assets.
10. Isaias Afwerki, Eritrea – $120 Million
Finally, on the list of the richest presidents of Africa we have Isaias Afwerki who was born on the 2nf of February 1946. He became the president of Eritrea in 1993 and since then has been the leader of the country.
Isaias Afwerki net worth is currently pegged at $120 million and his wealth was gathered through compensations as a world leader and also as the president of Eritrea.
FAQs
Who is the richest president in Africa?
The richest leader in Africa is King Mohammed VI of Morocco with his net worth estimated to be $6.5 billion.
Is Africa a country?
Africa is a continent and it has 54 countries in it.
Are all African leaders corrupt?
Not all African leaders are corrupt, some are loyal and stick with the promises they made to their citizens while some are otherwise just as it is worldwide.
Conclusion
Corruption isn't only peculiar to Africa, it is a global problem as most political office holders all over the world engage in misappropriation of public funds, they embezzled money and resources at will so there shouldn't be a form of stereotype against Africans or their leaders.
Read Also: The 10 Richest Presidents In The World
Nevertheless, we have those that have laid down good legacies, risked their lives to satisfy their citizens, the likes of Nelson Mandela cannot be forgotten.
---
Top 10 Richest Presidents In Africa (Recap)
Mohammed VI – $6.5 Billion
Ali Bongo Ondimba – $1.9 Billion
Teodoro Obiang Nguema Mbasogo – $710 Million
Uhuru Kenyatta – $540 Million
Mswati III – $510 Million
Paul Kagame – $500 Million
Cyril Ramaphosa – $455 Million
Paul Biya – $212 Million
Abdel Fattah el-Sisi – $203 Million
Isaias Afwerki – $120 Million