Justin Bieber Net Worth And Biography 2023 [Career & Hidden Facts]
Care to know about Justin Bieber net worth? Justin Bieber is a sensational young talented singer and songwriter who hails from Canada. He was discovered on YouTube and came to the limelight in the music world at a very tender age when he was 13 years.
Our discussion today is centered on Justin Bieber Biography and Net Worth. In this article, we will provide you with the necessary information on Justin Bieber that you need to know. So, read through the article to the end to learn all that you need to know.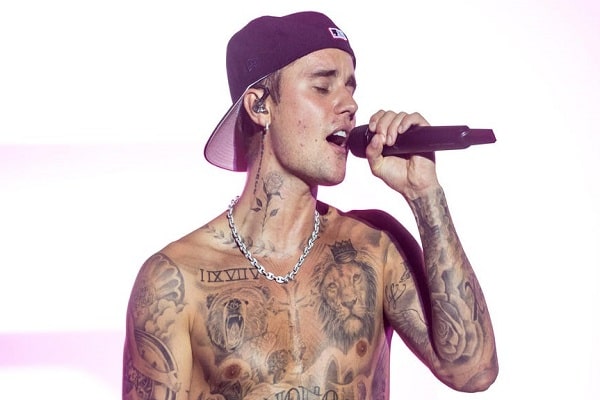 Justin Bieber Profile
| | |
| --- | --- |
| Real Name:  | Justin Drew Bieber |
| Date of Birth:   | March 1st 1994 |
| Place of Birth:  | Stratford, Ontario, Canada |
| Nationality:  | Canadian |
| Occupation:  | Singer, Songwriter |
| Years active:  | 2007 till date |
| Marital Status:  | Married to Hailey Rhode Bieber |
| Height:  | 5′ 9″ (1.75 m) |
| Net Worth:  | $300 million |
Justin Bieber was born in 1994 to a single mother in Stratford, Ontario, Canada and he was raised in the same town. His parents are Pattie Mallette and Jeremy Bieber and he has three younger half-siblings from his father.
Justin Bieber at a tender age began to show strong interest in music and as such trained himself to play different instruments such as guitar, drums, piano and trumpet. At age 12, Justin Bieber took part in a local singing contest and he came third.
His mother had a strong influence and contribution in his music career as she posts videos of him performing musically on YouTube. Fortunately, the young singer became famous and well known that he soon built up a fan following and it caught the attention of talent agent Scooter Braun who helped him gained an audience with Usher Raymond who was impressed by his performance and music talent thereby helping Bieber to sign a record deal.
Career
Justin Bieber began the journey of his music career by sharing YouTube clips of himself singing, as a means of sharing his talent with friends and family. Soon he had a huge fan base on YouTube and his videos spread and caught the attention of famous music industry manager Scott Samuel "Scooter" Braun.
Braun soon contacted Bieber's mother who agreed to bring her son to Atlanta so that they can work together. Justin Bieber was already 14 years old by then.
Justin Bieber's move to the United States led to more online marketing managing and success. Later on, Braun presented Bieber to Usher Raymond and Justin Timberlake and they were both interested in him. Eventually, Justin Bieber was signed by L. A. Reid, to a deal with Island Def Jam.
Justin Bieber first single "One Time" was released in 2009 and it was a success becoming a certified Platinum in Canada and the United States. His debut album, "My World", was released afterwards and it was an international success. Interestingly, seven songs from his debut album were among the record chart on the Billboard Hot 100 becoming the first artist to achieve such fit.
The year 2010 was the year he released his first full-length studio album, titled "My World 2.0." More so, he went on a world tour. In 2011, he also released a successful concert film, Justin Bieber: Never Say Never.
His third studio album "Believe" was a success in 2012 and in 2015, he released his fourth studio album, Purpose.
Justin Bieber also featured in a couple of movies which also add to his popularity, fame and fortune. Some of the movies include Justin Bieber: Never Say Never – Himself (2011), and Believe the Movie – Himself (2013) among numerous others.
More so, Justin Bieber has endorsed numerous brands inclosing Nike, Someday (perfume), Girl Friend (perfume), Beats by Dr Dre (Headphones), Supra (shoes), Adidas etc. These endorsements also serve as an additional source of income to his net worth.
Justin Bieber Awards
Justin Bieber has registered himself among music artist that has won a Grammy Award and an American Music Award. He has been listed numerous times by Forbes magazine among the "Top Ten Most Powerful Celebrities in the World."
More so, the famous music artist has been nominated for numerous awards and he won some including American Music Awards, APRA Music Awards, ARIA Awards, Bambi Awards, BET Music Awards, Grammy Awards etc.
Justin Bieber Net Worth
Justin Bieber net worth is estimated to be $285 million. His worth surpasses some of the big names in the music industry including those that have been in the game before him.
Justin Bieber surely has made a fortune out of music through album sales, concerts, and tours. The young talented singer is still very viable in the music entertainment industry loved by millions of fans worldwide. In fact, he has sold an estimated 140 million records, making him one of the world's best-selling music artists.
Personal Life and Relationship
Justin is a young adult and is entitled to be in and out of relationship whichever he decides as long as he is happy. Nonetheless, the talented music artist has been involved in several relationships and to start with is the long term dating between him and Selena Gomez.
However, the once happy relationship hit a mudslide as the couple called it quit in 2013 and went their separate ways. Justin Bieber moved on as he was involved in other relationship including Yovana Ventura, Sofia Richie and notably seen on a different occasion with Audreyana Michelle.
He finally met with his present wife and partner Hailey Baldwin in the seventh month of 2018 and they tied the knot later in the same year. So far, the music artist has no kid yet.
Justin Bieber Houses and Cars
Justin Bieber as we have seen from our discussion has the money to find and live a luxurious and expensive lifestyle. The young talented music artist has huge and interesting car collections which are a typical event amidst celebrities.
Nonetheless, his car collection is nowhere near that of keen celebrity car collectors. Among the cars that can be found in Justin Bieber, car collection includes Lamborghini Gallardo, Campagna T-Rex 14R, Mercedes-Benz G-Wagon, Lamborghini Aventador, Porsche 997 Turbo, Audi R8, Mercedes-Benz Sprinter Van, a Project Khan Range Rover Evoque, Lamborghini Gallardo Spyder, Ducati 848 Evo, Fisker Karma, MV Agusta F3 "Bat Bike", Can-Am Spyder Motorbike, Range Rover Sport SVR, Rolls Royce Ghost, Rolls Royce Dawn Drophead Coupe, Cadillac Escalade, Ferrari 458 Italia, Cadillac CTS-V Coupe "Bat Mobile", Maybach S600, Ferrari F430, Lincoln Continental, Lamborghini Huracan, and Custom H2 Hummer. These cars cost Justin Bieber millions of dollars both in buying and maintaining.
Also, Justin Beber has three mansions, one he bought for himself when he turned 18. The mansion is located in Hollywood Hills where you can have a picturesque view of the lake across. This mansion is a three-storey building that comprises of 5 bedrooms, 8 bathing rooms, a gym and a spa, a theatre, not forgetting the large swimming pool.
One was a gift to him from his mother and grandmother when the young music artist turned 16, located in New York. This building covers 2,400 acres and comprises of 3 bedrooms, 4 bathrooms and equipped with modern facilities that offer a luxurious lifestyle.
He bought a Hacienda-style house in Calabasas, California. This house spans 128 acres and the architectural design is fantastic. The house comprises seven bathrooms, spacious and well-furnished ketches, and houses two separate garage
Justin Bieber Tattoos
Justin Bieber drew a tattoo in almost every region of his body including his chest, abs, arms, and forearms. However, he does not have a facial tattoo.
Height, Weight and Body Measurement
We also deemed it fit to provide you with details of Justin Bieber physique. In terms of height, he measures 1.75 meters (5ft. 9inchs.). In terms of weight, he is around 66kg. More so, his body measurement includes chest which measures 42 inches, Biceps measures14.5 inches and waist measures 32 inches.
The young music artist is averagely tall and has a spotless face and fine physical appearance which often attracts a lot of opposite s3x to fall in love with him on the go.
Read Also: Tom Cruise Net Worth And Biography [Career, Age, Height]
Conclusion
Justin Bieber is a sensational young music artist and songwriter who has installed himself among the famous musician in this century. More of him is yet to come as the music artist is not relenting in producing and signing songs that captivate his fans. So, that is all that we have for now on Justin Bieber and I believed that you have been well-informed and enlightened about this Canadian musician.