The 10 Best Rappers In Kenya 2022 [Updated List]
Who is Kenya's best rapper currently? Today's article is centered on the top 10 list of the best rappers in Kenya as the Kenyan music industry has been experiencing some remarkable growth lately and the top rappers from Kenya have been exceptional in delivering hit albums and singles which has seen the Kenyan Entertainment industry to a level that placed them among the top best in Africa.
Musicians from Kenya are now leading in every music genre in East Africa and this has made Kenya the backbone of entertainment in East Africa.
A lot of success has been recorded in Kenya by rappers in Kenya and this is why they are competing with their counterparts in Africa and all over the world, Kenyan rappers on this list are celebrities both in Kenya and beyond the shores of their country.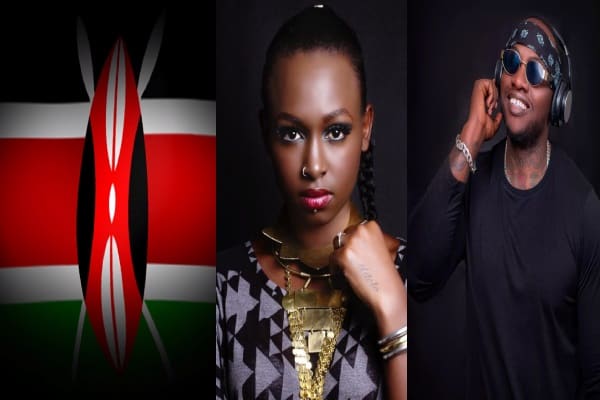 Music generally has taken a new turn in Kenya, we can never forget the effort of Ricky Oyaro who received the credit for the introduction of Kenyan Hip-Hop music and in the early 90s rap music became a thing in Kenya.
We can never forget the effort of rappers like Poxi Presha, K-South, Hardstone, Abbas Kubaff, Kalamashaka, and many others just to mention a few who are the pioneer of the rap genre in Kenya.
The rap genre was widely accepted in the early 2000s and since then we have been seeing a lot of upcoming musicians taking their talent seriously and dishing out top-quality rap music.
As Lagos is the heart of music in Nigeria, Johannesburg or Soweto in South Africa likewise we have Nairobi in Kenya as the home of entertainment and nightlife in the country.
Read Also: Who Are The Best Rappers In Nigeria?
Kenyans are naturally talented and this is seen in their music life so without taking much of your time, let us reveal to you the top 10 best rappers in Kenya presently and you get to know each of them better. Continue reading and meet the best Kenyan rappers.
Top 10 Best Rappers In Kenya
10. Steph Kapela
The 10th on our list of best rappers in Kenya is Steph Kapela, Steph Kapela is a rapper and songwriter that spits fire while rapping, he was able to achieve success in his musical career with just a few songs.
He is one of the rappers that have high numbers of listeners in East Africa and as an A-List musician, he has had collaborations with other top musicians and also help elevate upcoming artists.
He has a way of infusing every little bit of rap, trap, singing, soul and other music types just to serve the best song drop to his fans and he does it effortlessly.
As a talented musician who has numerous fanbases, Steph Kapela has won for himself some awards and nominations and his rap game can never be forgotten in the history of Kenya music.
9. King Kaka
The list of Kenya's best rappers will never be complete without mentioning King Kaka, his real name is Kennedy Ombima and popularly known by his stage name King Kaka.
King Kaka is a Kenyan celebrity born on the 7th of May 1987, he is a rapper, songwriter and also a successful businessman. He has been in the business of music for years now and he has influenced a lot of musicians in the music industry through his platform called "Kaka Empire."
King Kaka dropped a song that has been the all-time hit of his rap music titled "Dundaing (Partying)," the song has over 5 million views on YouTube alone and has millions of views on other social media and streaming platforms.
8. Miracle Baby
Peter Mwangi popularly known as Miracle Baby started his music career not quite long, he is relevant mainly because of his sweet voice and hit songs, he was once part of a music group called "Sailors" and his effort in the group got crowned after the release of the hit song "Wamlambez."
Before coming into the limelight Miracle Baby worked as a mortuary attendant, having a breakthrough in the music industry has been one of the things he is so grateful for.
Miracle Baby is very talented and knows how to add fire catchy hooks which usually give a kind of vibe that keeps you listening and dancing to his songs. He is a promising musician and a lot is expected of him from his fans.
7. Xtatic
Another rapper that has marked a spot in the Kenyan music industry is Xtatic, her real name is Gloria Mecheo, she is one of the female rappers with quality vibes in Africa. She is a beautiful artist with a wonderful voice.
Her fanbase received a huge boost after featuring in Khaligraph Jones song "Khali Cartel 2", she has also dropped a lot of songs and has featured other top artists in the industry.
According to Xtatic, she made it known that she once did Petry before settling for rap music which has been of great help to her musical career. When talking about New Generation rappers in Kenya then Xtatic comes to mind.
6. STL
Full name is Stella Nyambura Mwangi and her stage name "STL", she is a Kenyan top-rated female rapper although she is based in Norway, her dual citizenship made her a popular rapper in Norway and also in Kenya of which her reach is going beyond the shores of Kenya on to other African countries.
Rated as one of the best rappers in Kenya this has fetched her a lot of recognition and she had two successful albums with numerous songs and collaborations with other top-list musicians in Kenya likewise she has helped upcoming musicians in the industry. She is one of the reasons females are now developing an interest in rap music in Kenya. She also had one of her songs used for advertisement for the Samsung smartphone (Galaxy S9).
Read Also: Top 10 Best South African Rappers (Updated)
As a top rapper and musician, STL was able to win the 2011 Melodi Grand Prix, since then she has been a famous artist in Kenya. Her music is usually based on happenings in Kenya like disturbing issues and this goes a long way in winning the heart of music lovers in the country.
5. E-Sir
Issah Mmari Wangui popularly known by his stage name E-Sir is one of the best rappers in Kenya today, he was born on the 20th of May 1981 in Nairobi Kenya and was involved in a car accident on the Great Rift Valley on the 16th of March 2003 which took his life.
Even with the fact that E-Sir is no more his legacies remain, he is one of those who helped shaped the Kenya Music Industry with his rap flows. He still remains a source of inspiration to many and we pray he continue to Rest in Perfect Peace.
4. Taio Tripper
His real name Matthew Wakhungu is one of the best rappers from Kenya, he is a rapper, songwriter, sound engineer and also a Deejay, he is well known by his stage name Taio Tripper, started as a member of a hip-hop group named "Camp Mulla," a group that is famous all over East Africa and recorded a lot of success around 2011 – 2012.
In 2012 the group break up and since then Taio Tripper has been a force to reckon with in the Kenyan rap industry, he is a multi-award-winning and also a super talented artist known as one of the prominent rappers in Kenya today.
3. Nyashinski
Nyamari Ongegu famously known by his stage name as Nyashinski is a Kenyan rapper and singer, he is known for his love songs and various gospel music he has released over the years.
He started his career as a musician in high school as a member of Kleptomaniax a hip-hop music group formed in 1999, the group won three awards and over time it was noticed that all members of the group went their various ways without any breakup news.
Aside from being a member of the Kleptomaniax group Nyashinski has done well for himself and is now rated as one of the best lyricists in the whole of East Africa, he is very skillful and talented to the extent all his songs are hit. He is currently the 3rd best rapper in Kenya today.
2. Abbas Kubaff
The 2nd best Kenya rapper goes to Abbas Kubaff, he is a rapper that has contributed a lot of hard work to the Kenyan Music industry. Abbas Kubaff was born on the 8th of January 1978 and his real name is Andrew Kabiru Karuku.
He has been active in the Kenya music industry since 1995 and has won numerous awards in Kenya and also in East Africa. His song "Tokelezea" made him famous and he has been listed as the Best Kenyan Rapper numerous times.
He joined a rap group that consist of him, KC and Bamboo which got split in 2005. After the split, he was able to stand on his own and make good music which has earned him a lot of awards, some of the awards won are the Golden Mic Awards and also the Chaguo La Teeniez Awards.
1. Khaligraph Jones – Best Kenya Rapper
The man of the moment and the best rapper in Kenya presently is Brian Ouko Omollo popularly known by his stage name "Khaligraph Jones". Khaligraph Jones was born on the 12th of June 1990 in Kayole a city in Nairobi, Kenya.
He is the face of the Kenya Music Industry and the first rapper from Kenya to be recognized internationally also winning awards from the international hip-hop community.
As a top-rated rapper/artist in Kenya, East Africa and also in Africa he was able to have collaborations with other top best rappers in Africa, the likes of M.I Abaga of Nigeria and also Twista (American). His relationship with artists from other countries has fetched him a huge fanbase.
Khaligraph Jones is the Best Kenyan Rapper of all time, he is also known for his "Kali Cartel" – a platform that enables new and raw talents to showcase their rap talent.
Khaligraph Jones became famous in the year 2009 after his participation in the Channel O MC Africa Challenge of which he made it to the finals, he has been very active since then and this has won him a lot of awards.
He won the Best Hip Hop Act award by SoundCity MVP Awards and has gotten other awards and nominations in Kenya and also in Africa. Khaligraph Jones is also the 2nd best rapper in Africa today.
Other Best Rappers In Kenya
Below we have other rappers that are considered to be among the best rappers in Kenya:
Octopizzo
Ssaru
Rekles
Boondocks Gang
Boutross
FAQs
Who is the best female rapper in Kenya?
Kenyan best female artist is STL, her real name is Stella Nyambura Mwangi, she is one of the most successful female rappers in Kenya.
Who is the best rapper in Kenya presently?
Khaligraph Jones is currently the best rapper in Kenya and also in East Africa, he is also the 2nd best rapper in Africa.
Conclusion
Rap music is quite different from other music genres and it cut across various music types, can be infused in Afro-beat, hip-hop, gospel music e.t.c. The selection of the best rapper in Kenya also differs based on individuals, what sounds good to you most is the best music but we have listed the top 10 based on their general acceptance by Kenyan music lovers.
We also have many rappers that can be called best rappers and should be on this list but couldn't because we based the list on the top 10 alone. They are all talented and good at what they know how to do best so accolades should be given to all Kenyan musicians.
---
Top 10 Best Rappers In Kenya (Recap)
Below is the current list of the top ten best rappers in Kenya:
Khaligraph Jones
Abbas Kubaff
Nyashinski
Taio Tripper
E-Sir
STL
Xtatic
Miracle Baby
King Kaka
Steph Kapela
Read Also: Top 10 List Of Best Rappers In Africa (Updated)
You can also make your contributions via the comment box in case you have a question or addition you will love us to add.