Tahmeed Coach Online Booking, Routes, Fares, Schedules & Contacts
Are you in need of guidance on Tahmeed Coach Online booking? This article is centered on Tahmeed Coach online ticket booking, routes, fares, schedules, offices and contact details of Tahmeed Transporters.
Kenya is an Eastern African country blessed with good people, natural resources and wealth, it is one of the most developed countries in East Africa. It is so glaring the reason why most investors in East Africa come from Kenya.
As a country experiencing rapid development in terms of economy and infrastructure there is no doubt transportation will thrive here, this has made a lot of investors focus on the transportation industry of Kenya and this has been yielding success and more wealth for the investors likewise the economy of the nation.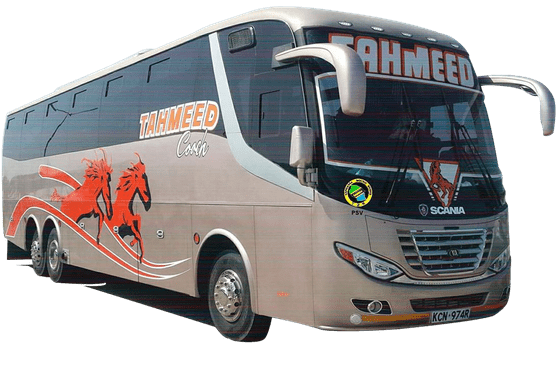 Gone are those days that you travel and on getting to your destination you have to go for a massage or take body pain medicines, now most transport companies in Kenya are into healthy competition and each trying so hard to give the best transport services to commuters.
Read Also: Climax Coaches Online Booking, Fares, Routes & Contacts
Before we go deep into Tahmeed Coach online ticket booking we will like to tell you about this wonderful transport company.
About Tahmeed Coach Transporter
Tahmeed Coach Limited is one of the leading transport companies in Kenya today, it has its presence in most East African countries like Uganda, Tanzania and Kenya. The company is also expanding to other East African countries.
To be able to provide citizens with affordable transportation the company has procured over 50 luxurious buses that are new, neat and comfortable for travelers or commuters to enjoy.
Honesty and professionalism have been the reason for the company's progress for over a decade now and still adding more quality services to satisfy their customers.
If you are planning a trip soon or you need to travel right now Tahmeed coach got you covered, there is no doubt your trip will be a memorable one as there are a lot of things to enjoy while on board.
Tahmeed Coaches handles inter-city transportation and also town transportation all across Kenya and likewise to some other East African countries, below are some of the routes plied by Tahmeed Coach:
Nairobi
Mombasa
Changamwe
Moshi
Mumias
Arusha
Machakos
Mtwapa
Dar es salaam
Malaba
Eldoret
Kampala
Webuye
Kisumu
Kitui
Taveta
Busia
Kitale
Malindi
Horohoro
Kericho
Nakuru
Kilifi
Tanga
Ubungo
Jinja e.t.c.
We have only mentioned a few, Tahmeed Coach is also a transport company that operates logistic services so if you want a fast courier service then Tahmeed Coach is the right choice for you.
Why Choose Tahmeed Coach?
There are many reasons why you need to travel with Tahmeed Coach, aside from the neat and new buses they have below are more benefits you will enjoy:
Regularly services coaches or buses.
Educated and well-trained drivers who have gone through safety training.
Onboard entertainment through a flat-screen TV, DVD Players and radio.
Onboard internet WiFI service for commuters.
Ergonomic sitting arrangement (reclining seats).
Charging outlets for charging your power bank and mobile devices.
A set speed limit for all Tahmeed drivers for safety purposes.
Air-conditioned buses/coaches.
Online booking platform to easily purchase a ticket.
Great customer service for guidance, feedback and complaints.
There is much more to enjoy when you book a trip with Tahmeed coach and the safety of life of passengers and goods is in place.
Tahmeed Coach Top Destinations
Below are the top destinations of Tahmeed coach:
Nairobi to Daresalaam
Mombasa to Daresalaam
Nairobi to Mombasa
Nairobi to Kampala
Mombasa to Malaba
Mombasa to Kitale
Tahmeed Coach Online Booking (Ticket Booking Method)
Top transport companies in Kenya leverage technology for easy ticket booking for citizens Tahmeed coach isn't an exception, if you don't want to go by booking through their offices you can use the call booking method or the online booking method.
Whichever one you love works perfectly, here we have highlighted a step-by-step guide on oh to book a ticket online in the comfort of your home:
Launch your browser and visit the official booking portal www.tahmeedexpress.com.
You will be greeted with a simple form in which you need to input your travel details based on your choice.
select your current pickup location, traveling destination and the date you wish to travel and click on "Search."
A new page will be loaded listing the available buses with the date and time of departure likewise fares.
Choose your preferred bus and select your seat of choice. Mind you, greyed seats are non-available so you need to choose a white-colored seat.
Once you choose your seat number click on the "Continue" button to proceed to your secured payment section.
Fill in your debit card details e.g. MasterCard, Visa and M-PESA, then proceed to make the payment.
If your payment is successful you will have to download your ticket, this will be needed for you to board.
If you wish to print your ticket you can go ahead, likewise, you can save a copy on your email.
Tahmeed Coach Booking Offices Contacts Details
Should in case you do not want to use the online booking method you can as well walk into any of Tahmeed coach booking offices across Kenya, we have some listed here for you:
Nairobi Booking Office
Address: Ground Floor, Zahra Building, River Rd, Nairobi, Kenya.
Phone: +254706445114 or 0729356561.
Mombasa Office
Phone: +254729356561
Tanzania Booking Office
Address: Mapipa, Dar es Salaam, Tanzania.
Phone: +255685242288 or +255787247585
Tahmeed Head Office
Address: Ground Floor, Zahra Building, River Rd, Nairobi, Kenya.
Phone: +254706445114 or 0729356561
Email: [email protected]
Website: www.tahmeedexpress.com
Read Also: Easy Coach Ticket Prices, Booking, Bus Stations & Contacts
Conclusion
Among the leading road transport companies in Kenya we have Tahmeed coach, they ensure customer satisfaction is achieved and you will enjoy the way Tahmeed coach staff will relate with you. In case you have a report, suggestion or any other information to give to the company you can easily walk into any of the offices listed in this article.
Nevertheless, if you feel the services offered by Tahmeed coach aren't up to what you expected then you can try out other top best transport companies in Kenya, the likes of Mololine Shuttle, Periska Bus, Climax Coach, Easy Coach e.t.c.