Easy Coach Ticket Prices, Booking, Bus Stations & Contacts
Do you need information on Easy Coach ticket booking? In this post, you will learn about Easy Coach ticket fares, online booking guide, Easy Coach ticket prices, bus stations, and all other information about Easy Coach transport company including their contact details.
There has been a drastic improvement in the transportation industry of Kenya mostly in top cities like Nairobi, Kisumu, Mombasa, Eldoret, Nakuru and many others including some rural areas too.
From one city to the other there has been wide coverage of modern transportation and technologies and now we have many new transport companies investing in Kenya's transport industry while old ones have also improved their services so as to meet up with current trends and global transport standards.
With all these in place the country gains more in terms of revenue, the transportation industry in Kenya has a huge contribution to the Kenya economy which makes the industry a critical one and it is being properly regulated and maintained.
Now the stress of traveling or moving from one place to the other is now a thing of the past as every transport company in Kenya is striving to offer the best transport service to their customers which brought us to this topic.
Easy Coach transport is one of the best transport companies in Kenya with thousands of positive reviews, aside from customers reviews this company is also an award-winning transport company that has the records of providing a safe and stress-free transport experience to commuters all over Kenya.
Read Also: Meet The 10 Richest Men In Kenya [Forbes Updated]
So, in case you have been thinking of booking a trip with Easy Coach then you are in the right place as this post will give you needed information about Easy Coach fares, online and offline bookings, terminals, and other information that will be of great importance to you but before then let us give you a brief history of Easy Coach.
About Easy Coach Transport
Easy Coach Limited is currently one of the best transport companies in Kenya and this didn't just happen overnight, the company has been in the transport business for some years now conveying commuters from one part of the country to the other.
Aside from the transportation of passengers Easy Coach bus also offers courier services and logistics for those that want to send their goods across to other places for a very cheap price compared to other transport or courier services in Kenya.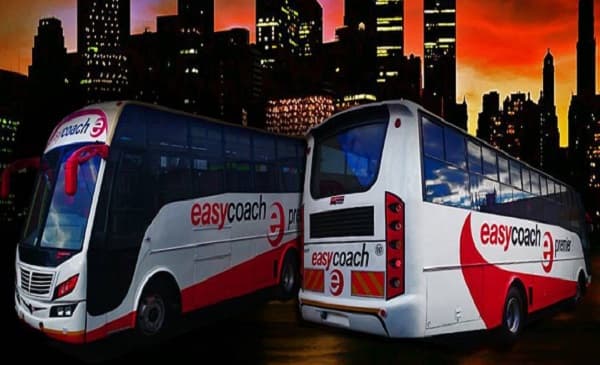 Easy Coach plies major routes in Kenya like Nairobi, Kalaba, Kisumu, Rongo, Eldoret, Usenge, Sirare, Siaya, Ugunja, Bungoma, Kapsabet, Migori, Maseno, Malaba, Mumias, Kakamega, Mbale e.t.c.
With their wide coverage and the ability to satisfy customers Kenyas have fallen in love with Easy Coach bus as while on the coach you have enough space to relax, the sitting arrangement is made with comfort as priority.
Aside from this, there are other benefits you gain when you purchase an Easy Coach ticket for your trips, we have listed some of the reasons why you should use Easy Coach below.
Why Use Easy Coach Transport?
Here are the benefits you stand to gain whenever you travel on any Easy Coach bus:
New and neatly maintained buses
Educated and well-trained professional drivers
Onboard entertainment visible and audible to all passengers (TV and radio)
Well-spaced and ergonomic sitting arrangement
Company set a speed limit for all drivers to abide by
Free Internet Wifi for all passengers
Charging points for all seats
All buses are fully air-conditioned
Cheap and affordable transport fare
With all the listed together with others which are not mentioned you definitely know your trip will be exciting.
Easy Coach Services
Here are the services rendered by Easy Coach Limited:
Inter-City Transportation:
With Easy Coach, you have the opportunity of getting a stress-free trip from one city to the other and Easy Coach has a presence in almost every part of Kenya all at a very cheap price with quality transportation services to give all passengers a fast and comfortable trip.
Courier Services:
As mentioned earlier Easy Coach isn't just in the business of moving people from one part of the country to the other they also offer a courier service which still remains one of the safest and fastest courier services in Kenya today.
You should check below for the prices of parcels per Kilogram and also based on the items' worth.
Private Bus Hires:
In case you have an event, school excursion, church programs, and other forms of trips you can contact Easy Coach and they will provide you with buses and this could be based on a long-term hire contract or a one-time hire.
How To Book Easy Coach Tickets
Below are the methods by which you can book Easy Coach bus tickets:
1. Online Booking
To book Easy Coach bus online follow the steps highlighted below:
Launch your browser and visit (http://www.buupass.com/).
Once the page loads input your travel information like departing station, destination, date and number of travelers then click on the button "Search Buses."
A list of available trips and buses will be displayed and you have the opportunity to choose whichever one suits you.
Select your bus and click on "Book Now."
Choose your seat location and click on "Place my Booking."
Now you need to fill in the necessary information on the page and tick the agree to terms and conditions.
Once you proceed a secured payment page will be opened for you to make your payment via your debit card(ATM card).
On the successful payment confirmation, a ticket number will be generated and sent to you via SMS and e-mail.
Print out this ticket and present it at your selected station.
2. Via Short USSD Code
You can as well book a trip with Easy coach by dialing a USSD Code, this comes in handy when you are in an area with a poor internet connection or in cases where you do not have an internet-enabled device.
Just dial *887# on your mobile phone and follow the SMS prompt, once done you will have your ticket booked.
3. Easy Coach Outlets
Easy Coach outlets are scattered all over Kenya, you can just walk into any and purchase your transport ticket, here are some of them
Uchumi, Nakumatt Lifestyle, Naivas Don Holm and many others are only in Nairobi and currently spreading through other cities of Kenya.
Easy Coach Bus Stations/Routes & Contacts
Here is a list of Easy Coach bus stations in Kenya:
| | | |
| --- | --- | --- |
| S/N | Office | Phone No: |
| #1. | Bumala Office | 789366996 |
| #2. | Busia Office | 0738200315 |
| #3. | Bondo Office | 738200316 |
| #4. | Bungoma Office | 738200310 |
| #5. | Eldoret Office | 0738200308 |
| #6. | Kampala Office | +256757727273 |
| #7. | Kaimosi Office | 738200323 |
| #8. | Kakamega Office | 0738200313 |
| #9. | Kisii Station | 736046164 |
| #10. | Kisumu Station | 0738999703 |
| #11. | Kericho Station | 0738200316 |
| #12. | Kapsabet Station | 0738200322 |
| #13. | Kitale Station | 0738200309 |
| #14. | Malaba Station | 738999705 |
| #15. | Maseno Station | 0738200320 |
| #16. | Mbale Station | 0738999704 |
| #17. | Moi's Bridge Station | 732538253 |
| #18. | Migori Station | 736046143 |
| #19. | Mumias Station | 0738200318/9 |
| #20. | Nakuru Station | 0726354312 |
| #21. | Nairobi Office | 0726354301 |
| #22. | Narok Station | 736141333 |
| #23. | Rongo Station | 738200083 |
| #24. | Sirare Station | 736046132 |
| #25. | Siaya Station | 0738200304 |
| #26. | Usenge Station | 738200316 |
| #27. | Ugunja Station | 738200324 |
| #28. | Webuye Station | 738200321 |
Easy Coach Fares
We have listed here the ticket price for major cities in Kenya:
From Nairobi to Sirare – Ksh 950
From Nairobi to Maseno – Ksh 1,400
From Nairobi to Kaimosi – Ksh 1,200
From Usenge to Nairobi – Ksh 1350
From Rongo to Nairobi – Ksh 950
From Nairobi to Kisumu – Ksh 1,400
From Nairobi to Mumias – Ksh 1,450
From Nairobi to Siaya – Ksh 1,450
From Nairobi to Kericho – Ksh 1,100
From Kisumu to Nairobi – Ksh 1400
From Nairobi to Busia – Ksh 1,500
From Nairobi to Kakamega – Ksh 1,450
From Kitale to Nairobi – Ksh 1350
From Malaba to Nairobi – Ksh 1400
From Maseno to Nairobi – Ksh 1400
From Mbale to Nairobi – Ksh 1400
From Homa Bay to Nairobi – Ksh 950
From Busia to Ugunja – Ksh 1,950
From Busia to Bumaka – Ksh 1,950
From Busia to Maseno – Ksh 1,900
From Busia to Kisumu – Ksh 1,800
From Busia to Siaya – Ksh 1,900
From Busia to Bondo – Ksh 1,900
From Busia to Mbale – Ksh 1,850
From Busia to Kapsabet – Ksh 1,550
From Busia to Kaimosi – Ksh 1,550
From Busia to Kagamega – Ksh 1,900
From Busia to Mumias – Ksh 1,900
From Busia to Butere – Ksh 1,900
From Malaba to Bungoma – Ksh 1,750
From Malaba to Webuye – Ksh 1,750
From Malaba to Kitale – Ksh 1,750
From Malaba to Eldoret – Ksh 1,750
From Malaba to Rongo – Ksh 1,500
From Malaba to Migori – Ksh 1,500
From Malaba to Awendo – Ksh 1,500
From Malaba to Homebay – Ksh 1,500
From Malaba to Mbita – Ksh 1,500
From Malaba to Kendubay – Ksh 1,450
From Malaba to Oyugis – Ksh 1,450
Read Also: Climax Coaches Online Booking, Fares, Routes & Contacts
With this we hope we have answered every question you have concerning Easy Coach transport, you can always make use of the comment box to contribute to this topic.