Jumobi Adegbesan [Richard Mofe Damijo Wife]; Bio, Age, Career & Facts
Have you been asking to know the wife of Richard Mofe Damijo? This article is mainly centered on Jumobi Adegbesan the wife of Nollywood Veteran actor Richard Mofe-Damijo (RMD), you will know about her Jumobi Adegbesan biography and net worth together with other facts about her.
It isn't a new thing that most celebrities keep their spouses out of social media or the internet at large.
The interesting thing is if you are the type that usually watches AIT (Africa Independent Television) it is likely you must have seen her although you may not know she is the wife of a famous celebrity.
She like other celebrity wives kept a low profile both online and offline, she is mainly focused on her family and her career which is a nice thing to do but for the benefit of those who wish to know and the fans of actor Richard Mofe-Damijo we have made extensive research about Jumobi Adegbesan and now we will reveal everything about Jumobi Adegbesan.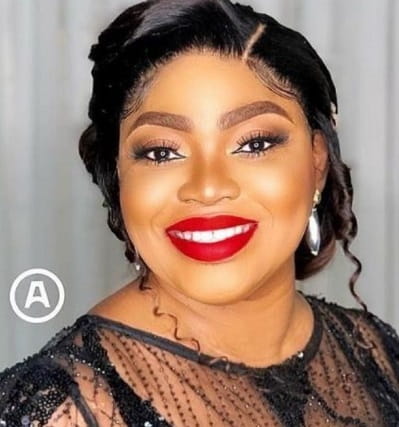 But before we start on the full biography of Jumobi Adegbesan we will love to give you a brief piece of information about Richard Mofe-Damijo's wife after which you will have all her information on this same page.
Jumobi Adegbesan Profile
| | |
| --- | --- |
| Full Name: | Jumobi Adegbesan Damijo |
| Other Names: | Aabike, Adunmaradun, Oluwaseunfunmi |
| Date of Birth: | 27, January 1972 |
| Age: | 51 Years |
| Nationality: | Nigerian |
| Husband: | Richard Mofe Damijo |
| Occupation: | TV Presenter & Businesswoman |
| Net Worth: | $160,000 |
After this you must be interested in knowing more about her this is why we have neatly sectioned this post for better reading and understanding, continue reading this piece.
Biography
Who is Jumobi Adegbesan Damijo? Jumobi Adegbesan is a popular TV presenter and media personality well known for her TV program titled "Lunch Break Show" on AIT, she has been active in the broadcasting company since the early 90s.
Jumobi Adegbesan was born on the 27th of January 1972 in Lagos State, Nigeria. She has grown to be a woman who controls respect with her intelligence and elegancy.
Aside from her being known to be a very diligent woman in her career she also doesn't joke when it comes to her family, she is a wife and mother and she was able to discharge her responsibility without her career affecting the motherly care needed by the family.
Career
As stated earlier Jumobi Adegbesan is a TV presenter working in Africa Independent Television popularly known as AIT, she is a well-educated woman and very intelligent and jovial, her smile has been what most of her fans cherish and cannot do without viewing her TV programs.
She started working as a TV host in the late 90s and she is still very much active in the media sector, she attained fame with her Launch Bread Show which is always aired on AIT till the early 2000s.
Aside from being a TV host and presenter Jumobi Adegbesan is also actively into businesses of various kinds and she is one of the most successful businesswomen in Nigeria.
Family and Relationship
In the year 2000, 29th of December to be specific Jumobi Adegbesan and Nollywood actor Richard Mofe-Damijo (RMD) tied the knot after dating for 3 years and a few months. The couple had a very good marriage as they both built their home and have constantly developed their love even till this present moment.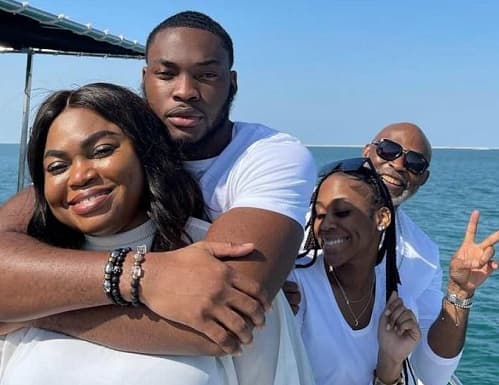 Their marriage was blessed with 4 children (2 sons and 2 daughters) who are now grown-ups and doing fine in their various fields. Jumobi Adegbesan husband is always very proud of her and for this reason, some hidden information about his wife was revealed on the internet mostly on her birthdays.
Richard Mofe-Damijo is a professional actor, lawyer, politician and also socialite, he is one of the most influential people in Nigeria and he hails from Aladija Community in Delta State, Nigeria.
The couple are both proud grandparents as some of their children now have children of their own.
Lifestyle
Jumobi Adegbesan like every other person has what she likes most, her hobbies, favorite sports and so on but the most intriguing of them all is that she loves tattoos, checking through her body you will see many tattoos on her.
We have also seen her flaunt her tattoos in some of her personal pictures, her husband seems to love this too as he is so cool with it.
Actor Richard Mofe-Damijo once said in an interview when asked about his wife's social media lifestyle, he said social media destroys marriages and this has been the main reason why his wife has refused to own a social media account not even Twitter or Instagram.
Net Worth
Jumobi Adegbesan net worth is currently estimated to be $160,000 and her earnings are strictly from money made while working as a TV presenter and also investing in businesses.
It should be known that even if Jumobi Adegbesan isn't married to a celebrity she herself has done well for herself and she is also considered a celebrity.
Controversies
As the handsome man who RMD is together with his charisma and fame, it is expected that women will be flocking around him, for many people any allegation placed on him is easy to believe and this is exactly the case when he was rumored to be cheating on his wife.
RMD has debunked this on various occasions stating that he loved his wife and will never in any way cheat on her, as long as there is no concrete evidence that he actually cheated then there can't be any reason to accept such rumors.
Conclusion
Jumobi Adegbesan and her husband Richard Mofe-Damijo lifestyle are so unique compared to other celebrities out there, they have had a smooth ride in their relationship and this has made their marriage one of the strongest you will ever find in the Nigerian media and entertainment industry. The couples are mostly envied and many young aspiring wives and husbands look forward to having such a wonderful marriage.
Read Also: Pete Edochie Wife – Josephine Edochie Bio, Age, Husband & Facts
If you enjoy reading this piece about Jumobi Adegbesan biography and net worth kindly hit the social media share button below to enable other people to have access. You can also make use of the comment box below to contribute to this topic.