Dreamline Express Online Booking, Routes, Fares, Schedules & Contacts
Are you searching for a reliable transport company in Kenya? Need Dreamline Express online booking guide? Dreamline Express remains one of Kenya's most credible and fastest-growing transportation companies.
Ever since the brand was established several years ago, Dreamline has continued to provide quality travelling services to their esteemed customers that are in Kenya. Thousands of Kenyans rely on this company to travel across the country every day.
In this post, you will learn about this company's booking process, the routes they ply, as well as their booking fares, and contact information. If you have been looking forward to travelling with Dreamline Express, you might be convinced to do so after learning about the company.
Services Offered By Dreamline Express
Dreamline Express mainly provides transportation services for travellers in Kenya. In fact, when the company was initially established, it did nothing but transport people. But as of today, Dreamline Express has ventured into the logistics business, helping people to transport items from one location to another.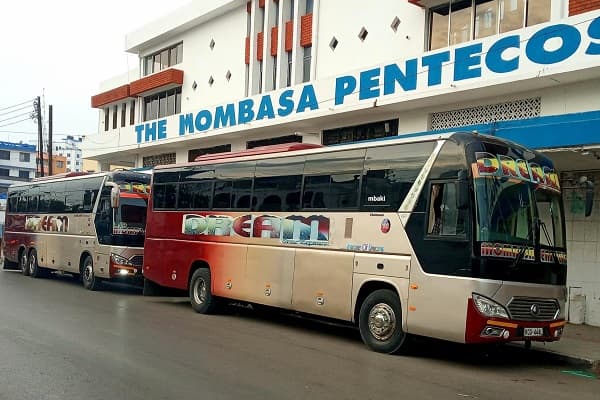 This means if you are in Mombasa and you need a parcel to be moved to Nairobi, it can be easily transported by this company. A lot of small business owners in Kenya rely on Dreamline Express to transport their goods from one place to another.
Read Also: Climax Coaches Online Booking, Fares, Routes & Contacts
Why Travel With Dreamline Express?
There are a lot of things commuters or travellers will enjoy when they travel with Dreamline, we have listed some of them below:
Air-conditioned and regularly serviced buses.
Properly trained drivers and staff.
Speed limit is set by the company for all drivers to abide by.
Onboard entertainment through radio and TV.
Leverage on technology to ease ticket booking.
Reclining seats and spacious sitting arrangement.
Fast internet Wifi connection for all passengers.
Charging outlets for all passengers to charge their devices.
Aside from the mentioned, there are others you will enjoy when you book a trip with Dreamline Express, the safety of passengers is also taken more seriously
Dreamline Express Online Booking
Initially, if you wanted to book a bus ticket at Dreamline Express, you would have to walk to the bus terminal and queue together with other passengers who want to pay for travel tickets as well.
However, the management of this company has decided to make things much easier for their passengers by creating an online booking system. This means you can book your bus ticket online from the comfort of your own home.
Here is a simple step-by-step guide on how to book online:
Visit Dreamline Bus Terminal
Booking a ticket online usually starts with you visiting the company's official website. Once you arrive at the landing page of the site, you will see a short form where you are told to provide your travel details.
You are meant to choose your current location and travel destination. You can also choose the number of seats you want to secure; that is if you are travelling with someone or a group of people.
For example, if you are travelling with your family, you would book seats for everyone on the bus as long as the seats haven't been taken by another customer.
Confirm your request or Modify
Before submitting your request, make sure you confirm every detail and piece of information you are giving the company. Sometimes, passengers are faced with some issues when they are about to travel because they made a few mistakes when booking online. Hence, make sure you type in the right destination and location of departure.
Also, check your name and other details about yourself that have been requested. If you need to make any changes, do so ASAP.
Another important aspect of the online booking process is where you have to choose the category you're travelling in. Usually, Dreamline Express offers three passenger categories: VIP, business class, and standard seats.
The VIP category gives you an executive experience and it is more expensive than the other two categories. The business class is not bad either. People who can't afford the VIP can pay for the business class. While the standard seat is the least category anyone can pay for.
You can review your trip before completing the online booking process. This is where you see the details of your trip such as your location and your travel destination. You will also see your seat number, the type of bus you'd be travelling on, as well as your passenger category.
Payment and confirmation message
The most important thing when booking is to make payment because that's what validates and confirms your booking. You will be offered different payment options. Most times, it's best to pay with your debit card. It's usually fast and stress-free.
Once your payment has been made successfully, you will be sent a confirmation message informing you that your ticket has been booked. This message will also show details of your trip.
Routes Covered by Dreamline Express
Currently, Dreamline Express covers major routes in Kenya. They travel to major cities, helping people to reach their desired destination without having to hop on a plane.
Here are the major routes that Dreamline Express usually ply:
From Nairobi
Nairobi – Mombasa
Nairobi – Kigali
Nairobi – Kampala
Nairobi – Malindi
From Mombasa
Mombasa – Nairobi
Mombasa – Kisumu
Mombasa – Mumias
Mombasa – Migori
Mombasa – Kitui
From Kampala
Kampala – Bujumbura
Kampala – Nairobi
From Kuti
Kitui – Mombasa
Malindi – Nairobi
Dreamline Express Fares (Bus Prices)
Dreamline Express has a specific price tag on bus tickets based on the travel destination of the passengers. Another thing that determines the bus fare is the passenger category. For instance, someone in VIO can't pay the same thing as someone in business class or Standard Seats.
VIP category
From Mombasa to Nairobi – Ksh 2,000
From Mombasa to Kitale – Ksh 2,500
From Nairobi to Kampala – Ksh 2,300
From Mombasa to Malaba – Ksh 2,500
From Nakuru to Mtwapa – Ksh 2,300
From Kisumu to Mombasa – Ksh 2,400
From Busia to Mombasa – Ksh 2,500
Business-class category
From Nairobi to Mombasa – Ksh 1,600
From Mombasa to Kitale – Ksh 2,300
From Mombasa to Malaba – Ksh 2,100
From Nairobi to Kampala – Ksh 1,900
From Nakuru to Mtwapa – Ksh 1,800
From Kisumu to Mombasa – Ksh 2,200
From Busia to Mombasa – Ksh 2,300
Normal Seats
From Mombasa to Nairobi – Ksh 1,400
From Mombasa to Kitale – Ksh 2,200
From Nairobi to Kampala – Ksh 1,800
From Mombasa to Malaba – Ksh 2,000
From Mombasa to Kisumu – Ksh 2,000
From Busia to Mombasa – Ksh 2,200
Dreamline Express Contacts & Location
As you consider traveling with Dreamline Express, you must be wondering where the physical location of the company is. Well, there's no need to panic. Whenever you need to make inquiries or speak to a customer representative of the transport company, use the following details:
Address: Opposite Modern Bus offices, Jomo Kenyatta Avenue
Postal address: P.O Box: 42551 – 80100, Mombasa
Phone: 0710 444 411
Facebook: DreamlineExpress
Official website: www.dreamline.co.ke
Email address: [email protected]
Dreamline Express office is open every day of the week. You can walk in anytime to make your inquiries. Moreover, if you don't want to visit the physical office, you can still connect with the company using their phone number or email address.
FAQs
Is Dreamline Express the biggest transport company in Kenya?
Dreamline Express is not as big as some other Kenya transport companies. However, it's a fast-growing brand in Kenya.
Can I book my bus ticket offline?
You can book your bus tickets offline by visiting the physical bus terminal. This is the usual booking process before the online method was developed.
How many bus terminals does Dreamline Express have?
As of 2022, Dreamline Express has only one known bus terminal which is located Opposite Modern Bus offices, Jomo Kenyatta Avenue. It's a big terminal though.
Does Dreamline Express have air-conditioned buses?
Dreamline Express buses are fully air-conditioned regardless of the passenger category you are travelling in. The buses are also comfortable so passengers can have a convenient trip while travelling for several hours.
Read Also: Periska Bus Online Booking, Routes, Fares, Schedules & Contacts
Final Thoughts
Booking your bus tickets online is still the best because it saves you time and helps you to avoid stress at the bus terminals. As long as you have a smartphone or laptop with internet access, you can easily book your ticket. Nonetheless, always make sure you are careful when submitting your details.
Make sure you provide the right information so that you don't have to face serious issues with your trip later. Also, choose the passenger category that suits your pocket. You don't have to be in the VIP category. The business class and Standard seats are also comfortable.