Mololine Shuttle Online Booking, Routes, Fares, Schedules & Contacts
Mololine Prestige Shuttle is one of the most reliable transport companies in Kenya this is why Mololine Shuttle online booking is mostly asked by commuters. In this article, we will reveal to you the latest Mololine ticket booking methods, Mololine routes, travel schedules, contact details and every other important information you should know about Mololine.
Kenya owns most of the leading transport companies in East Africa and also as the third most populated country in Eastern Africa with over 53,771,296 inhabitants the Kenya transportation industry has grown to become the pillar of Kenya's economy.
With such a feat, investing in the transport industry of Kenya has attracted a lot of serious-minded business people who have invested in the transportation industry and created a healthy competition among other transport companies which has led them to offer top-notch transport services which meet up to global standards.
The transport business thrives well in Kenya and Mololine Shuttle took advantage of this, if you have been thinking of booking a trip with Mololine Prestige Shuttle then you are in the right place and you are about to make a lovely decision that will make you use Mololine continuously.
Without further ado let us start the topic by telling you about Mololine, how it came about, years active in service and other important details on Mololine.
About Mololine Shuttle
Mololine Prestige Shuttle (Mololine Services Limited) was established in the year 1994 although it started to operate officially in 1995 with its main bus terminal located in Nakuru. Over the years the company has put in a lot of hard work and dedication which doesn't tamper with commuters' comfort and safety.
In short, Mololine has improved in all its services and this made it gain the popularity it has now.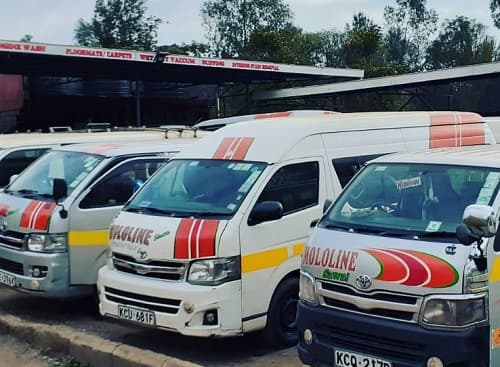 Mololine Shuttle can be seen in most Kenya cities, unlike other transport companies that use big vehicles Mololine only uses medium buses, the 16 – 18 seaters Matatus, these buses don't carry more than 12 passengers so as to give the customers enough space to enjoy their trip.
It also uses the Matatus 14 seater buses to carry just 10 passengers, this ensures you enjoy a convenient, comfortable and enjoyable journey. You do not need to get home and be stressed, you have all the space for yourself.
Mololine also operates logistic services, you can easily send goods in parcels, luggage, boxes e.t.c. to other destinations where you have someone come pick it up.
There are other benefits or reasons why you should travel with Mololine but before we mention them let us quickly show you the major routes plied by Mololine.
Mololine Shuttle Routes
Below are the major routes plied by Mololine buses, although not limited to this list:
Nairobi
Eldoret
Kitale
Naivasha
Kisumu
Kericho
Kabarnet
Why Use Mololine Shuttle?
We are quickly going to highlight the reason why you should travel with Mololine:
Spacious sitting arrangement for comfort
Well educated drivers that get regularly re-evaluated
A set speed limit for all Mololine drivers to follow
Top-notch customer relations services
Air-Conditioned buses
Charging port for each seat
Internet Wifi
Sound Systems for entertainment
Onboard TV for visual entertainment
Affordable transport fares
Benefits ain't limited to the listed but this is enough to tell you Mololine is one of the best transport companies in Kenya with such mouthwatering services.
Mololine Shuttle Online Booking of Tickets
Mololine currently does not have an online portal for ticket booking which makes it a bit different from other top sophisticated transport companies like Easy Coach or Simba Coach, although the company is currently working on that.
This means the only method in which you can book a ticket for a trip with Mololine Shuttle is to visit their offices or instead put a call through to their contact phone number which can be found before the end of this article.
Mololine Prestige Shuttle Fares & Schedules (Transport Prices)
As Mololine doesn't have an online platform for ticket booking there is no specific schedule or transport fare display that you can rely on, your best bet is to walk down through any park or offices of Mololine.
Once you get to the park you are definitely going to see available buses of Mololine which you can travel with, the buses move whenever it is filled and to top it up Mololine Shuttle also operates during the day and at night.
Based on the transport prices of Mololine, there is no fixed price for a particular trip but the average price is usually between Ksh 500 – Ksh 1000, this depends on the distance you are traveling through, you can also check out Easy Coach Transport and Online Ticket Booking.
Mololine Shuttle Contact Details
Below we have listed Mololine contact details for you to book your tickets, make a complaint or submit a recommendation on how you can be better served.
Nairobi Contact Details
Address: P. O. Box 34700, Nairobi, Kenya.
Phone No: +254 722-735-607
Nakuru Contact Details
Address: Bus Stage, Jomo Kenyatta Hwy, P.O.Box: 13668 – 20100 Nakuru, Kenya.
Phone No: +254 208-333-9296, +254 0733-778-935 or +254 203-556-368.
Conclusion
Mololine is one of the most reputable and safe transport companies in Kenya as we speak, aside from the fact that it has earned a lot of awards there have been thousands of positive reviews about this transport company. The only downside of the company is that there is no Mololine Online Booking platform which they promised to deliver soon.
Read Also: Climax Coaches Online Booking, Fares, Routes & Contacts
We hope you enjoyed reading through this piece, if you have any questions, complaints or contributions to make on Mololine Prestige Shuttle you can type them in the comment box below.