Periska Bus Online Booking, Routes, Fares, Schedules & Contacts
Are you in a quick search on information about Periska bus limited, Periska online booking, routes plied, fares, and other important information about the transport company? We have taken our time to research and provide you with authentic information about this transport company.
Kenya is a country blessed with smart and intelligent people likewise the country boast of smart investors, as we all know the transport industry all over the world is a profitable one, this is why we would not ignore the effort of transport investors in Kenya.
The transportation industry in Kenya has had a rapid boost compared to how it was decades of years back, we now have transportation companies that meets up to international standards to the extent they leverage technology to speed up various booking processes.
If you are planning a new trip and you want the best travel experience then Kenya Transport companies of today have what it takes to make that happen, Periska bus Ltd isn't an exception this is why there are many questions surrounding this transport company as many commuters want to know more about Periska.
Read Also: Mololine Shuttle Online Booking, Routes, Fares, Schedules & Contacts
The fact that many investors are now investing in the Kenya transportation industry has created healthy competition among them all and in turn has enabled the passengers and citizens of the country to enjoy the best transport services all over Kenya counties.
Periska bus is one of the leading transport companies in Kenya today and we will do our best to prove this fact to you in today's article, you are really missing if you haven't tried Periska bus out.
Before we dive deep into the article we will love to reveal to you about Periska Bus Limited.
About Periska Bus Ltd.
Periska bus limited is one of the top transport companies in Kenya that has over time provided the country with a smooth and affordable transport services. The company is a new one in Kenya and has promised to give commuters a safe and comfortable trip.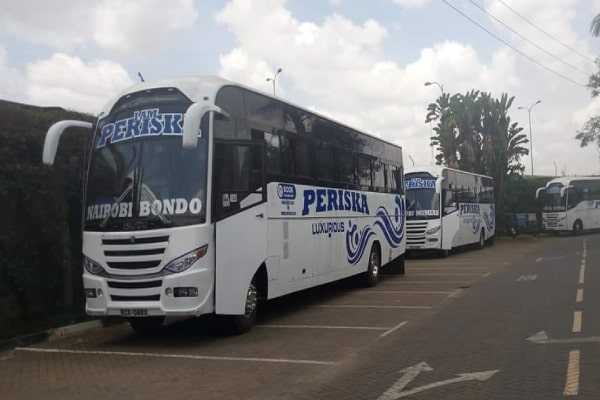 The transport company can be seen across all counties in Kenya most especially in the Northwest of Kenya and it will be so good if you intend to travel from Nairobi to any of the destinations we have listed below as it is cheaper and convenient:
Nairobi – Busia
Nairobi – Kisumu
Nairobi – Bondo
Nairobi – Kendubay
Nairobi – Homabay e.t.c.
Doesn't stop here, if yours is just a short distance trip you are also covered, you will also enjoy the cool and spacious sitting arrangement of Periska buses. There are a lot of benefits to enjoy while traveling with Periska but before that below is a list of some destinations covered by Periska bus.
Akala
Asumbi
Adiedo
Ahero
Awasi
Bumala
Bondo
Busia
Imbo
Chavakali
Chabere
Gilgil
Homabay
Kakamega
Kadongo
Yala Kenya
Kapsoit
Kericho
Khayega
Katito
Kombewa
Kosele
Kisian
Lwanda
Mbale
Mumias
Mbita
Maseno
Misambi
Nakuru
Nyawita
Ngiya
Ndori
Naivasha
Oyugis
Rangwe
Rap Onditi
Rodi
Ringa
Rwambua
Siaya
Shianda
Sondu
Usenge
Ugunja
Wagai e.t.c.
Periska bus operated all through the day, morning, afternoon and even evening departures through all their plied routes and for customers to enjoy a memorable trip the company has put in place the following:
Well-trained and educated drivers who get reviewed regularly.
Air-conditioned fleets of buses.
A modern sound system and Television for the entertainment of commuters.
Speed limit set for all drivers to stick with.
An ergonomic seat with an armrest for comfortability.
Free internet WiFi onboard.
Charging points to charge your mobile devices.
24/7 Customer representative agents.
We have listed just a few as the benefits of traveling with Periska is endless and most of their buses are Scania, Semi-luxury buses that are locally fabricated in Kenya.
Read Also: Climax Coaches Online Booking, Fares, Routes & Contacts
Periska Logistics Services
Periska bus limited doesn't focus on transportation of passengers alone they also offer parcel services also known as logistics services, this is way cheaper than the main logistics companies in Kenya and gets to the destination of choice quicker than other logistics companies.
When you use Periska bus logistics service you are assured of the safety of your goods or parcels and a secured pick up is being put in place at every destination.
Periska Bus Online Booking (Ticket Booking)
Have you made up your mind to give Perika bus a try but you do not know how to book a ticket with Periska bus online? Kudos to this wonderful transport company as they've made that an easy thing to do.
You can book a ticket through various methods, via phone numbers, booking offices and also on Periska bus official website. From the comfort of your home, office or even while on a stroll you can easily book Periska bus via their online ticket booking portal.
Below is the process to book a ticket on Periska bus website:
Launch your browser via mobile/desktop and visit www.periska.co.ke.
A form will be presented to you where you need to choose your current location, the destination of choice and the date of travel.
Hit on the search button and a new page will be loaded with the available busses for you to choose from.
Select your bus of choice and continue to make a secured payment.
You can make a payment with your debit card or Lipa Na M-Pesa on the same portal.
Continue with the steps displayed and you will have a successfully booked ticket for your trip.
Periska Booking Offices Contact Details
Aside from booking online for those who do not have access to an internet connection you can also book a Periska bus ticket by visiting any of their booking offices below:
Address: Periska Limited, P.O box 3034, Kisimu, Kenya.
Email: [email protected] or [email protected]
For those who want to book a ticket via calls below are the phone numbers to call:
Nairobi Booking: +254-733-494-787 or +254-742-784-783
Kisumu Booking: +254-733-392-438
Periska Contact For Feedback: +254788208628
Read Also: Easy Coach Ticket Prices, Booking, Bus Stations & Contacts
Conclusion
Periska is a top-notch transport company in Kenya that boasts of thousands of positive reviews from commuters who have traveled with Periska bus, this is enough reason for you to try out this transport company as it ensures safety and comfort of the Kenyan citizens at an affordable price.
In case you do not wish to travel with Periska for a reason known to you you can as well check out other top leading transport companies in Kenya like Easy Coach, Monoline Shuttle, Eagle Liner, Modern Coast, Translux, Intercape e.t.c.