Tony Elumelu Net Worth; Biography, Career, Assets & Facts
What is Tony Elumelu net worth? This article reveals known and hidden information about Tony Elumelu biography, Tony Elumelu net worth, his career, education, family, assets and many other facts about him.
Tony Elumelu is one of the most famous and respected icons from Nigeria, he has impacted lives all over Nigeria, Africa and globally, Tony is the C.E.O of the Tony Elumelu Foundation (TEF) and his success is worth studying.
Tony Elumelu got his wealth from sheer hard work and this has been checked with confirmation that he deserves to have whatever he owns today. You must be interested in knowing more about Tony Elumelu biography now, before we continue let us quickly give you a brief profile of him.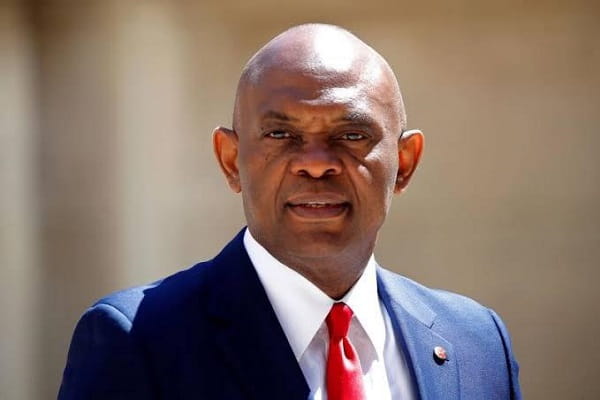 Tony Elumelu Profile
| | |
| --- | --- |
| Full Name: | Anthony Onyemaechi Elumelu |
| Date of Birth: | March 22nd, 1963 |
| Birth Place: | Plateau State (Jos) |
| Native of: | Delta State (Onicha-Ukwu) |
| Nationality: | Nigerian |
| Spouse: | Dr. Awele Vivien Elumelu |
| Occupation: | Banker, Economist, Investor and Entrepreneur |
| Net Worth: | $1.5 billion |
We are certain that this brief profile isn't enough to tell you who Tony Elumelu truly is, if you are so much interested in the full gist about Tony Elumelu net worth (how he made his money) and his full bio then you need to continue reading this article.
Biography
Tony Elumelu Anthony Onyemaechi Elumelu was born on the 22nd of March 1963 in Jos the capital city of Plateau State. He is originally a native of Onicha-Ukwu in Aniocha North Local government area of Delta State.
He got his traits from his parents Mr. Dominic Elumelu and Mrs. Suzanne Elumelu who are successful entrepreneurs and did their best to train Tony and his siblings on how to run a business successfully, Tony Elumelu built on this and pursued a career in the business line.
Tony Elumelu has 4 more siblings and most of them are known as they are individually famous, one of them is a politician Hon Ndudi Elumelu who served as an ex-member of the Nigerian Federal House of Representatives, other siblings of his are also successful in their various line of profession.
Not depending on his parents' income Tony Elumelu is a self-made billionaire in dollars, he worked hard to earn every penny he has today, he acquired all the needed education and resources with sweat and today he is one of the most celebrated Nigerians.
Education
Achieving success of this magnitude may not have been made possible without Tony Elumelu getting the necessary education, just like every other Nigerian basic education also regarded as elementary education is a must so Tony Passed through this, he also furthered his education through the Secondary School where he had his Senior Secondary School Certificate.
Tony Elumelu after his secondary school proceeded to the higher institution to study Economics at the Ambrose Alli University, after completion of his study he got his bachelor's degree in Economics.
He later attend the Lagos State University for his master's degree, after this, he traveled abroad to get more education, he got admission to study at Harvard Business School, had his Management Development study in Lausanne in Switzerland and also study at the Singapore Institute of Management, all these boosted his CV making him qualified for anything business-related.
Career
Tony Elumelu started his career at an early stage as a copier salesman, after he was done with his Master's study he applied to join Allstates Trust Bank even though he didn't meet up to the job requirements. The CEO of the bank storms on his application letter and was amazed, he requested him to come for an interview which he passed.
Seeing his level of intelligence and how hardworking he was the bank offers him a position as the branch manager at AllStates Trust Bank, this made him the youngest branch manager of a bank in Nigeria then and he was just 26 years old.
He also had his National Youth Service Corps at the bank, Union Bank precisely and he was among those who led the largest merger in the Sub-saharan Africa banking sector, he helped move United Bank of Africa (UBA) to an unimaginable level making it one of the biggest banks in Africa today.
Over years of working in the banking sector, he was able to learn and utilized his knowledge greatly, this is well seen in every bank he worked with, he boosted the number of bank customers to over 7 million all across over 15 African countries.
After having a successful time working in UBA Tony Elumelu retired then he handled his family-owned company named "Heir Holdings" a company with a clear goal and aimed at investing in real estate, agriculture, health, financial services, hospitality, oil and gas and so on.
If you have heard of Transcorp (Transactional Corporation of Nigeria) then you will have an idea of how big Heir Holdings is as the company has a huge interest in the company.
After achieving a lot in the business world Tony Elumelu launched the Tony Elumelu Foundation to help young and willing Nigerians with financial assistance and help them with their entrepreneurship encouragement, this isn't done in Nigeria alone, it covers the whole of Africa.
Achievements
Tony Elumelu can be called a great achiever, he was able to achieve while discharging his duties in the various banks where he worked, aside from that his achievements speak for him and he was made the advisor to USAID's Private Capital Group for Africa.
Also, he was made the Vice Chairman of NCCN (National Competitiveness Council of Nigeria, was made the head of ATIC "Agricultural Transformation Implementation Council" and also served as the Global Advisory Board of United Nations Sustainable Energy for All.
According to Forbes and other famous magazines Tony Elumelu makes it on the list of top 100 most influential people in the world today, he is the hope of youths and entrepreneurs all over Africa.
Who is Tony Elumelu Wife? (Family & Relationship)
Tony Elumelu got married to his heartthrob in 1993, she goes by the name Dr. Awele Vivian Elumelu who happens to be a medical practitioner.
Their union was blessed with 7 kids, 2 boys and 5 girls, the boys are twins and all grown up now. With the rigorous demand for Tony Elumelu's expertise, he and his wife were able to manage work and home without one affecting the other.
Tony Elumelu As A Book Author
An intelligent and prolific businessman like Tony Elumelu must have various formulas he uses which guides how to be successful in whichever field you operate in, he has put a lot into writing and has published varu=ious books on business.
His non-failing strategies and business ideas have also worked for those who learned from him by reading his books, the publication is aimed at helping business owners develop and this, in turn, helps each country in Africa to boost their economy.
All Tony Elumelu books are rated as best selling e.g. "The Power of Vision" which was during his retirement at UBA starting the journey of his success, some of his publications for other brands include "The Wall Street Journal", "The Financial Times" and also "The Economist."
Tony Elumelu has also helped other publishers to add some form of inspiration to their work e.g. Bili A. Odum book "How to Excel at Work" and many others.
Tony Elumelu Net Worth
Tony Elumelu net worth is currently estimated to be over $1.5 billion, he has worked in various banks as an economist and he is also a prolific investor.
Awards & Recognition
Tony Elumelu is a multi-award-winning individual, he is currently one of the most influential people in the world and stating the biography and net worth of Tony Elumelu will not make sense without his rewards.
In 2003 Tony Elumelu joined the Member of the Order of the Federal Republic of Nigeria.
In 2006, he got a national honor.
In 2008 he was awarded the African Banker of the Year – by African Banker Magazine.
In 2008 he was made the African Business Leader of the Year by African Investor Magazine and he graced the front page of various magazines.
In 2012 he made it on the spot 20 of Forbes Magazine Africa's Most Powerful People.
In 2012 he was among the 100 Most Influential Africans in Business
In 2020 he was listed among the 100 Most Influential People in the World
We have just listed a few as Tony Elumelu has his shelf filled with awards.
Tony Elumelu Assets (Cars & Houses)
He is not the type that spends money anyhow but he got himself the needed things, he owns some estates in his name as he is into real estate, and he also lives in Lagos State together with his wife and family members.
Tony Elumelu also has a good taste for cars, he owns a Range Rover and Mercedes Benz S-Class worth over 35 million Naira each, Tony Elumelu also own a private jet, which he mostly uses for his business trips.
Read Also: The 10 Richest Presidents In Africa [Updated]
We hope with this you have gotten enough information about Tony Elumelu net worth and biography, kindly hit the share button if you love this.