The 10 Best Android Emulators For PC
Android emulators for PC are an incredible tool that allows you to give your computer the appearance of a mobile device and install applications that are only compatible with the latter. But its usefulness goes much further, depending on your choice. 
There are many available on the market, which you can download to your computer and start enjoying their functions.
However, some are of very poor quality or do not live up to what they promise, which is why you will find the list of the best Android emulators for PC, below.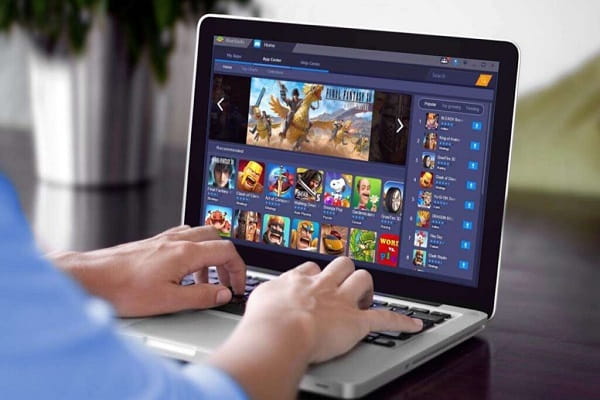 It should be noted that the user's preferences or the comfort they feel with the software are what counts, in the end, to decide which of these is the best.
The 10 Best Android Emulators For PC
1. AndroidStudio
This one is based on the appearance of a programming console. It's ideal for developers who want to test their Android apps as they work on them. It also includes an emulator for Google OS, where you can check the compatibility with the different versions of it.
The main advantage of this software is that it is official and is available on its website to be downloaded for free, so you won't have to worry about its interface incorporating unnecessary or annoying applications. However, a negative factor of Android Studio is its complicated appearance, difficult to understand for many inexperienced users.
You can get this emulator on your PC by clicking the following link.
2. BlueStacks
This is one of the oldest Android emulators on the market. In addition to being one of the most complete regarding the use of mouse and keyboard for games. It currently has various versions available on its official website. BlueStacks' mission is to offer the best possible experience to its users, in addition to an intuitive and easy-to-use interface.
However, their reputation and popularity have played against them, after including too many pre-installed applications that are unnecessary for the public. As well as the development of a Premium version to obtain all the available apps.
BlueStacks adapts quickly to the desktop of the PC, works with Android 7.0+ and allows the use of multi-windows for the use of several applications or games at the same time.
3. MEmu Play
Initially known as MEmu, it focuses on the exclusive use of games, although it also allows you to use other applications such as WhatsApp or Instagram in its mobile version. In the same way as the previous one, with this emulator, you can run the multi-window function, since each app runs independently of the other.
One of the main advantages of MEmu Play is that it offers the possibility of mapping the keyboard, in a way that allows you to simulate screen touches or special commands for the use of games. It is developed to run on both Intel and AMD. However, its most prominent drawback is the age of supported Android versions (Jelly Bean, Kit Kat and Lollipop) 4.1.2/4.2, 4.4 and 5.1 respectively.
4. Genymotion
It is almost as popular as BlueStacks. It has two versions, one of them allows you to use the Google Operating System from the cloud, thus saving data storage on the PC. While the other is by installing the software directly on the computer.
This allows access to the more than 3,000 different configurations available with the appearance of different virtual devices. This represents a clear advantage for developers, to whom this emulator is especially aimed. Through Genymotion they can test compatibility even on older equipment, such as the Nexus 6.
However, one of the most obvious disadvantages of this emulator is its limitation in the free version. What prevents using the best options, for which it is required to contract the payment plan.
5. NOx
Created and developed with the main purpose of offering gamers the possibility of using their favorite apps as if they were their own on the computer. This one, like some of the previous ones, allows you to map the keyboard and mouse to have a better performance during games.
Its most recent update is version 6.0 and, although it is based on Android 4.4.2 OS, it supports a wide variety of games and applications, including the most recent novelty in the multiplayer category, "Free Fire". NOX is compatible with X86 and also AMD, similarly, it can be easily adapted to Mac OS computers.
6. ARCHon
This is an emulator that can be installed as a Google plugin or extension. This in turn allows you to run original Android OS apps or games directly from your .apk file without having to close or exit the browser.
However, before you can do this, you need to transform the applications with a special tool, integrated within the ARCHon interface itself.
7. K.O. Player
Relatively new compared to other emulators available on the web. KO Player is focused, like many others, on offering maximum fun in gaming, since it has special features, such as keyboard mapping, hardware acceleration, as well as an OpenGL-type graphics engine.
As an additional advantage, with KO Player each person has the possibility to record their games and later share them on different digital platforms. Its appearance is based on Android version 6.0 (Marshmallow). It should be noted that, with this emulator, you will also be able to install conventional applications and use them on your computer as if they were authentic PC applications.
8. Bliss ROMs
This is a kind of alternative Operating System to Windows-based on Google's OS, you can install it on one of the partitions of your PC's hard drive or on a particular computer. It works through an open code that supports Android Nougat, Oreo and Pie versions like a real Smartphone.
9. Prime OS
This, like the previous one, is an Operating System based on Android. So it could be said that it is not an emulator per se, since it must be installed on a partition of the computer's hard drive and run when the PC starts up, just as if it were a Smartphone with the same OS.
The main advantage in this type of alternative systems is that they offer a much more real experience of the Android interface. Allows the use of the keyboard and mouse for better functionality. It also includes a start menu, notification panel, taskbar and multifunction.
10. Andy
It allows you to download, install and use multiple exclusive Android applications on your PC with Windows Operating System. It stands out among many of the competition thanks to its simple interface, easy download and installation without annoying complications. It is compatible with a large number of apps and games available on Google Play.
To download it, you just have to click on the following link and get one of the best Android emulators for computers.
Read Also: The 7 Best Airports In The World
Here comes the conclusion of the top 10 best android emulators for PC, if this list is helpful kindly hit the share button below, if you have issues installing any you can make use of the comment section.