Serena Williams Biography, Net Worth, Age and Facts About the Celebrity
In this article, you will read about one of the most successful female tennis players and her life history; Serena Williams biography including details about her lifestyle, family, and other facts.
Serena Williams is a Black American professional tennis player who is regarded as World #1 women single tennis player with over 23 Grand Slam singles titles.
She was previously ranked as the best paid female athletes in 2016 after receiving $29 million worth of prize and endorsement deals. Serena is currently married to a Reddit Co-Founder; Alexis Ohanian whom she had a daughter.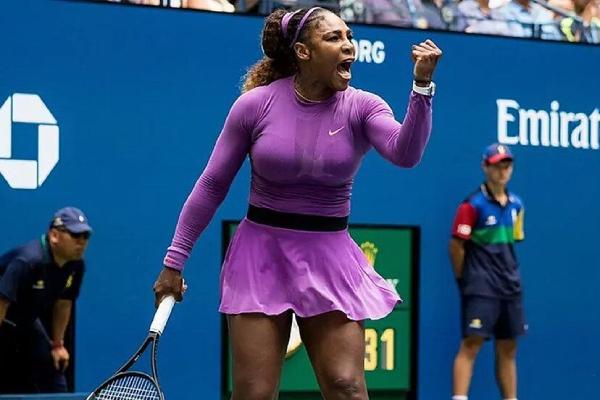 Continue reading Serena Williams's biography to get more details about the talented and famous tennis player including her achievement and net worth.
Family Background and Education
Serena Williams was born on the 26th of September in 1981 in Saginaw, Michigan in the United States by Oracene Price and Richard Williams. The talented tennis player who is from a black race is the youngest of 5 daughters given birth by the couples with more than 7 half-siblings. Her elder sister, Venus Williams who later becomes a talented tennis player is her only full-sister.
The famous tennis player was at the age of 4 when Williams moved to Compton with her siblings. Being an ardent lover of tennis, the parents of Serena took turns in developing their daughters' talent and tennis skills.
They later moved to Palm Beach in Florida when she was 9 years old where she attended a tennis Academy and being coached by Rick Mace. In 1995, Richard Williams, Serena's father later withdraw her babies(Serena and her elder sister, Venus) out of the school due to Racism experience and comments made to them by the white kids.
Career
Serena Williams is a baseline tennis player. she was coached and homeschooled by her parents who believe in her talents. In 1995, she made her first debut match at Bell Challenge in October after being rejected at the Mild Card Entry for being underaged. She was able to win against two top players which makes her the lowest rank player in the list of top 10 that year. Even though she later lost in the qualifying round.
Since then, Serena Williams has continued to play different tournaments where she lost some and win some. She didn't get to the top by chance but as a result of her hard work and determination. She started rising in ranks after years of participating and playing Tennis.
For example, she ranked 99th in the Ameritech Cup Chicago. She also won with her sister, Venus in Oklahoma city her first professional title. She has won many medals with her sister in doubles and even in singles.
In 2000, with Venus, she won an Olympic in Sydney, Australia. She also went ahead to win the French Open, US Open, and Wimbledo, and Australian Open where she also defeated her sister at the finale. Serena became one of the 6 women to attain and earned a Grand Slam.
Serena is one of the most famous and successful Tennis Players in the world with a total of 39 Grand Slam titles( 23 singles and 14 doubles) putting her joint-third on the all-time list and second in the Open Era.
Due to the fame gathered as one of the most successful female athletes, Serena has bagged many endorsements deals with many sports and international brands including Nike, Berlie bras, Intel, Chase Bank, Delta Airlines Gatorade, IBM, OPI Products among many others.
Investment and Business Deals
Serena is not just a professional tennis player but also an entrepreneur and a fashion designer. Being a graduate of the Art Institute of Fort Lauderdale for Fashion Design, in 2004, she created a designer apparel line which she named "Anneres".
On the 30th of May in 2018, she also went ahead to launch another clothing line which she named "S" in addition to another handbag collection and jewelry line which was sold together under Home Shopping Network(HSN)
Back in 2010, Serena takes her fashion skills overboard by becoming a certified nail technician after which she became one of the Board of Directors for an online fashion marketplace; Poshmark in February 2019
She also became a minority owner of the Miami Dolphins with her sister, Venus after purchasing small shares from the NFL team. It's one of the greatest achievements for her as she with her sister became the first black woman to own an NFL franchise.
In August 2009, Serena and her sister, Venus became minority owners of the Miami Dolphins with the purchase of a small stake in the team. They are the first black women to hold ownership of such in an NFL franchise.
She has also been contacted to work as a Chief Sporting Officer for a British Luxury Automobile Company; Aston Martin. She is also one of the Survey Monkey Directors.
Apart from being an entrepreneur and a professional tennis player, Serena also co-author a book with her sister, Venus, and Hilary Beard which was titled Venus & Serena: Serving From The Hip: 10 Rules For Living, Loving And Winning in 2015.
Family and Personality
Serena Williams husband is a Co-Founder of Reddit, Alexis Ohanian. The successful tennis player who is currently 42 years old announced her engagement in 2016. But not until November 6 in 2017, when she got married officially. She currently has a daughter who was named Alexis Olympia Ohanian.
Serena Williams is a free-spirited and outgoing woman with a unique fashion sense who loves to give back to society. She is also a philanthropist who has been involved in many NGO projects. Ranging from raising money with her sister Venus for the Ronald McDonald Charity House, providing scholarships for the US underprivileged student.
Working closely with Elton John, AIDs Foundation, The Holly Rod Foundation, The Caliber Foundation, Beyond the Boroughs National Scholarship Fund, Great Ormond Street Hospital, Hearts of Gold, The Common Ground Foundation, and so many other.
Awards and achievement
Without mentioning the awards and achievements made by the famous athlete, Serena Williams biography won't be completed.
Below is the list of some of Serena Williams awards and achievements.
1999 Rolex Rookie of the Year by the Tennis Magazine
2000 WTA Doubles Team of the Year with Venus Williams(Sister)
2000 Extraordinary Achievement Award by the Teen Choice Awards
2002 ITF Women's Singles by the world champion
2002 Sportswoman of the Year by the Gazzetta dello
2002 Female Athlete of the Year by the United States Sports Academy
2003 Young Heroes Award by the Big Brothers and Big Sisters of Greater L.A.
2003 34th President's Award by NAACP Image Awards
2004 Female Athlete awards by Teen Choice Awards
2005, 2007, and 2009 Female Athlete of the Year by BET Awards
2010 Best Female Tennis Player by the ESPY Award
2010 Female Athlete Award by Teen Choice Awards
2011 Best Female Tennis Player by the ESPY
2011 30 Legends of Women's Tennis by the TIME Magazine
2012 Champion, US Open Series
2012 Best Female Athlete by the International Sports Press Association (AIPS)
2013 Sportswoman of the Year by the Gazzetta dello
2013 ITF Women's Singles for the World Champion
2013 L'Équip Champion of Champions
2014 Sportswoman of the Year by the BET
2014 Female Athlete Award by the Teen Choice Awards
2014 Champion for the US Open Series
2014 ITF Women's Singles by the World Champion
2015 WTA Player of the Year by the ESPN Tennis
2015 Sportswoman of the Year by the Woman's Sports Foundation
2015 Player of the Year by the WTA
2016 Sportswoman of the Year by the BET award
2016 Best Female Tennis Player by the ESPY Award
2017 Sportswoman of the Year by the BET Awards
2017 Best Female Tennis Player by the ESPY Award
2017 Best Female Athlete Award by the International Sports Press Association (AIPS)
2018 Sportswoman of the Year by the Laureus World
2018 Female Athlete of the Year by the Associated Press
Read Also: Queen Latifah Biography and Net Worth – Career, Awards, Albums & Facts
Serena Williams Net Worth
Putting up with all the endorsement deals, wealth acquired from playing Tennis with her other investment deals and assets, Serena Williams's net worth is estimated to be $170 million according to Forbes magazines.