Queen Latifah Biography and Net Worth – Career, Awards, Albums & Facts
This article contains the life history of the Queen of Jazz-Rap; the biography of Queen Latifah including everything you need to know about her.
Queen Latifah as fondly referred to as by fans was born with the official name; Dana Elaine Owens. She is a black American, singer, and rapper, songwriter, producer, model, actress, and author. Most of the songs sung by her are in R&B, Soul, Hip-Hop, Gospel, and Jazz genres.
The award-winning female rapper is dubbed the Queen of Jazz-Rap by fans. Being a feminist rapper, she's vocal about black women's rights and issues surrounding them. Continue reading Queen Latifah's biography to know more interesting facts about her.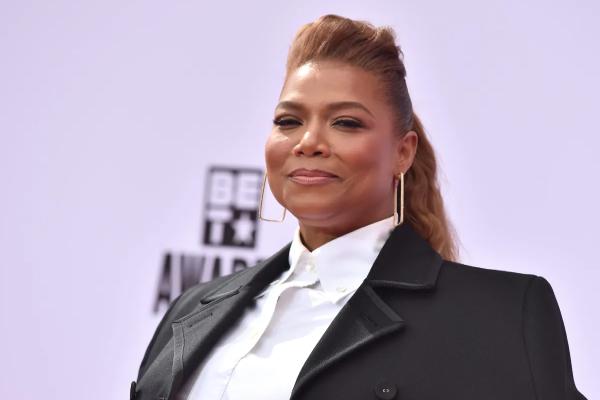 Family Background and Education
Dana Elaine Owen who is popularly known as Queen Latifah was born on the 18th of March, 1970. She was born in the city of New Jersey, Newark in America by two couples; Rita Owens and Lancelot Amos Owens. Her mother, Rita was a high school teacher and an actress during her lifetime. She later died of complications of heart failure in 2018. While her father, Lancelot Amos Owens was a police officer.
At the age of 8 years old, Queen Latifah selected her stage name to be used later in life from the Arabic books of name. She chooses Latifah which translates to "Delicate" and "Very Kind" and since then, she's referred to as Queen Latifah
Her parents were divorced by the time she was 10 years old. Hence, she moved with her mother to East Orange Jersey where she was raised. Rita Owens raised her daughter, Latifah with baptist faith and she also attended a Catholic school.
Queen Latifah attended Essex Catholic Girls High School in Irvington but later transferred to Irvington High Field School where her mother was a teacher.
During her high school days, she plays basketball for her school team playing at the Power Forward.
She also performed the music "Home" from the musical wiz during a school play. She later proceeds to Borough of Manhattan Community College after graduating from Irvington high school.
Music Career
She started her music career by beatboxing for Ladies Fresh(a hip-hop group). She also became a member of the Flavor Unit which was being overseen by DJ King Gemini, a producer.
It was this DJ that makes the Demo recordings of her rappings and gave it to Fab J Freddy, who is the host of an MTV Raps.
It was through those acts that she got noticed by Dante Ross, the Tommy Boy Music record boss. Queen Latifah got signed to Tommy Boy music in 1989 and released her first single titled "Wrath of My Madness".
This is followed by her first album which she titled "All Hail the Queen" featuring a hit single "Ladies First". She released her first album at the age of 19 years old.
She identifies her audience early in her music career as she focused on singing for black women. She focused on issues surrounding them including violence, harassment on the streets, and relationship problems.
She got a lot of awards and recognition for influencing black women. An example of such an award is the Candice Award in 1992 from the National Coalition of 100 Black Women.
In same 1989, She gets featured in the hustles convention on the UK life album. She released her second album which she titled "Nature of a Sista" in 1991. By 1993, she has released another album titled "Black Reign" with hit single "Unity".
Following her theme in music, "Black Reign" projected and raise a lot of awareness on the right of women worldwide. Queen Latifah can be considered as a feminist rapper who helps to amplify women's rights using her songs.
She released her 4th album in 1998 which she titled Order in the court after leaving Tommy Boy music records to Motown Records.
After which she changed from rapping to singing soulful music. She went ahead to release Dana Owens Album which was purely soulful. She also recorded a gospel track with NJOAC Jubilation Choir in the album titled "OH Happy Day: An All-Star Celebration".
She switched back to hip-hop in 2009 by releasing another album " Persona" with the hit single "Cue the Rain" album.
Apart from releasing her numerous albums, Queen Latifah has also sung in a lot of concerts. This is including the Hollywood Jazz Concert with over 12,400 audiences, her 106 & parks appearance to promote Joyful Noise with Dolly Paton also.
Queen Latifah has also collaborated with a lot of other singers including featuring on Tony Benet's "Duets" Album and many others.
Her Acting Career and Others
Apart from being a singer and rapper, Queen Latifah is also an award-winning actress. She started by acting in some 1991 to 1992 movies including Juice, House Party Z, and Jungle Fever.
Her role as Khadijah in the TV series "Living Single" on Fox sitcom from 1993 to 1998 makes her fame rose like a fire. Even though she has a lot of audience from Blacks before, she gains a lot more.
She has acted in over 40 movies ranging from "My Life" to "Hairspray" to "Hoodlum Sulie" to "Chicagoans Matron "Mama" Morton" to "Brown Sugar Francine" and so on.
Business Investment and Deals
Queen Latifah started her show in 1991 which she titled "The Queen Latifah Show". She brought a lot of people on the show until 2001 when she stopped.
In 2013, she tried to make a comeback but failed because the show got canceled due to a decline in ratings.
Being an award-winning feminist rapper and singer, she gets a lot of deals to become the face of brands like CoverGirls Cosmetics, Pizza, Jenny Craig, and Curvation Ladies Underwear.
She also launched a cosmetic line named Cover Girl Queen collections and another perfume line, Queen and Queen of Heart.
She also published a book titled "Ladies First: Revelations of a Strong Woman" which encourages and boosts young ladies' confidence and self-respect.
Songs and Albums
Being a popular rapper, Queen Latifah has sold over 20 millions of her records. Below is the full list of her studio Albums;
All Hail the Queen released in 1989
Nature of a Sista' released in 1991
Black Reign in 1993
Order in the Court in 1998
The Dana Owens Album in 2004
Trav'lin' Light in 2007
Persona in 2009
Personality and Family
Queen Latifah who is always wearing a ring believes when she sees the right man, she is going to replace his ring with hers. This means the 53-year-old rapper may start her own family when she meet the right man. And she is currently single as she hasn't acknowledged dating anyone.
Latifah dedicated her 3rd album to her dead brother, Lancelot Junior who died from a motorcycle accident. It happened that she bought the motorcycle for him before his death. This makes her suffer from depressions and drug abuse during that period.
Awards and Recognition
Being a feminist, Queen Latifah has earned many awards from different women community as well as another music-related award.
She wins a Grammy Award with 6 nominations in different categories. She was also nominated for Oscar Award even though she didn't win, she is the first rapper to be nominated.
Queen Latifah was also inducted in 2006 into the Hollywood Walk of Fame. In 2011, she was also inducted into the Jersey Hall of Fame.
Some of her other awards include two NAACP Image Awards, two Screen Actors Guild Awards, one Emmy Award, one Golden Globe Award, and many nominations.
Controversies
Like every other celebrity, Queen Latifah has a fair share of her controversies and crime. In 1995, she shoot her boyfriend, Sean Moon after surviving a Carjacking.
She was also arrested twice for related crime; In 1995, for handling marijuana with a loaded gun and In 1996, for driving under the influence of alcohol in Los Angeles. She was convicted and placed under probation afterward.
Read Also: Scott Disick Net Worth And Biography [Height, Age, Girlfriend]
Queen Latifah was also involved in a clash with Foxy Brown from the mid-1996's. She sang a diss song titled Name Callin which Foxy Brown also replied with a "10% Diss" song and so on. They later reconciled in 2000 and Queen Latifah featured Brown on her Tv Show where she performed Latifah's "Na Na Be Like".
Queen Latifah Net Worth
Queen Latifah's net worth is currently unknown but it's general knowledge that she is not an average rapper. She has a lot of investment and deals which makes living averagely impossible for her.