The 10 Richest Women In Kenya 2021/2022 [Net Worth Included]
Do you want to know the wealthiest women in Kenya? We have listed the top 10 richest women in Kenya and their net worth in this article, we got you covered with their current financial status, popularity, influence, how they got their wealth and their businesses.
When talking about the richest people there are many factors that come to play e.g. inheritance, divorce, entrepreneurship, and so on.
Recently we published the top 10 richest men in Kenya and we have been receiving a lot of views and comments on it, as it stands we cannot publish the wealthiest men in Kenya without publishing their female counterparts, hence the reason for this topic.
For the purpose of our readers, we at AllRoundGist have taken our time to source information from various government bodies and financial institutions on statistics based on Kenya women's wealth and now we have comprehensive information about their wealth.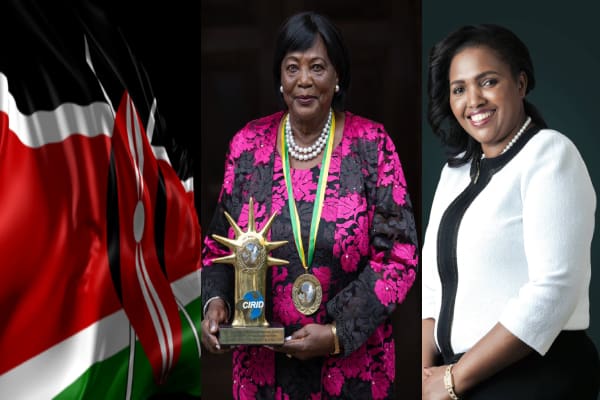 Mind you, none of the international ranking bodies like Forbes, Bloomberg, e.t.c. has published anything about Kenya women but believe me, Kenya Women are now changing many things to the extent they have a good number of wealthy people in East Africa and also in the whole of Africa.
Sooner or later we hope international ranking bodies will pay attention to Kenya and we can then have a recognized wealth rankings.
The hard work of Kenya women has taken a new dimension as we now have numerous successful women in Kenya today, they go shoulder to shoulder with their male counterparts in the Kenya business space.
This lead us to pick this topic and based on popular demand by our readers we have an accurate list of the wealthiest women in Kenya. Although there are many arguments and discussions surrounding this topic this is why we made our research and here we are with the most successful women in Kenya.
Read Also: The 10 Best Rappers In Kenya [Updated List]
Without further ado, let us go straight into the topic of the day as we list the investments, earnings, financial opportunities, government assistance, influence, and other facts about Kenya richest women.
Top 10 Richest Women In Kenya
Below is the updated list of the richest women in Kenya currently:
1. Ngina Kenyatta – $1 Billion
Currently, Ngina Kenyatta is ranked as the richest woman in Kenya, she is the first Republic of Kenya's first lady and is famously known as Mama Ngina. She is a woman who has made a mark in the Kenya real estate and most of her fortunes came from the inheritance of her late husband Mzee Jomo Kenyatta.
Aside from being a pillar in the real estate of Kenya, she is also into importation and exportation, she also invested in many other companies like the Commercial Bank of Africa, Heritage Hotels (hospitality), Mediamax, and Brookside Dairies.
Today, Mama Ngina Kenyatta is one of the most powerful women in Kenya, she isn't just a powerful and influential person, she is also the wealthiest Kenya woman, she is currently on the list of Africa's top billionaires by the Nigerian-based Financial Magazine which featured her in 2012.
Ngina Kenyatta net worth is estimated to be $1 billion and her wealth is attributed to income from real estate, hospitality, banking and other companies and organizations mentioned earlier.
2. Tabitha Karanja – $80 Million
The second on our list of richest women in Kenya is Tabitha Karanja the CEO of Keroche breweries Limited Kenya, she started from scratch and can be called a self-made millionaire. Back in the 90s Tabitha Karanja and her husband started a joint business that was mainly based on the production of fortified wine in Kenya.
As a local wine producer, they were faced with a lot of challenges as there is easy access to imported wine and also the government placed a heavy tax on local producers which affected her business negatively, with consistency, hard work and perseverance Tabitha Karanja was able to survive.
She restrategized and came up with gin and vodka to replace the wine and today her products can be seen in every corner of Kenya, Tabitha Karanja was able to propel her company to success by scaling up production from the normal 60,000 bottles daily to over 600,000 bottles, isn't that fabulous?
Tabitha Karanja net worth is currently estimated to be $80 million and her wealth is through the production of drinks which has placed her among the richest self-made women in Kenya today.
3. Margaret Saitoti – $21 Million
Margaret Saitoti is the 3rd richest woman in Kenya today, she is also the wife of a Kenyan politician George Saitoti the Kenya 6th vice president, they are both famous in Kenya.
The husband George Saitoti is a businessman, politician, mathematician, American & British trained economist and a smart investor before he died in a helicopter crash in June 2021 which was so sad and an unfortunate incident.
Due to the fact that Margaret Saitoti who happens to be his wife is the next in line to acquire his wealth, she was able to continue and build on what her late husband left.
As a woman who values privacy over a social lifestyle, you hardly see Margaret Saitoti speak on social media even though people have tried numerous times to drag her name into the media space but she has been so quiet.
Margaret Saitoti net worth is currently estimated to be $21 million and we can attribute her wealth to her late husband's fortune inherited by Margaret Saitoti.
4. Leah Wanjiku Muguku – $19 Million
Leah Wanjiku Muguku is also one of the most successful women in Kenya she is the daughter of the late business tycoon Nelson Muguku and her father's wealth influenced her as a huge percentage of her father fortunes was inherited by her.
Aside from the fact that she owns most of her father's shares, she made so many wise decisions and one of them is Leah Wanjiku Muguku investing in Equity Bank and owning up to 0.9% in the financial institution.
We mentioned that she made a lot of wise decisions, another among her decisions is that she owns a mall named "Waterfront" which is one of the largest malls in Kenya today. Not stopping here, she also has investments in other companies and owns many for herself.
Leah Wanjiku Muguku net worth is currently estimated to be $19 million, her fortune is traced to inheritance from her late father.
5. Jane Wangui Njunguna – $18 Million
The list of the richest women in Kenya wouldn't be complete without mentioning Jane Wangui Njunguna, she is the wife of James Mwangi who is the CEO of Equity Bank one of the leading banks in Kenya.
Jane Wangui Njunguna together with her husband owns the largest shares in Equity Bank, the couple is blessed with business brains and all their investment has always produced great results.
Jane was able to get enough investment through her husband's influence and her wealth has been experiencing rapid growth for like 6 years consecutively.
Even though they own the largest shares they didn't stop there, Jane and her husband were able to create a business portfolio for themselves.
Jane Wangui Njunguna net worth is pegged at $18 million which makes her the 5th richest woman in Kenya today.
6. Mary Okello – $18 Million
Although Mary Okello was born with a silver spoon but she didn't let that draw her back, she tried her best to take advantage of her wealthy family to build for herself a business empire.
Her father isn't only wealthy, he is actively into politics which made the family one of the most powerful families in Kenya today.
Another of her siblings once served as Kenya 9th Vice President, the influence this family has in Kenya isn't little but Mary Okello chose to be an entrepreneur, her family wealth helped so much to propel her into success.
Mind you, Mary Okello also worked in the ministry, the ministry of foreign affairs, that was after the completion of her university education, she also worked in other national and international organizations before starting her own business.
Mary Okello net worth is currently estimated to be $18 million, although she got a financial lift from her family's wealth and also the popularity of her family but Mary Okello has done well for herself.
7. Lucy Mwiti – $17 Million
Many Kenya youths look up to Lucy Mwiti as she is the youngest among the richest woman in Kenya, we need to appreciate her as she has displayed to the youths that they can be who they wish to be even at their youth age.
For a lady to be as wealthy as this in her youthful age then we should expect her to top the list of the wealthiest women in Kenya in the future.
Lucy Mwiti is such a beautiful and intelligent lady, she is the real definition of beauty and brains, we are anticipating what she will be in the next few years.
Lucy Mwiti net worth is currently estimated to be $17 million, she has the capacity to double this in a few years.
8. Jane Wayiru Michuki – $15 Million
Jane Wayiru Michuki is a famous layer in Kenya, she is one of the most successful ones who has handled cases of top clients all across Kenya, she is the main lawyer of the largest bank in Kenya Equity Bank and its holdings.
Even though she is a respected and high-earning lawyer Jane Wayiru Michuki didn't stop at that, while she works as a lawyer she is also into various businesses, Jane Wayiru Michuki is a successful businesswoman.
She is a smart investor and owns shares with top-performing companies, she also invested in the British-American Investment Company owning over 9% of the shares there and also owns shares in various companies.
Jane Wayiru Michuki net worth is currently estimated to be $15 million makings her appear on the list of the richest women in Kenya today.
9. Wacere Marra – $14 Million
Wacere Marra is the wife of the late Mayor of Nairobi and she is one of the richest women in Kenya who made it on the list of richest women through marriage.
Her husband Dick Wathika was once the Mayor of Nairobi before his death, Wacere Marra got an inheritance from her husband and has done well to increase her wealth through various investments.
Wacere Marra has around 21% stake in Sportpesa which is one of the leading bookmakers in Kenya today, she earns a lot from this company monthly and this is considered to be one of the smartest moves she made.
Wacere Marra net worth is currently estimated to be $14 million, she is also regarded as one of the richest women in Kenya.
10. Dr. Catherine Nyongesa – $8 million
The last but not least on the list of wealthiest women in Kenya we have Dr. Catherine Nyongesa, she has made a huge input in the Kenya health sector and has gained hugely from it.
Her ability and intelligence has saved a lot of people as Kenyans now have access to medical services which was once difficult to get in Kenya, there is no need to travel out of the country to seek for medical care of some health issues, all thanks to Dr. Catherine Nyongesa.
Dr. Catherine Nyongesa is a physician and radiation oncologist, she owns Texas Cancer Center situated in the heart of the capital city of Kenya Nairobi.
Dr. Catherine Nyongesa net worth is currently estimated to be $8 million, her fortune is attributed to money made while discharging her duties as a professional radiation oncologist and medical practitioner.
Read Also: Meet The 10 Richest Men In Kenya [Forbes Updated]
We hope you enjoy reading this piece, if YES kindly hit the social share button below to educate others about Kenya richest women, make use of the comment box to air your opinion about the list.