The 10 Best Rappers In Africa 2022 [Updated List]
Who are the best rappers in Africa currently? The rap genre of music stands out among other genres and is also not so easy as others. It is a form of music that has rhythm and poetry included and is mostly spoken in speed although can also be slow but in style.
Rap music in Africa has taken a different dimension over the years and Africans on African soil and other parts of the world are getting better at it day by day.
Mind you, the majority of African rappers have built a reputable background which has made them international icons with their flows and hot punchlines, rap music is acceptable and loved by millions of music lovers and this has fetched wealth for the rappers.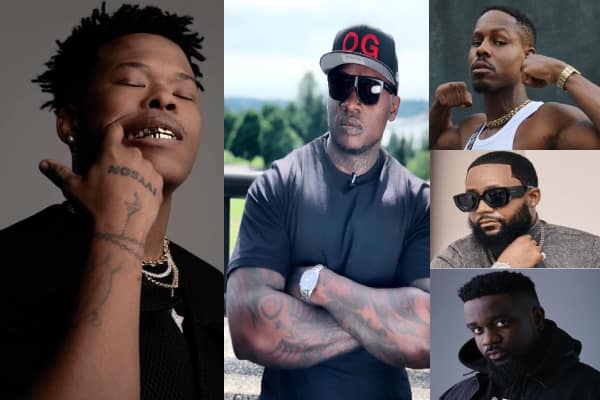 The history of rap music can be traced to some blacks in the United States of America in the early 1960s so it can be said that rap belongs to Africans although embraced by other nationals all over the world.
The selection of the best African rappers is specifically based on the reputation of the artists and the magnitude of acceptance of their music in their country and across Africa, how famous the rappers are, worldwide collaborations, their influence, awards won, and nominations.
It is important to inform you that this form of music is mostly dominated by South Africans, Nigerians, followed by other African countries. Without further ado, let us go straight to the topic of the day which is the top 10 best rappers in Africa.
The 10 List Of Best Rappers In Africa
1. Nasty C, South Africa
Nasty C is rated as the best rapper in Africa, his full name is Nsikayesizwe David Junior Ngcobo born on the 11th of February 1997 in Soth Africa and started his music career effectively in 2013.
Nasty C is African finest, he is a rapper, songwriter and also a record producer under the record label "Def Jam Records." His passion for music has been the driving force behind his success in the industry and his clever lyrics placed him on a different level.
In 2015 Nasty C was the youngest rapper to win an award L Best Freshman Awards, Best Male Album, Best New Artist all in 2015 and in 2017 he won the Best Hip Hop Album and since then there have been numerous awards won with a lot of nominations.
His type of rap is unique as he easily grabs the heart of his fans, he was able to capture the whole of Africa and also gone international, an artist with a good stage performance.
Some of Nasty C best music is Black and White ft. Ari, Lennox, Phases, Legendary, Allow, Sma, and many others just to mention a few.
Read Also: Top 10 Best Rappers In South Africa
2. Khaligraph Jones, Kenya
The second on the list of best rappers in Africa is Kenya finest Khaligraph Jones who was born on the 12th of June 1990 in Kayole, Nairobi, his full name is Brian Robert Ouko and he is a rapper and also known for hip hop music.
He is also known as Papa Jones and he came into the limelight with his hit singles titled Mazishi and Yego although he was known in 2009 when he participated in Channel O MC Africa Challenge where he made it to the final, some of his albums are Testimony 1990, Eff Off, Invisible Currency, The Take Over (Mixtape), Autograph, Best of Khaligraph Jones e.t.c.
Khaligraph Jones has also featured a lot of artists both local and international, he had a song with Sarkodie of Ghana and many other African musicians.
He is a rapper that stands out and can flow on any rap level, he had faster flows with American "Twista" and also Nigerian "M.I. Abaga"
In 2018, he won the "Best Rap Performance Award" by AFRIMMA, in 2020 he won the "Best International Stream" being the first-ever nominee from Kenya, in the same year he won the "Best Hip Hop Act."
3. Sarkodie, Ghana
Sarkodie is rated by some to be the best rapper in Africa and we at AllroundGist will agree that he deserves it, he is from Ghana and he is the best rapper in Ghana presently and also one of the most successful musicians in Ghana and even in Africa.
Sarkodie full name is Michael Owusu Addo born on the 10th of July 1988, he is a Ghanaian rapper, producer, and also businessman and has been in the business of music for more than a decade.
His music style is so different and he was able to win fans beyond the shores of Ghana. Sarkodie is a multi-award-winning rapper with top-notch punchlines, his musical flow is exceptional and his rapping personality is legendary.
In 2015 Sarkodie was named the "Greatest African Rapper" and he was also listed the 13th on the list of "Most Influential Ghanaian". He also won other awards and has been numerously nominated like the 2012 BET Awards he won the "Best International Act", he was also nominated in 2014, he has won over 80 awards and still counting.
Read Also: Who Is Ghanaian Best Rap Artist? See Top 10
4. Cassper Nyovest, South Africa
Another on the list of the best rappers in Africa is Refiloe Maele Phoolo professionally known as Cassper Nyovest. Cassper Nyovest was born on the 16th of December 1990 in Mahikeng, South Africa.
Cassper Nyovest is a South African rapper, composer, dancer, record producer and also businessman. He has done well for himself over the years and is now one of the most successful rappers in Africa.
He currently operates under the record label "Impact Sounds" and has been active in the music industry since 2004 and still performing. Some of his songs are; Thuto, Tsholofelo, Sweet and Short, Refileo, Any Minute Now e.t.c.
Cassper Nyovest has won numerous awards of which some are; Best South African Video by WatsUp TV, Most Gifted Male – Most Gifted Southern Artist – Most Gifted Video of the Year by Channel O Music, Best Hip Hop Album – Best Male Album – Best Hit Single – Song of the Year – Himself by Metro FM Awards.
He also won other awards from South African Music Awards, SA Hip Hop Awards, MTV Africa Music Awards, Nigeria Entertainment Awards and was nominated on various occasions.
5. Ladipoe, Nigeria
What about listening to cool and steady rap music? For some who feel rap music is all noise then such people haven't listened to Ladipoe style of rap. Ladipo Eso popularly known as Ladipoe is the Nigerian hottest rapper, a promising one at that.
Ladipoe was born on the 29th of April 1992 in Lagos, Nigeria. He came to the limelight with his song in "Feel Alright" where he was featured by SDC and is currently under the record label "Marvin Records."
He is the best rapper in Nigeria currently as the likes of M.I Abaga and Vector have pulled out, Ladipoe is currently gaining ground every minute and he seems to be the most preferred rapper in Africa right now.
Ladipoe rap style is unique and keeps you glued to your sound system as you won't want to stop listening until the song ends, his type of songs are those you keep on repeating for the whole day.
If all you seek in a song is smooth beats and laid-back vibes then Ladipoe is the man as his rap style is not the regular harsh type other rappers sing.
6. AKA, South Africa
The controversial South African Rapper AKA also made it on the list of best rappers in Africa. He was born on the 28th of January 1988 and his name is Kiernan Jarryd Forbes popularly known as AKA, he is a professional rapper, singer, composer, record producer and also businessman.
AKA was able to capture the heart of millions of his fans with exotic rhythmic rap style, he is under the record label "Sony Music Entertainment" and has been in the business of music since 2002 with numerous awards to show for it.
The South African rapper has some notable songs which have been able to cross the South African borders, they are; Levels, Alter Ego, Be Careful What You Wish For, Bhovamania, Touch my Blood and many others.
Some of the awards won by AKA includes; Best Male Artist in 2012 and also in 2014, in 2015 he won the Best Southern Male, in 2020 he won the Music Video Of The Year, he also won Favorite South African Star, Best Single by Success, Pan African Artist of the Year and many others.
Read Also: Top 10 Best Rappers In Kenya (Updated)
7. Falz, Nigeria
Folarin Falana popularly known as Falz is also a top-rated rapper in Nigeria and also in Africa, he is a rapper filled with humor and produces the best contemporary sounds from the Nigerian traditional fused sounds.
Falz was born on the 27th of October 1990, he is a rapper, composer, and also actor. His type of music is very unique and you will always want to know every word he dishes out. He produces his songs under his record label "Bahd Guys Records" and has been in the business of producing music since 2009.
Some of his popular songs include Ello Bae, Soldier Ft. Simi, Marry Me, One Trouser, Bop Daddy, Squander, Foreign Ft. Simi, Wehdone Sir e.t.c.
Falz The Bad Guy is an award-wining rapper with numerous awards on his shelf of which some are; Viewers Choice Best New International Acts in 2016 by BET, Headies Awards in 2016, 2019 and also 2020, he also won the City People Awards for the Album of the Year: Storie That Touch in 2016.
8. Phyno, Nigeria
The list of the best rappers in Africa will not be complete without mentioning Phyno, his real name is Chibuzor Nelson Azubuike and he raps in his traditional Nigerian Igbo Language, he raps in English also and his rap style is top-notch.
Phyno was born on the 9th of October 1986 and he was able to scale up his career by singing in the Igbo language which is his native dialect, his rap style is flexible as he can rap in Pidgin, Igbo, and also in English.
He is currently under the record label "Penthouse" and has released a lot of songs of which some notable ones are; Alobam, Ghost Mode ft. Olamide, Fada Fada, Shutdown, Man of the Year, Ride for You ft. Davido, Finance Woman sq ft. Augment and many others.
Some of the awards won by Phyno includes; Rap Artist of the Year in 2014, Best Rap Single for Parcel in 2014, Best Rap Single Man of the Year and Best Collaboration (Ghost Mode ft. Olamide) in 2013 and others just to mention a few.
9. M.anifest, Ghana
Another wonderful rapper in Ghana that knows his onions, M.anifest is a Ghanaian rapper, singer and also songwriter under the record label "Singitdamnit Music."
M.anifest was born on the 20th of November 1983, he has been pursuing his music career since when he was in high school and his first solo album was released in 2017, since the beginning of his career M.anifest has been capturing the hearts of rap lovers till this moment.
Some of the notable songs by M.anifest are; Makaa Maka, Be My Woman, Another Story, Sugar ft. Brymo, Rapper 101, Confusion e.t.c.
He is also an award-winning rapper and has won for himself numerous awards like; Best Rapper of the Year in 2013 and also in 2017, Best Special Effects in 2016 by 4syte Music Video Awards, Midem Best Artists in 2017 by Coup de Coeur, Best Artist in Hip Hop in 2018 by AFRIMMA and many others.
10. Medikal, Ghana
Medikal is a Ghanaian rapper who is currently making waves in Ghana and West Africa, his songs are crossing the border to every part of Africa and at a faster pace. He already gained ground in Ghana and also in the UK and now taking over the world.
His real name is Samuel Adu Frimpong and his stage name is Medikal, he was born on the 4th of April 1993, he is a professional rapper and also a songwriter.
He came in with force and with a different mindset and type of music that is centered on doctors, medical practitioners, surgeons, and generally hospitals, his raps align with the listed professions and no one can do it better than him.
Other Best Rappers In Africa
Kao Denero, Sierra Leone
Olamide, Nigeria
Emtee, South Africa
Nadia Nakai, South Africa
Sho Madjozi, South Africa
Kwesi Arthur, Ghana
FAQs
Who is the fastest rapper in Africa?
The fastest African rapper is Sarkodie, he can flow with a fast pace rap through integral rhymes, syllables, and multisyllabic rhymes.
Who is the best rapper in Africa today?
The best rapper in Africa currently is Nasty C of South Africa, he is one of the best rappers in the world.
Conclusion
Generally, only the listener can tell that a particular rapper is the best rapper based on the type of rap the person loves but as stated earlier we have listed these rappers based on their achievements, awards, and their music reach. The most important thing is that they are Africans and they are doing the continent proud as they compete globally with their peers from other countries.
---
Top 10 Best Rappers In Africa (Recap)
Here is the list of African best rappers:
Nasty C
Khaligraph Jones
Sarkodie
Cassper Nyovest
Ladipoe
AKA
Falz
Phyno
M.anifest
Medikal
Read Also: The 10 Best Rappers In Nigeria [Updated List]
You can also make your contributions via the comment box in case you have a question or addition you will love us to add.