Tallest Person In The World – Sultan Kösen Biography, Photos & Facts
Possibly you are aware of the Tallest Person in the World by name and probably his height. Aside from that, what other information about him do you know? Do you know where he is from? Do you know his status?
Presently, it is no longer news that Sultan Kösen is the Tallest Person in the World with a record height of 8 ft 1 in. If you are interested to learn all you need to know about the world's tallest man, ensure you read through to the end.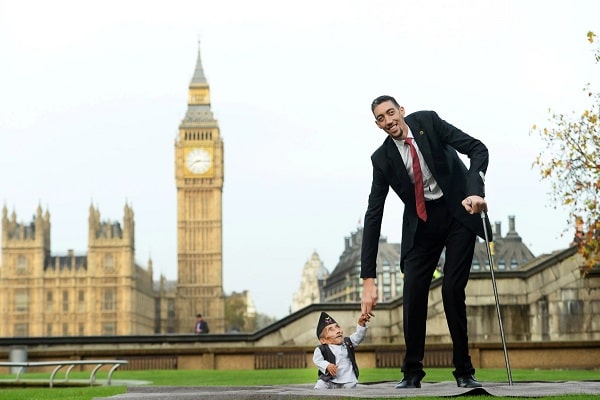 Sultan Kösen Profile
| | |
| --- | --- |
| Full Name: | Sultan Kösen |
| Date of Birth: | 10 December 1982 |
| Age: | 38 Years |
| Birth Place: | Mardin, Turkey |
| Nationality: | Turkish |
| Married to: | Merve Dibo ​(m. 2013) |
| Profession: | Farmer |
Sultan Kösen Tallest Person in the world was born on the 10th day of December of 1982. He was born in Mardin, a city located in southeastern Turkey, and he is of Kurdish descent.
Growing up was not all rosy for Kösen and he could not complete his education because of his height. However, he became helpful in his household and worked part-time as a farmer.
Furthermore, Kösen discloses that the benefit of his height is the advantage of seeing a great distance and as well to help his family with domestic tasks such as changing light bulbs and hanging curtains, among others.
On the other hand, there are disadvantages faced because of his height including not being able to find clothes for his legs measuring 49.61 in., and for his arms with a sleeve length measuring 38.19 in., or shoes that fit. Likewise, he finds it difficult to fit into an average-sized car.
Fortunately, in the wake of 2010, Kösen received Gamma Knife treatment (surgery using radiation) at the University of Virginia Medical School because of his pituitary tumor. Likewise, he was given medication to control his excessive levels of growth hormone.
Interestingly, the treatment was found to be effective in halting Kösen's growth as was confirmed in March 2012.
During the Guinness World Records Day celebrated on 13 November 2014, Kösen had the opportunity to meet for the first time, the world's shortest man ever, Chandra Bahadur Dangi, at an event in London.
In 2014, Kösen became part of the Magic Circus of Samoa and partook in various shows around the world.
Sultan Kösen Tallest Person in the World has been celebrated for his height and having the second-largest hand and feet. However, his gigantic physique was due to and massive height was due to a condition medically known as "pituitary gigantism", which is the result of excessive production of growth hormone.
The pituitary gland in the brain is responsible for the secretion of growth hormone; if the gland is damaged due to a tumor, for example, it can release too much (or too little) hormone. The effects of excessive production of the growth hormone include large hands, a thickening of the bones, and painful joints.
Fortunately for him, the issue was corrected in 2010 by Gamma Knife treatment (surgery using radiation) at the University of Virginia Medical School.
Personal Life
We continue to unveil information that will interest you about the Tallest Person in the World as we give you a tidbit about his personal life. From what we gathered, Kösen is a married man who got married in 2013 to Syrian-born Merve Dibo who is just 5 ft 9 in (1.75 meters) tall. She is nine years his junior.
Kösen revealed in an interview that the major challenge he has with his wife is the communication barrier. The reason has been that he spoke Turkish while his wife spoke only Arabic.
The couple met through a mutual friend, and Merve had to travel from her home of Hasaki, in Syria, to his village Dede köy in Turkey to meet him. Two months later the couple married in a full wedding party with over 1,500 guests attended, including a representative from Guinness World Records and local dignitaries.
The couple presently lives in a specially designed home in Dede köy, where they hope to birth and raise their children in the future.
Sultan Kösen Records
Sultan Kösen Tallest Person in the World is famous for his incredible height surpassing that of every living human being currently. His record is yet to match to date. 25th of August 2009 was the day that Kösen standing height was recorded at 8 ft 1 in (246.4 cm) in his home country by Guinness World Records. With such a record he surpassed several former world record holders including Bao Xishun who stands 236.1 cm (7 ft 8+15⁄16 in) tall as the tallest man at that time.
In addition to his record as the tallest man in the world, Kösen further holds the current Guinness record for the largest hands measured at 27.5 cm (10+7⁄8 in) and the second-largest feet as well. His left foot measures 36.5 cm (14+3⁄8 in) and his right foot 35.5 cm (14 in).
In addition, the University of Virginia on 25 August 2010, reported that Kösen's actual height is up to 254.3 cm (8 ft 4+1⁄8 in) as confirmed by doctors who treated him. However, it was stated that his height might have been artificially lowered by scoliosis and bad posture.
Kösen was remeasured on the 9th of February 2011 by Guinness World Records at 251 cm (8 ft 2+7⁄8 in), also his hands were remeasured at 28 cm (11 in), breaking his previous record validating him to still be the Tallest Person in the World.
What is Kösen Doing Right Now?
Kösen was interested in Basketball while growing up and was signed to the Galatasaray basketball team; unfortunately, he was too tall to play but, remains a fan of the sport to this day.
Presently, is famous and recognized around the world for his extraordinary height. He has been invited to feature in several Hollywood movies, and in 2016, he accepted to star in his debut film role titled "Achieving the Impossible".
Kösen has since then swapped the farm for Hollywood and found love.
Read Also: Ricky Berwick Biography, Net Worth, Age, Disease, Wife & Facts
Conclusion
That is the much we can discuss Sultan Kösen, the Tallest Person in the World. He achieved fame and recognized worldwide for his height. Although growing up was not easy but since he was recognized by Guinness World Record as the tallest man in the world, his life changed.