APM Bus Ticket Prices, Bookings, Bus Stations And Contacts
Are you trying to book APM bus ticket? In this post, we have listed all APM booking methods, fares, bus stations, offices, APM Bus contact details and every other important information about APM bus.
The South African transport industry has been booming over the years with the involvement of top best transportation companies like APM Bus, Citiliner, Ilula Bus, Intercape, Translux, Eagle Liner, Eldo Coaches and many others.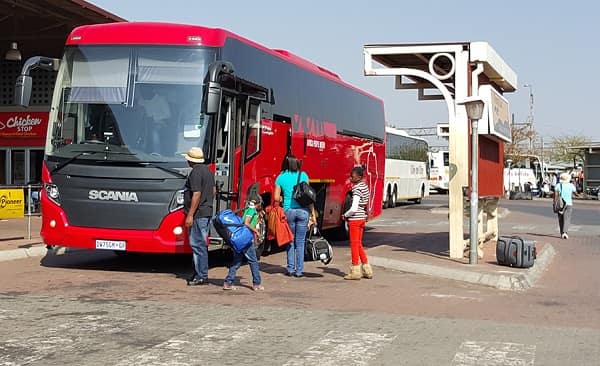 We should appreciate the effort made by these transport companies as they contribute a lot to the nation's economy and at the same time make life easier for the citizens of the country.
In your personal time, you can always book a ticket and have a memorable trip, APM bus does this well and has become one of the top contenders in South Africa as far as transportation is concerned.
Read Also: Intercape Bus Ticket Prices, Bookings, Schedules & Contacts
Before we dive deep into the topic of the day we will like to provide you with a brief history of APM Bus, continue reading this article to learn more about APM transport company.
About APM Bus
APM is an abbreviation of "African People Mover", it was established in 2014 by Tumisang Kgaboesele and since its launch, it has become one of the best transport companies in South Africa.
Much growth has been experienced by the new transport company in a short time frame and this is done through proper planning and dedication.
Tumisang Kgaboesele with the aim of transporting passengers started by moving commuters from one part of South Africa to the other covering a few cities and over time the company has transmogrified and now operates in over 255 routes in over 55 cities of South Africa.
APM Bus boasts of around 100 buses and plies the major cities of South Africa like Johannesburg, Pretoria, Bloemfontein, Cape Town, Durban, Port Elizabeth, Queenstown, Umtata just to mention a few.
What makes APM coaches become one of the most preferred transport companies in South Africa is that they take the safety of their customers seriously and this is why they provide comfortable and safe inter-city transport services.
Aside from that, there are other reasons why you as a person will love to book your next trip with APM Bus. Read on.
Why Use APM Bus Transport?
Below we have listed some reasons why you should book a ticket with APM Bus:
Their buses/coaches meet up to global standards
Well educated professional drivers who are well trained and get re-evaluated regularly
Ergonomic sitting arrangement with reclining seats
Entertainment for travelers through the official TV channel (APMtv)
Full Airconditioned buses
Charging points for each passenger
Onboard toilet to ease yourself on all their 52 seater luxury coach
Individual reading lights available on all buses
A set speed limit which the drivers much stick with
An affordable transport fare e.t.c.
The benefits are not limited to the listed ones alone, you have much to enjoy when you travel with APM bus and a trial will change your mind as their service model primarily revolves around their passengers.
APM Transport Coaches
APM basically uses three types of buses to move their passengers from city to city and also within a city, they are;
52 seater luxury coach
60 seater semi-luxury coach
64 seater luxury coach
Read Also: Translux Bus Ticket Prices, Bookings, Schedules & Contacts
APM Routes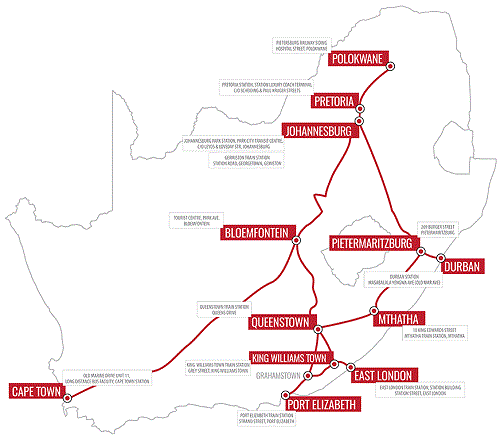 How To Book A Ticket With APM Bus
If you've decided to book a trip with APM Bus we have listed the available methods for you to do that with ease.
Online Booking:
To save you the stress of having to move out of your comfort zone when not convenient APM has a beautifully designed website for their customers to book APM bus tickets. To book a ticket online just visit their official website (https://www.apmbus.co.za/) and click on "Book a Trip."
APM Booking Phone Number:
You can as well book a trip with APM via their official phone number, this can be useful when there is an issue with your internet connection or in cases where you do not have an internet-enabled device. Just put a call through to 087 820 8111 and you will be responded to.
APM Email Address:
Aside from the two methods listed above, you can also use the E-mail booking method to book APM Coach, log in to your email client and send a mail to "[email protected]," make sure you explain your trip details like where you are and your destination of choice, a customer representative will contact you in a jiffy.
APM Sales Outlets:
Also, via APM sales outlets around you a ticket can also be obtained, just visit any closer sales outlets in your area.
APM Authorized Ticket Sellers:
Booking a trip ticket via the authorized dealers is as easy as the other booking methods we have listed. Some of the major travel and transport ticket sellers also sell APM bus tickets.
You can get a ticket from Busbud, JustGO and other authorized ticket sellers in South Africa either via their websites or their offices.
Notable Tips About APM Bus Services
It is important to always arrive at your departure station 30 minutes before the scheduled time.
In cases where you need to cancel a trip ticket, make sure the cancellation is done 3 hours before the scheduled time.
For the aged people, students and kids there is a discount on every trip once you submit your verifiable ID.
For kids of 3 years and below there is no charged fee and children of below 18 years must with a guardian.
APM Bus Ticket Price List
Here we have listed some of APM ticket prices for you, this is centered on major cities plied by the transport company:
| | |
| --- | --- |
| Route | Fare |
| Johannesburg to Mthatha | $38.00 |
| Johannesburg to Durban | $24.00 |
| Johannesburg to Queenstown | $36.00 |
| Johannesburg to Bloemfontein | $25.00 |
| Johannesburg to Pietermaritzburg | $26.00 |
| Johannesburg to Idutywa | $39.00 |
| Johannesburg to Butterworth | $37.00 |
| Pretoria to Pietermaritzburg | $26.00 |
| Pretoria to Mthatha | $38.00 |
| Pretoria to Durban | $25.00 |
| Pretoria to Bloemfontein | $26.00 |
| Durban to Johannesburg | $22.00 |
| Durban to Pretoria | $23.00 |
| Bloemfontein to Johannesburg | $24.00 |
| Bloemfontein to Pretoria | $24.00 |
| Mthatha to Johannesburg | $33.00 |
| Midrand to Durban | $25.00 |
| Queenstown to Johannesburg | $31.00 |
| Pietermaritzburg to Johannesburg | $23.00 |
| Pietermaritzburg to Pretoria | $24.00 |
| Welkom to Johannesburg | $25.00 |
APM Bus Contact Details
Here is the list of APM head office contact details:
Address: 50 Delfos Road, Pretoria Industrial Pretoria, 0183
Phone No: 012 001 1122 or 012 001 777
Email: [email protected]
Website: https://www.apmbus.co.za/
Conclusion
Transportation in South Africa has taken a new dimension and each transport company has a particular treat that attracts commuters which you may not find in others that is why we do write about all South African transportation companies so you can know which one has what it takes to woo you over.
In case you are not satisfied with APM Bus prices or how they render their transport service then you can always check this blog for other transport companies.
Read Also: Eldo Coaches Bus Ticket Prices, Booking Methods, Routes & Contacts
Do you have a question or do you have a contribution to make? Kindly use the comment box below, you should also hit the share button below to let people know about this article.