Translux Bus Ticket Prices, Bookings, Schedules & Contacts
Wondering how to book Translux bus ticket? This post reveals every information you need about Translux transport company, bus stations, fares, schedules/time and contact information of Translux bus company.
Translux bus company is just one of the leading and best transportation companies in South Africa that has over time been serving the South African people with the best transit, one of the most preferred choices for commuters in various cities of the country.
In our previous post we talked about Intercape bus ticket prices, we have also covered most of the best transport companies in South Africa like Eldo Coaches, City to City and many others so you can as well use the search button to read them.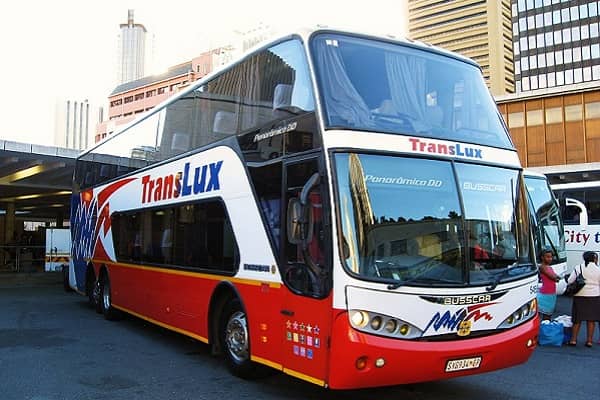 Transportation services in South Africa have taken a new dimension over the years and their importance is well felt in the South African transport industry of the country thereby contributing positively to the nation's economy and growth.
South African transport sector has grown from being a government thing and now we have groups and individuals investing in the Transport Industry of South Africa and their performance has been exceptional ranging from the maintenance, upkeep and provision of the best transport services to their customers.
Read Also: Intercape Bus Ticket Prices, Bookings, Schedules & Contacts
Without further ado let us dive deep into the topic of the day but before that wouldn't you love to know about Translux Bus Company?
About Translux Transport Company
Translux bus company is one of the most popular transport companies in South Africa and is known to offer top-notch services all across major cities of the country.
With coverage in over 100 destinations in South Africa, Translux has expanded and now operating in other African countries like Zimbabwe, Mozambique, Zambia, Malawi and other countries of Africa.
The company has much presence in major cities like Cape Coast, Johannesburg, Western Cape, Kwazulu-Natal, Port Elizabeth, Durban, Pretoria, Limpopo, Bloemfontein e.t.c.
Translux bus company majorly use single and double-decker to convey passengers from their location to other destinations, all their buses are well equipped with the latest technology which makes it enjoyable and comfortable for passengers.
Why Use Translux?
There's definitely a lot to enjoy when you patronize Translux bus company, some of the reasons to book a ticket with Translux are;
Drivers are well trained and get re-evaluated regularly
Fully air-conditioned buses to control the temperature while on a trip
Buses are regularly serviced and properly maintained
Tracking devices are attached to all buses for live monitoring
Superb and ergonomic seating arrangement
A fixed speed limit that all drivers must abide by
Responsive website for online ticket booking
Affordable bus fares compared to other transport companies in the country
How to Book a Ticket With Translux
We have clearly highlighted the methods in which you can book a Translux ticket for a trip and enbark on that smooth journey.
Translux Online Ticket Booking:
You can easily book a ticket by launching your browser and visiting www.translux.co.za, once fully loaded you will be greeted with a booking form in which you are expected to input your travel details.
Translux Customer Care Phone Number:
If you are not with a smartphone or maybe you do not have internet access you can as well utilize the customer care line to book a ticket for your trip, Translux contact number is 0861-589-282.
Via Travel Agents
We have other recognized travel agents you can get your Translux travel ticket from, kindly read this article in full to view the contact details and addresses of the agents.
Attached Goodies
Below are additional benefits you when you book a ticket on Translux:
For every booking made online through Translux official website, you get a 5% reduction (discount) which other booking methods doesn't offer.
For adults who are around 60 years of age and above you get a 10% discount once you show your ID which confirms your age.
You also have the opportunity to cancel a ticket within 48 hours before departure, cancellation is done through the same booking method used, you will be refunded your money instantly.
Translux Bus Stations In South Africa
You can book a trip at any Translux bus station closer to you, you can also visit any of the stations to lodge a complaint or give recommendations on how to serve you better.
Pretoria Bus Station
Address: Scheiding St, Pretoria, 2001, South Africa, Pretoria Station
Phone No: 12 315 2566
Durban Bus Station
Address: Jelf Taylor Crescent, Mashabalala Yengwa Avenue
Phone No: n/a
Johannesburg Bus Station
Address: Park City Transit Centre, Johannesburg Station
Phone No: n/a
Aside from the listed stations Translux you can reach out to Translux agencies all over South Africa, below is the list of Translux agencies:
| | | |
| --- | --- | --- |
| No (#) | Agency Location | Phone Number |
| #1. | East London Windmill | 043 743 7893 |
| #2. | Eastern Cape in East London Station | 043 700 1015 |
| #3. | Mthatha | 047 531 0875 |
| #4. | Port Elizabeth | 041 392 1304 |
| #5. | Queenstown | 045 808 2065 |
| #6. | King Williams Town | 043 643 4163 |
| #7. | Gauteng, Johannesburg | 011 773 8056 |
| #8. | Free State, Bloemfontein | 051 408 4888 |
| #9. | Pretoria | 012 315 3476 |
| #10. | Pietermaritzburg | 033 345 0165 |
| #11. | Polokwane | 015 295 5548 |
| #12. | Western Cape, Cape Town | 021 449 6209 |
| #13. | Knysna | 044 382 1407 |
| #14. | George | 044 801 8282 |
| #15. | Mpumalanga, Nelspruit | 013 755 1453 |
| #16. | Limpopo, Mokopane | 015 491 8457 |
| #17. | KwaZulu-Natal, Durban | 031 361 7670 |
Translux Head Office Details
Address: ADT House, Ring Rd, Port Elizabeth, 6059, South Africa
Phone No: 011-774-8304
Email Address: [email protected]
Official Website: www.translux.co.za
Translux Ticket Prices & Schedules
Below we have highlighted the prices of some popular routes, this is just an estimate and could be a bit different when you try to make your booking.
From Pretoria to Durban costs between R 230 to R 380 (8 hours journey)
From Cape Town to Johannesburg costs between R 399 to R 780 (17 hours journey)
From Johannesburg to Durban costs R 260 (8 hours journey)
From Cape Town to Durban currently cost R730
From Cape Town to East London costs between R 350 to R 440 (14 hours journey)
We will always try our best to update this list via the comment section once you make a request for your particular location and destination.
Conclusion
Translux is here to stay and has been the best choice commuters prefer, the security of your life, goods and services are of utmost concern to the company and this is the reason why they are among the best transport companies in South Africa today.
Read Also: City to City Bus Tickets, Bookings, Terminals & Fare
Kindly make use of the comment box below to ask any questions bothering your mind about Translux bus ticket prices, and also the latest developments in the transport company.