Linda Ikeji Marriage Gist, Husband, Baby Daddy, Kids & Facts
Want to know about Linda Ikeji marriage? This article is completely focused on Nigerian top blogger Linda Ikeji's marriage, fans will learn about who she truly is and every hidden detail about the celebrity will be revealed here.
Celebrities mostly have a hard time choosing their life partner, they meet a lot of people who act good and serious but once deep into a relationship the opposite is usually what it results into.
Linda Ikeji isn't an exception here, she had her own bitter experience with admirers and this has some form of negative result on her and her mental health although she survived.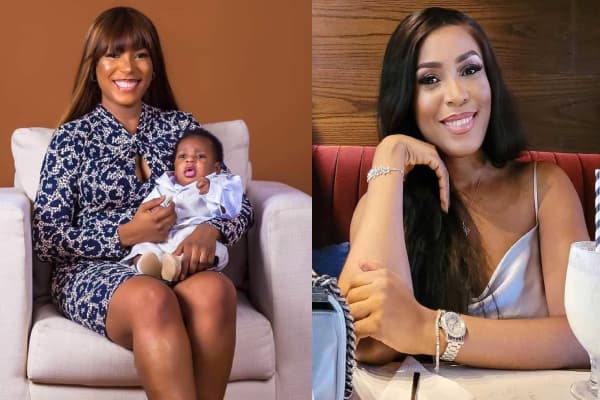 Before we dive into the main topic we like to tell you about Linda Ikeji, this piece will be useful for the benefit of those who actually didn't know much about her.
Who Is Linda Ikeji?
Linda Ikeji is a professional blogger, she was able to make a fortune for herself through blogging and has invested in other businesses that have also been so successful. Aside from blogging, she is also a model, writer and businesswoman. Linda Ikeji is the owner of the famous blog "Linda Ikeji's Blog."
Linda Ikeji was born on the 19th of September 1980 in Nkwerre in Imo State, Nigeria. She is from a Catholic family and has been a devoted one, she isn't the only child of her parents, there are other 6 siblings although she is the second born in the family, below are the names of her siblings:
Vera Ikeji
Sandra Ikeji
Edna Ikeji
Laura Ikeji
Peks Ikeji (brother)
Benita Ikeji
In total, they are 7 children of her parents and they grew up together with their parents, they all are doing fine in their various professions.
Linda Ikeji is a successful blogger and her consistency has seen her through the blogging profession, she is currently one of the richest bloggers in Africa and she also has recorded huge success with her media (Linda Ikeji's TV).
Read Also: DJ Switch Net Worth and Bio – Songs, Awards, Love-Life & Activism
As a smart lady with a love for the media Linda Ikeji applied for Mass Communication but ended up studying English at the university, this got her prepared for her blogging career even though she started it without deep knowledge about blogging but along the line, she gathered the necessary knowledge and became a professional blogger.
Linda Ikeji's Marriage
Many have been asking to know when Linda Ikeji got married probably because she is always seen with her kid, well Linda Ikeji is not married for now although she has a son named Jayce and the identity of his father is still unknown.
Who Is Linda Ikeji's Husband?
As mentioned earlier Linda doesn't have a husband, back then a rumor was circulated that she was planning a marriage with Sholaye Jeremi who happens to be her baby Daddy but it was just a rumor.
Nevertheless, she is not married but has been caught in shady romantic deals with some men of which majority of those men are famous personalities in the country, especially in the Nigerian entertainment and music industry the likes of Wizkid, Don Jazzy, the late CoolFM presenter Mr. Dan Foster, movie producer Aquilla Njamah and many others just to mention a few.
Even though it looks real and there was no denial we still cannot prove that she was actually into a serious relationship with them nor can we prove that she was just having fun even if the scene looks as if it was real.
The only time Linda Ikeji came out plain to the media about her relationship is just for her to confirm that she was actually into a relationship with her Baby Daddy Sholaye Jeremi which was in 2015 on an on-and-off affair.
Unfortunately for the love birds, the relationship hit the rock in 2018 with a reason that she got pregnant against the will of her lover and since then till today there has not been any serious information about her marrying.
Sholaye Jeremi Biography, Linda Ikeji's Baby Daddy
Sholaye Jeremi is the baby daddy and ex-boyfriend of Linda Ikeji a businessman mainly in oil and gas sector, he is from Delta State Nigeria.
Jeremi was born on the 4th of July 1978, he is a known figure in the oil sector just like the likes of Femi Otedola, Ibe Kachukwu and many others.
As a wealthy man, he has been keeping his profile from the internet and this is why we have not been able to gather much information about him.
Linda Ikeji Relationship With Sholaye Jeremi
It all started from normal daring before things got deep, no noise was heard and everything was going on fine not until Linda got pregnant. A rumor got circulated that Sholaye Jeremi was a married man and this made Linda Ikeji write content on it then she published it on her blog and also used the opportunity to tell more on her pregnancy.
Before everything started Linda Ikeji and Sholaye met at Ikoyi Wheatbaker Restaurant to be precise in 2015, Do you remember when she moved into her multi-million Naira mansion in Banana Island? It was exactly shortly after moving in.
During that time Linda Ikeji was 35 years old while her lover was 37 years, she spilled the hidden truth about their relationship stating that immediately after they met each other she fell in love with Sholaye owning to the fact that she has been single for over 4 years and in deep search of love.
Everything was going on fine between them and the fact that her baby daddy was also single then made her settle for him, Jeremi is a private lifestyle person and he wasn't cool with the social lifestyle of Linda Ikeji, this led to the end of their relationship.
In 2016 they tried so hard to make things work out again but don't work out, even though there has been no serious thing between them they still kept in touch with each other just as friends according to her.
In 2017 Linda and Sholaye Jeremi started dating secretly but the distance had an influence on the relationship, the last lap of their relationship was in 2018 after she got pregnant against the wish of Mr. Jeremi, this led to numerous aggression and hatred started growing in the relationship and this is why Linda alongside her family members feels its high time to put a final stop to the relationship.
Even though she got pregnant against her baby daddy's wish she made it known to the world that Mr. Sholaye Jeremi still came to her parents to ask her hands in marriage with plans on their traditional marriage but it was only a promise which wasn't fulfilled till date.
Sholaye Jeremi New Wife
A rumor broke out that the main reason why Sholaye Jeremi left his relationship with the professional blogger Linda Ikeji was because of Elizabeth Elohor Aisien who is an event planner and also a former beauty queen, it was made known that the beauty queen got separated from her husband not quite long.
While some came up with the thought that for Sholaye not to be a thing with Linda Ikeji based on the fact that he doesn't like public attention then definitely he cannot be in a relationship with the beauty queen. This is just a speculation and it was expected that he will choose someone else who doesn't love public attention.
We later heard that the family of Linda Ikeji tried their best to bring Sholaye back to marry their daughter but it was all futile and got crazy to the extent Mr. Sholaye blocked them all on his social space.
Linda Ikeji Pregnancy Saga
Immediately it came to light that Linda Ikeji was pregnant questions like who is the father? is she married? why will she be pregnant? and many more started flying about, people never expected a person like Linda to be pregnant because she usually preached celibacy.
She received a huge backlash from fans and social media users for advising young ladies against having a child out of wedlock and she had to come up with an epistle of her own story.
But people were not swallowing that as most people became so disappointed in her even those who made her their role model, she made it known that she didn't regret having the child but regretted having a child out of wedlock even when she usually advised others not to toll that path.
She later explained that there was never a time she advised anyone against having intercourse before marriage but she said she advised them against having intercourse for money and also against many men.
Linda Ikeji further explained that her relationship happened with Sholaye Jeremi because she thought he is the right person, it wasn't what she was expecting.
After all the saga and rumors, she made a publication on the 1st of December 2020 that she is still available and interested in finding love stating all the specs she wants.
Read Also: Don Jazzy Marriage Gist, Wife, Children & His Love For Rihanna
We hope you enjoyed this piece, if so then hit the social media share button so we can serve you with more interesting facts about your favorite celebrities.