Don Jazzy Marriage Gist, Wife, Children & His Love For Rihanna
A lot of rumors surrounding the marriage of Nigeria finest Don Jazzy, this article is focused on Don Jazzy marriage, his wife, kids, business, record label and other important information about Don Jazzy so as to clear negative news being peddled and for you to know everything about Don Jazzy.
Who is Don Jazzy? Don Jazzy is a Nigerian singer, musician, songwriter, record label owner, artist manager, music promoter, showbiz consultant e.t.c., he is wholely into music and one of the strong pillars holding the Nigerian music industry.
His real name is Michael Collins Ajereh born in Umuahia on the 26th of November 1982 in Abia State, Nigeria. Even though he was born in the Eastern region of the country he had his childhood in Lagos State, Ajegunle precisely in the ghetto side of the city.
Don Jazzy father hails from Delta State, he is an Isoko man who goes by the name Collins Enebeli Ajereh and his wife Patience Ajereh who is from Abia State, she is rooted in the fashion industry likewise the entertainment industry.
Don Jazzy Siblings
Many have been asking questions like does Don Jazzy have a sister? Who is Don Jazzy brother? e.t.c., Don Jazzy isn't the only child of his parents, he has three siblings and altogether they are three boys and one girl. Here are their names Charles Enebeli, James Collins Enebeli and also Joy Ogechi Enebeli, they are all doing great in their various career pf choice.
You must have been hearing of D'Prince, he is a musician and a brother to Don Jazzy, he goes by the name Charles Enebeli. D'Prince was born in Lagos State on the 23rd of October 1986, he is popularly known as "Omo Oba" and he is also doing great in the music and entertainment industry as the founder of Jonzing World.
Don Jazzy other brother James Collins Enebeli was born on the 31st of March, he has also done well for himself and he is currently the CEO of Mavin Energy Ltd. He is famously known as "General Jay Mavin."
The third sibling who happens to be a lady is also a very intelligent lady, she goes by the name Joy Ogechi Enebeli also called Joy Solano. Joy was born on the 25th of May 1985, she is also active in the entertainment industry, and graduated with first-class from a prestigious university in the United Kingdom. She studied Film and Television, she also owns a hair brand named "Equipped by Joy Solano".
Read Also: Kuami Eugene Net Worth and Biography – Age, Career, Wife & Facts
Jos is currently married to her husband Mr. Solano and they are blessed with four children. All of Don Jazzy siblings are successful and there is no bad blood among them.
Don Jazzy Marriage
This may sound surprising to many as they thought Don Jazzy has never been in a relationship, well, Don Jazzy was once married to Michelle Jackson a UK-Based writer and model. Many do see Don Jazzy as a bachelor who loves to keep his love life private but the whole internet was set ablaze when Don Jazzy himself announced this on his Instagram post.
According to him:
Almost 18 years now, i was 29 years of age when I got married to my best friend Michelle and it was awesome. When I was 22 we got divorced and this hurt till now, I am in love with my music career and will not marry to mess it up.
After this post, he shared some pictures of his wedding ceremony and also a court registry marriage which was held in London.
Never forget Don Jazzy worked as a security man in London before moving back to Nigeria.
About Michelle Jackson, Don Jazzy Ex-Wife
Michelle Jackson is a UK-Based model and writer, she is the ex-wife of our own Don Jazzy the Mavin Boss, she is also a fashion ambassador and was born on the 21st of October 1980.
Michelle also gave her own part of the story revealing that she met Don Jazzy while he was sharing flyers for his music promotion alongside some of his friends. She got her hands on one of the shared flyers and she called the number on it after some days inviting him over.
Things get interesting and a serious relationship was kickstarted which lead to a legal marriage, unfortunately, the marriage hit the rock although on a mutual agreement because she got to know music is a thing for Don Jazzy and this is getting in the way negatively affecting their marriage.
Don Jazzy Reunion With Michelle Jackson His Ex-Wife
In 2022 Michelle Jackson came to Nigeria, April precisely mainly because of her "Back To The Feels" project, she used the opportunity to meet with her ex-lover Don Jazzy and few hours after that Don Jazzy shared a short video clip of their meeting.
Michelle Jackson also seized the opportunity to give some experience of hers while in Nigeria.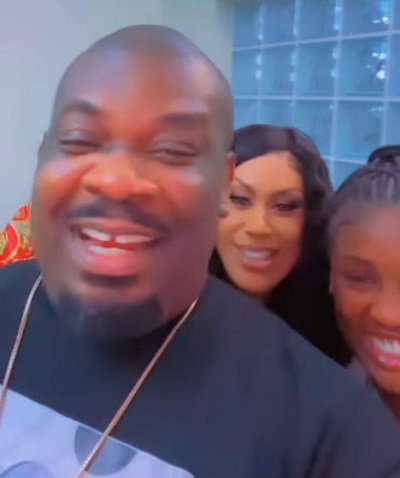 Don Jazzy Kids
Many people have been wondering if Don Jazzy has kids with her ex-wife or with another woman, the truth of the matter is Don Jazzy has no child and hoping he would get into a serious relationship and have children of his own soon.
What About Lisa Yaro?
What is it with Don Jazzy and Lisa Yaro? Lisa Yaro is a popular Nigerian-born YouTuber who is also a singer, there have been numerous rumors flying about the duo, it seems they are both in a steaming relationship. This was speculated after Lisa Yaro visited Don Jazzy in his office and they both had some photoshoots.
Based on their pose this raised a lot of suspicions about the two and the picture went viral, yet we do not have concrete evidence to prove they are dating aside from the circulated pictures.
Freda Francis Relationship With Don Jazzy
Another rumor was circulated during Tiwa Savage wedding which took place in Dubai of the Nigerian socialite Freda Francis dating Don Jazzy. This also went so viral and none of them have come out to deny it, after that we have never heard anything concerning their meeting.
Don Jazzy Relationship With Linda Ikeji
Many fans of Don Jazzy were so happy to hear about Don Jazzy relationship with the top Nigerian blogger Linda Ikeji. This happened after the movie-to-reality wedding of actress Adesua and the Nigerian famous musician and politician Banky-W, this inspired Don Jazzy to tweet at Linda.
The fans of both celebrities tried to force them on each other, this made fans research on Linda Ikeji and started listing her qualities for Don Jazzy to make the move on.
To show how much fans really want this relationship to work out and turn into a marriage a poll was created online and Linda Ikeji topped the poll over other beautiful choices of Donjazzy like Halima Abubakar, Rihanna e.t.c.
Don Jazzy Relationship With Erica Nlewedim
Another rumor just as it usually gets circulated was made during and after the 2020 Big Brother Nigeria show was aired, the internet was set on fire after it was made known that Don Jazzy and Erica Nlewedim of BBNaija once dated before coming into the house.
This was raised by an Instagram user but while in the house Erica Nlewedim was in a steaming relationship with her fellow housemate Kiddwaya.
We cannot confirm that the relationship between Erica Nlewedim and Don Jazzy truly happened, some raise the opinion that Erica Nlewedim needed to move on because Don Jazzy is not really ready for a serious relationship.
Don Jazzy Relationship With Rihanna
Don Jazzy has been so much into the RnB singer Rihanna, as far as his posts about women are concerned it is evident Don Jazzy is madly in love with Rihanna. He never keep his intention about her secret to the extent he photoshopped himself with Rihanna with their dream child.
Not quite long ago Don Jazzy has to drop his feelings for Rihanna as the female singer got married to A$AP Rocky of which the next thing shown on the internet is her pregnancy pictures.
Read Also: Pete Edochie Wife – Josephine Edochie Bio, Age, Husband & Facts
We hope you had a good time reading this piece if so kindly hit the share button so we can come up with many other interesting gifts like this.