Intercape Bus Ticket Prices, Bookings, Schedules & Contacts
In search of Intercape bus ticket prices? Today's article is focused on all you need to know about Intercape transport company, routes plied, ticket booking methods, bus stations, time/schedules, contact details of Intercape and much other information concerning Intercape.
The inter-city transport industry of South Africa is on a different level, South Africa has one of the best transport systems in Africa, well organized and attractive to investors, among the leading investors in the South African transport sector is Intercape.
Over the years some transportation companies in the country have been offering top-notch transport services to commuters, passengers enjoy comfortable and safe trips with the help of top leading transport companies like City to City, Translux, APM, Eldo Coaches, Intercape and other transport companies in the country.
Among them all, Intercape stood out and has been delivering one of the best transportation services of which if you haven't used their service then now is the time to give them a trial. Before proceeding to book Intercape ticket continue reading this article to know about Intercape transport company and the benefits you stand to gain by booking a ticket with them.
About Intercape Transport Company
Intercape transport company was established in the year 1979 by Johan Ferreira Sr. who was a school teacher in Namibia, he then decided to dive into the transportation industry by getting a bus and he named his business "Central Bus Service.
Not quite long after the business started seeing some good turn he then purchased 5 more buses and he changed the business name to "Windhoek Bus Service."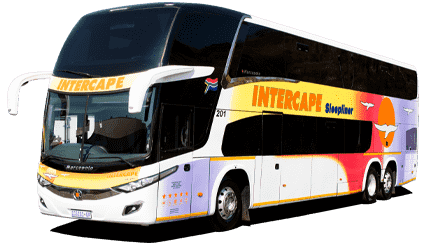 To further expand he started a second bus company in South Africa, Cape Town to be precise in the year 1979 which he named "Intercape" plying City Center and Cape Town Airport. Today, Intercape covers every corner of South Africa.
As one of the best bus companies in South Africa Intercape has been able to establish its presence in 5 African countries namely; South Africa, Namibia, Botswana, Zimbabwe, and Mozambique delivering the best transport services in the countries mentioned.
Read Also: City to City Bus Tickets, Bookings, Terminals & Fare
Today, Intercape boasts of numerous buses and has more reach with terminals scattered all across the country and is now the largest intercity passenger transport service operating in South Africa, Botswana, Zimbabwe, Mozambique and Namibia.
Intercape Buses
Here are the different types of buses used by Intercape;
G7 Sleepliner Face Lift
G7 Sleepliner
G7 Mainliner
Irizar I6S Plus
Irizar I6 S Plus Budgetliner
Based on your destination you will have to travel with any of the buses listed and quality treatment and enjoyment are assured on any of the buses.
Intercape Transport Services
Aside from moving passengers from one place to the other Intercape also offers other types of transport services, they are:
Inter-City Transportation
Charter Bus Hire
Logistics/Courier Services
Why Use Intercape Transport?
There are a lot of benefits you enjoy once you give Intercape a try and these reasons are what you should always look out for whenever you want to book a transport ticket, below are the things to enjoy when you travel with Intercape.
Neat and well services buses that ensure there is no breakdown while on the road.
Well-trained professional drivers who get re-evaluated regularly.
All coaches have well-fitted air-conditioners.
An audio-visual entertainment device is present on all buses
Drive Cam technology installed on all Intercape buses, could be seen on the windscreen of their coaches to monitor the driver's behavior toward customers
A set speed limit that the driver has to follow, the maximum is 95km/h which the drivers.
Intercape has a state-of-the-art break station in their major maintenance depots where breaks are being checked to ensure the security of commuters.
Installed satellite tracking devices to know the exact location of all Intercape buses.
Affordable Intercape bus ticket prices compared to other transport companies.
With all these you need no one to further convince you before you try Intercape out, you will never be disappointed, you also stand the chance to enjoy a reading light, an individual USB power outlet, a clean toilet and many more enjoyment when onboard.
Popular Routes Plied by Intercape
Below are the routes plied by Intercape and every bus stop along those routes are observed for customers satisfaction.
Cape Town to Port Elizabeth
Cape Town to Pretoria
Cape Town to Durban
Durban to Midrand
Durban to Upington
Mosselbay to Pretoria
Pretoria to Cape Town
Pretoria to Durban
Pietermaritzburg to Bloemfontein
Port Elizabeth to Johannesburg
Pretoria to Bloemfontein
Johannesburg to Bulawayo
Johannesburg to Bloemfontein
Johannesburg to Cape Town
Johannesburg to Durban
Johannesburg to Gaborone, Botswana
Johannesburg to Windhoek, Namibia
Johannesburg to Maputo, Mozambique
Johannesburg to Blantyre, Malawi
Johannesburg to Harare, Zimbabwe
Johannesburg to Lusaka, Zambia
Kimberley to Cape Town
Intercape Ticket Booking Methods:
Intercape transport company leveraged on technology has really helped to put things in order and even make the process faster for the company to deliver their services and also for the passengers or customers to have a seamless service experience.
With Intercape you can easily book a ticket from the comfort of your home, all you need is a smartphone and also an internet connection.
Kindly follow the below steps to book Intercape bus ticket online:
Launch your phone browser and visit Intercape official website www.intercape.co.za
Once fully loaded you will be shown a quick form which you are expected to fill by making a selection of your current area, destination and date then click on the "Search" button
You will be asked to choose a route if available
Intercape bus ticket prices will be displayed so based on your pocket you make a selection
Make payment via your debit card and after successful payment confirmation, you will receive a message containing your ticket information.
You can also book via phone call in case you have an internet connection issue, just call any of their call center digits 0861-287-287 or +27-213-804-400 and an agent will attend to you.
Alternatively, you can also get your ticket at any Intercape bus station around you.
Intercape Bus Fares and Schedules
Below are the updated Intercape bus ticket prices, just for you to be well prepared before booking your ticket, we've only listed for few places which are most plied:
From Johannesburg to Durban via Intercape coaches costs between R 210 to R 440.00 per passenger.
From Cape Town to Johannesburg costs between R 399 to R 780 depending on the bus coach.
From Pretoria to Durban costs between R 230 to R 380 per passenger.
The above prices are just estimates which could change due to unforeseen circumstances by the company, we will always do our best to get you updated via the comment section.
Intercape Offices, Bus Stations and Contact Details
Booking a ticket in Intercape bus stations is as easy as booking online as you won't have to queue because there is proper arrangement for this, below are some of Intercape bus stations and sales offices in South Africa.
| | |
| --- | --- |
| Office | Address |
| SA- Eastern Cape (East London) | Windmill Office Park, Moore Street, Beach Front, East London |
| SA- Eastern Cape (King Williams Town) | Station Building, Station Street, King Williams Town |
| SA- Eastern Cape (Mthatha) | Ludidi Building, Madeira Street, Mthatha |
| SA- Eastern Cape (Mthatha 2) | Shell Ultra City, N2 Highway @ Whistle Stop |
| SA- Eastern Cape (Port Elizabeth Station Kiosk) | Railway Station, Strand Street, PE |
| SA- Eastern Cape (Port Elizabeth) | C/o Flemming & North Union Str, PE |
| SA- Eastern Cape (Perridgevale) | C/o Nile & Storey Rds, PE |
| SA- Eastern Cape (Queenstown Station) | Station building, Queensdrive, Queenstown |
| SA- Eastern Cape (Queenstown) | Cathcart Road (Next to Sasol Garage), Queenstown |
| SA- Free State (Bloemfontein City Centre) | Opp CCMA Building, Elizabeth Street, Bloemfontein |
| SA- Free State (Bloemfontein) | 61 Park Road Tourist Centre, Bloemfontein |
| SA- Western Cape (Bellville) | 8 Mabel Street, Bellville |
| SA- Western Cape (Cape Town Station) | 1 Adderley Street, Cape Town City Centre |
| SA- Mpumalanga (Nelspruit) | 15 Louis Trichardt Street, Nelspruit |
| SA- KwaZulu-Natal (Durban Station) | Masabalala Yengwa ave (Old NMR ave),Durban |
| SA- KwaZulu-Natal (Pietermaritzburg) | 269 Burger Street, PMB |
| SA- KwaZulu-Natal (Durban Beachfront Office) | 85 O R Tambo Parada, South Beach (Gooderson Tropicana Hotel), Durban |
| SA- Northern Cape (Upington) | Lutz Street, Upington |
| SA- Northern Cape (Kimberley) | 121 Bultfontein Road/Tourism Information Centre, Kimberley |
| SA- Gauteng (Johannesburg Park Station) | Park City Transit Centre, C/o Leyds & Loveday Str, Park Station |
| SA- Gauteng (Midrand Office) | Big Bird Engen One Stop (South Bound), Midrand |
| SA- Gauteng (Pretoria Station) | Station Luxury Coach Terminal, C/o Scheiding & Paul Kruger Streets, Pretoria Railway Station |
| SA- Garden Route (George) | George Station, Station Road, George |
| Malawi- (Blantyre) | Kenyatta Dr, Blantyre Lodge, opposite Wenela Bus Depot, next to Puma filling station |
| Malawi- (Mangochi) | Energem Garage |
| Malawi- (Mzuzu) | Kentam Mall |
| Malawi- (Lilongwe) | Total Garage, opp Lilongwe Hotel |
| Malawi- (Mzimba) | Mzimba turn off |
| Namibia- (Windhoek Station) | Opposite Intercape Office in Bahnhof street Windhoek Trans Namib Station |
| Mozambique- (Matola) | Intercape office, Praceta Herculano 47, Bairro Hanhane |
| Mozambique- (Maputo) | Intercape office, 25 de Setembro nr 1129 r/c |
| Botswana- (Gaborone) | Kudu Shell Service Station, Queens Rd, Gaborone |
| Zimbabwe- (Harare) | Corner 5th/Robert Mugabe way, Roadport, Harare |
| Zimbabwe- (Bulawayo) | Intercape office, N1 Hotel, Joshua Mqabuko Nkomo Street |
| Zimbabwe- (Harare Wendy Office) | Roadport, Highglen Shopping Mall, Harare |
Intercape Head Office
Address: Corner of Staal & Research Roads, Pretoria West, South Africa
Phone No: +27 (0)21 380 4400
Email Address: [email protected]
Official Website: www.intercape.co.za
Conclusion
Now that you know about Intercape services and how wonderful they are in delivering the best transport and logistics services we believe you will patronize the company, aside from Intercape there are other transport companies in South Africa that offer similar services like City to City, Eldo Coaches, APM Bus, Translux and many more, just make use of the search button on this website and you will see their lists.
Read Also: Eldo Coaches Bus Ticket Prices, Bookings, Routes & Contacts
Kindly make use of the comment box below to ask any questions bothering your mind about Intercape bus ticket prices, the transport company and also the current price updates.