Eldo Coaches Bus Ticket Prices, Booking Methods, Routes & Contacts
Are you trying to book your next trip with Eldo coaches? Here we have listed all you need to know about Eldo coaches bus ticket prices, online and offline booking methods, routes plied, bus stations, schedules, promotions and contact details of Eldo Coach head office and other facts about the transport company.
We recently published an article on City to City bus tickets which you may also check out but in case you will love to book a trip with Eldo Coaches then this article is for you.
The South African transportation industry has over the years grown to become one of the most organized transport systems in Africa with numerous transport companies that offer good transport services all across South Africa giving their best to make sure customers enjoy their trips.
With the services provided by various transport companies in South Africa like Eldo Coaches, City to City, Translux, APM buses and many others you just have to patronize these new generation set of transport companies as they offer very comfortable services to commuters all over the country.
About Eldo Coaches Transport Company
Eldo Coaches was established in the year 1956 in South Africa starting as a family business, today it is currently a fully accredited company and one of the most popular and affordable transportation companies in the country. Since when Eldo Coaches kickstarted its transport services there has been rapid growth in the company leading to the procurement of over 70 luxury vehicles that convey commuters from one destination to the other.
The company is known to always purchase new buses ranging from Executive Touring 52 Seater, Double Decker, Single Decker and also Comfort Liner, with this the safety of Eldo coaches passengers and their goods and services are assured.
For those who need a charter/hire service, Eldo coaches also have you covered, you can charter through the Executive and Express Chater Service which is so easy to obtain a bus for your events or travels.
Eldo Coaches has also expanded all over South Africa and you can easily get yourself a bus from major cities like Johannesburg Park Station, Pretoria, Cape Town, Port Elizabeth, Graaff-Reinet, Middelburg, Midrand, Zak Park, Lenasia South, Jansenville, Lenasia Signet and many other cities around the country.
Read Also: Intercape Bus Ticket Prices, Bookings, Schedules & Contacts
With the huge coverage of Eldo Coaches in the country it makes traveling from one place to the other very easy, other reasons why you should try out this transport company are listed below.
Why Use Eldo Coaches Transport Company?
Eldo Coaches stood out mainly because of the mouthwatering services they offer their customers which they do better than other competitors in the transport industry of South Africa, we are talking about;
Well-trained and educated drivers who are friendly to commuters.
Air-Conditioned buses.
Ergonomic seating arrangements.
Fast Internet WiFi.
Power outlets for charging your devices.
Audio-visual devices installed "TV" for entertainment.
Regularly services buses.
Speed limits which all drivers must abide by.
Ability to book a ticket online with a secured payment gateway integrated.
Affordable travel fees compared to others.
We believe with all the listed qualities you definitely will like to give Eldo coaches a trial and we are confident you will never be disappointed.
Eldo Coaches Routes
Below is the map showing routes Eldos coaches plies;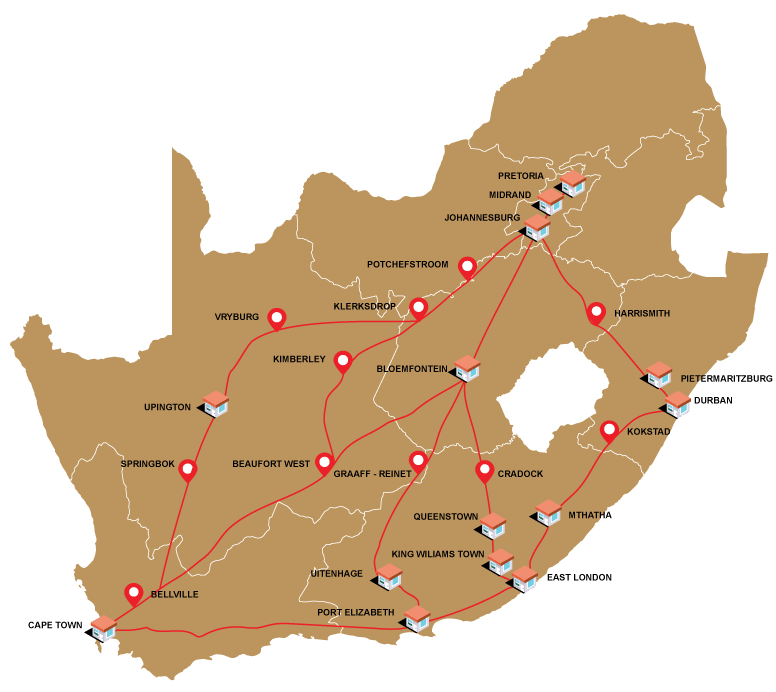 Eldo Coaches Booking Methods
Below are the methods by which you can easily book a ticket with Eldo Coaches;
Online Booking:
Eldo coaches leveraged technology to provide their customers quick method of booking trip tickets without having to queue, You can easily book a ticket through the official website of Eldo Coach via www.eldocoaches.co.za, just visit the website, click on Book a Ticket, proceed by filling the form then pay with your debit card.
Booking Phone Number:
For those who do not fancy booking a ticket via the internet, you can as well book a trip by calling Eldo Coaches booking number via (086-113-5367), through this phone number you can easily book a ticket for Eldo coaches.
Eldo Coaches Agents:
Aside from the two methods of booking a ticket mentioned earlier, you can as well get your Eldo coaches bus tickets from recognized agents like Busbud, Checkers Hyper, CheckMyBus, QuickBus, TicketJoint, Thrifty car rental, Shoprite, Spar, Choppies, JustGo, PEP, PicknPay, Boxer, Ticketpro and Power fashion.
Eldo Coaches Bus Stations:
This is the regular booking offices closer to you, by just walking into any Eldo Coaches bus stations around your location you can get yourself Eldo Coaches tickets and embark on a smooth and comfortable trip.
Eldo Coaches Bus Ticket Prices
The Eldo coach ticket price list varies based on the distance of your current location to your destination of choice, we have provided you the price list of popular cities mostly plied below;
From Pretoria to Port Elizabeth costs between R530 – R650.
From Johannesburg to East London costs between R340 – R410.
From Johannesburg to Durban cost R210.
From Pretoria to Cape Town is between R190 – R790.
Note: You can make use of the comment box at the end of this post to request Eldo Coaches price for your location and we will try our best to respond as soon as possible.
Eldo Coaches Bus Stations
Eldo Coaches has numerous bus stations across South Africa, these stations were put in place so that you can easily walk in and purchase a trip ticket, lodge a complaint and also give recommendations on how to better serve you.
Eldo Coaches Agents
=> E-Ticket Net
Physical Address: 446 Smith Street, Cnr. Broad/Smith and West Street Durban
Phone: 031-332-8277
=> L.N. Isima T/a
Physical Address: Shop 10 Broad Walk Arcade/Centre. Cnrs. Of Smith, West & Broad Streets Durban, 4001
Phone: 031-304-2908
=> 1st Zulu Safaris
Physical Address: Tropicana Hotel, 85 O.R Tambo Avenue, Durban
Phone: 031-332-8277
=> Sparksport Pharmacy
Physical Address: Shop 3, Ayesha Centre, 50 Joyhurst Street, Chatsworth.
Phone: 031-401-0010
Eldo Coaches Offices
Station
Address
Phone Number
Pretoria Station
Luxury Coach Terminal, Cnr. Scheiding & Bosman Str., Pretoria Station
086-113-5367
Bloemfontein
Tourist Centre, 60 Park Rd, Willows, Bloemfontein, 9301
086-113-5367
Cape Town Station
Long Distance Bus Facility, Cape Town Station, Old Marine Drive, Cape Town
086-113-5367
Durban Station
Office 3, Durban Station Lower Level, NMR Ave, Durban, 4001
086-113-5367
East London Station STR
50 Station Street; East London CBD; East London
086-113-5367
East London Windmill
Windmill Mall, 128 Moore Str, Beachfront, Quigney, East London
086-113-5367
Johannesburg Park Station
Main Park Station Building; Cnr. Rissik & Leyds Street; Braamfontein; Johannesburg
086-113-5367
Port Elizabeth
264 Cape Rd, Newton Park, Port Elizabeth,
Eldo House, 97 Westview Drive, Mill Park
086-113-5367
Pietermaritzburg
Cnr. Burger & Commercial Street; Pietermaritzburg
086-113-5367
King Williams Station
King Williams Town Railway Station, Grey Str
n/a
Queenstown
Railway Station, Queens Rd, Queenstown
n/a
Mthatha Station
10 King Edward Road Opposite Mthatha Railway Station
n/a
Signet Terrace Lenasia
Signet Terrace Shopping Centre; Cnr. Gemsbok & Robin Street; Lenasia Ext1; Lenasia; 182
086-113-5367
Uitenhage
84 Constitution Road, Cannon Hill
n/a
Upington Station
Kgalagadi Pick n Pay Centre
n/a
Head Office Contact Details
Physical Address: 316 Farm, Lenasia Road R554, Eikenhof
Phone No: 012-323-5475, 011-852-6120, 065-113-5367
Email Address: [email protected], [email protected]
FAQs
What year was Eldo Coaches established in South Africa?
Eldo Coaches was established in the year 1956 and started as a family business in major cities of South Africa.
Where can I get Eldo Coaches bus tickets?
You can easily get a bus ticket via Eldo coaches official website or through any of their recognized agents like Busbud, Checkers Hyper, CheckMyBus, QuickBus, TicketJoint, Thrifty car rental, Shoprite, Spar, Choppies, JustGo, PEP, PicknPay, Boxer, Ticketpro e.t.c.
Who is the owner of Eldo Coaches transport company?
Eldo coaches transport is owned by Ahmed Moola and his brothers Ismail and Mahomed, they were the ones driving the buses when the company started operations before employing staffs.
How much do Eldo Coaches bus tickets cost?
Eldo Coaches bus tickets start from R 210.00, the prices of trips differ from one location to the other and you can get their tickets both physically or online.
Conclusion
Eldo Coaches remains one of the best transport services in South Africa with trained staff and well-serviced and properly maintained vehicles. Patronizing Eldo Coaches will be a thing you won't ever regret so if safe, affordable and reliable transportation is what you need then Eldo Coaches got you covered.
You can also subscribe to their "Loyalty Program" and a membership card will be given to you which you can use to enjoy any Eldo Coaches services at any time and any day.
Read Also: City to City Bus Tickets, Bookings, Schedules, & Fare Prices
Kindly make use of the comment box below to ask any question bothering your mind about Eldo Coaches Transport company and also the current price updates.