IlulaBus Ticket Prices, Bookings, Bus Stations & Contacts
This article is focused on IlulaBus ticket fares, bus stations, online booking, discounts & benefits, schedules, offices and other important information about IlulaBus.
If you have been trying to perform Ilula Bus online booking of ticket then you are in the right place as before you proceed you want to know the reason why you should take advantage of this opportunity.
IlulaBus is one of the leading transport companies in South Africa today and the quality of services being discharged by this transport company is top-notch which makes it one of the most preferred transportation companies in South Africa.
South Africa has seen a lot of growth over the years from the transport industry and this has added a huge chunk of revenue to the country's economy, all this through the huge investments made by companies like IlulaBus.
To further make this interesting it is worthy to let you know that there has been a healthy competition among the South African transport companies which the likes of IlulaBus, Eldo Coaches, City to City, Citiliner, Eagle Liner, Translux, Intercape, APM Bus and many others have been trying their best to offer the best transport experience for commuters.
Read Also: Citiliner Bus Ticket Prices, Online Bookings, Time & Contacts
Before we dive deep into the topic of the day let us quickly reveal a rundown of the history of IlulaBus and how the company was able to achieve this feat.
About IlulaBus Transport Company
In 2020 IlulaBus transport company was established in South Africa, it is currently one of the newest and most used transport companies in the country due to the quality of services rendered at the start of the launch.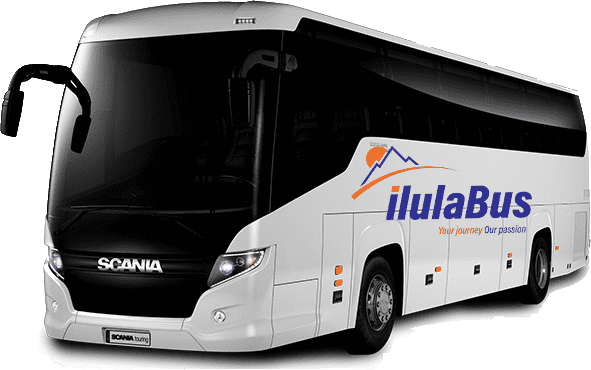 The company is known all over the country and has been in the business of conveying passengers from their location to their destination of choice via modern luxurious buses which meet up to global standards.
IlulaBus offers a convenient transport service with comfort and security for the passengers and their luggage and since its establishment, this company has been one of the most affordable, reliable, dependable and secure transport companies in South Africa.
Below are some of the routes plied by IlulaBus:
Cape Town to Pretoria via Bloemfontein
East London to Pretoria via Queenstown
Cape Town to East London via the N1
East London to Cape Town via the N1
East London to Cape Town via the N1
Cape Town to East London via the N2
Cape Town to Pretoria via Kimberley
East London to King William Town
East London to Peddie
East London to Jeffreys Bay
East London to Mossel Bay
East London to Heidelberg
East London to Plettenberg Bay
East London to Knysna
East London to George
East London to Grahamstown
East London to Somerset West
East London to Cape Town
East London to Port Elizabeth
East London to Riviersonderend
Cape Town to Somerset West
Cape Town to Jeffreys Bay
Cape Town to Port Elizabeth
Cape Town to Riviersonderend
Cape Town to Heidelberg
Cape town to Mossel Bay
Cape Town to Plettenberg Bay
Cape Town to Grahamstown
Cape Town to Peddie
Cape Town to King William Town
Cape Town to East LondonCape Town to George
Cape Town to Knysna
Why Use IlulaBus Transport?
We have numerous benefits that you will enjoy once you decide to book a trip with IlulaBus, below are some of the benefits and not limited to the listed benefits:
Educated and well-trained drivers who get re-evaluated regularly
Jovial and friendly staff/ service reps at their offices and online to assist you in case you need help
All buses are well tracked to monitor location and drivers' speed
There is a set speed limit for all drivers to abide with
IlulaBus buses or coaches are fully air-conditioned
Reading lights available on all buses
An ergonomic seat and comfortable sitting arrangements on all buses
USB Charging Points for all passengers
Onboard TV and Radio for the entertainment of commuters
Onboard toilets on all buses for commuters to ease themselves
Affordable transport fares compared to other transport companies
Read Also: Eldo Coaches Bus Ticket Prices, Bookings, Routes & Contacts
With all the mentioned benefits you definitely must be interested in booking a trip ticket with IlulaBus, we have listed below the method in which you can follow to book a ticket with IlulaBus.
How To Book A Ticket With IlulaBus
To quickly book IlulaBus tickets the company has made this very easy through all the booking methods, they leverage technology to speed up the booking process and make life easy for their passengers. You can book a ticket online and also from their offices all across South Africa.
Follow the steps below to book a trip with IlulaBus:
Launch your browser and visit (https://www.ilulabus.com), then click on "Book Now"
You will be redirected to a portal where you need to select your "Pick-Up", "Drop-Off", "Seat Number" and "Pick-Up Date", then hit the "Search" button
A list of available buses for the trip will be shown with the Pick-Up time
Choose your preferred bus and pay via the online secured card payment (MasterCard, Visa and PayGate supported)
Once done you will have the details of your travel schedule which you need to present once you are about to board.
IlulaBus Ticket Prices
To get the current prices of IlulaBus you can also make use of our comment box below this post so we can as well help you with the latest price.
IlulaBus also offers a Loyalty program via "IlulaMoola Card" which is given to customers that use IlulaBus often, this gives you a discount on all your trips, you can join by visiting (https://www.ilulabus.com/loyalty-ilulamoola).
IlulaBus Head Office Contacts
To visit based on complaints or maybe you have a recommendation on how IlulaBus can serve you better then you need IlulaBus contact, below is their address and other contact details:
Address: 6A Printers Way, Marconi Beam, Cape Town
Phone No: toll-free (0861-777-577), tel (+27-21-850-9697)
Website: https://www.ilulabus.com/
Email: [email protected]
Read Also: City to City Bus Tickets, Bookings, Terminals & Fare
Do you have a question or do you have a contribution to make? Kindly use the comment box below, you should also hit the share button below to let people know about this article.