Post Malone Net Worth And Biography 2022 [Height, Age, Girlfriend]
Our discussion is centered on Austin Richard Post who is known by his celebrated name Post Malone, an American rap artist, singer, songwriter and record producer whose current net worth is over $20 million.
The spectacular rapper has earned himself quite a reputation in the music world, especially for his pensive songwriting and vocal style. Post is known for his excellent twisting diverse range of genres including hip hop, pop, country, and rock.
However, not everyone knows much about the biography of this fast-rising pop star. If you are interested to know more about Post, journey without us as we unveil to you more information about Post Malone Net Worth and Biography.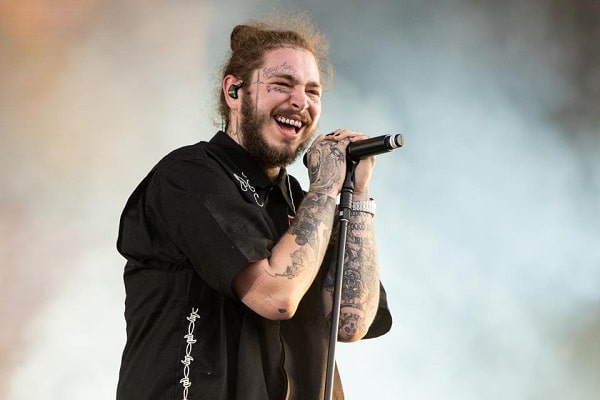 Before we delve deeper into our conversation, below is a summary of Post Malone biography.
Post Malone Profile
| | |
| --- | --- |
| Real Name: | Austin Richard Post |
| Date of Birth: | 4th July 1995 |
| Place of Birth: | Syracuse, New York  |
| Nationality: | American |
| Year Active: | 2013 till date |
| Occupation: | Rapper, Singer, Songwriter |
| Record Label: | Republic Record |
| Marital Status: | In Relationship and Unmarried |
| Children: | No |
| Height: | 1.84m |
| Net Worth: | $20 million |
Our discussion on Post Malone Net Worth and Biography takes us to where we dig up his story and to begin with, Austin Richard Post, better known as Post Malone, was born on July 4, 1995, in Syracuse, New York to Nicole Frazier Lake (mother) and Rich Post (father).
However, Post was raised by his dad and stepmother Jodie. Post initially lived with his mother in Syracuse before moving to join his father and stepmother in Grapevine, Texas. As such he grew up in the middle-class family background.
Post's dad used to be a DJ which made it easy for him to be familiar with several genres of music including hip-hop, country, and rock. At age 9, Post's family moved to Texas, that was because his father became the manager of concessions for the Dallas Cowboys.
Post was inspired to play the guitar as he watched the video game Guitar Hero. In 2010, Post played the guitar and auditioned for the band Crown the Empire, unfortunately, his guitar strings broke during the audition which led to his disqualification.
Post completed his elementary education and high school education before gaining admission into Tarrant County College. However, Post went to school just to appease his family. After his decision to quick out of college to pursue his music career, his parent supported his decision to leave and go to Los Angeles.
Moving to Los Angeles, was a step to greatness and Post started making beats on his own with the FL studio software. Sometimes in 2011, Post produced his first mixtape titled "Young and After them Riches". The mixtape release was a success and caused several record companies to notice him. Eventually, he was signed by Republic Records.
Music Career
Post music career began when he moved to Los Angeles, where he and his friend Probst, as well as other producers and artists, formed a music group known as BLCKVRD and recorded music together.
Post came to the limelight in 2015 following the release of his debut single "White Iverson". Interestingly, Post recorded the song two days after writing it. The music video for "White Iverson" was released in July of the same year and the album hit one million views within a month. He then had an MOU with a record label best known as Republic Records.
Post soon began to work with some prominent rappers including 50 Cent, Young Thug, and Kanye West, among others. Post released his new single, "Go Flex" on Zane Lowe's Beats 1 show in 2016. Later the same year he released his first full-length project, a mixtape, titled August 26. His other works include Stoney (2016), Beerbongs & Bentleys (2018), and Hollywood's Bleeding (2019).
Post Malone Relationship and Girlfriend
Taking us further in our discussion on Post Malone Net Worth and Biography is about the relationship of this sensational and talented young rapper. There is no much information concerning Post's personal life and relationship.
However, as at the time this article is compiled, Post Malone is yet to be married. However, Post was in a relationship with music producer Ashle Diaz. The duo began dating in February 2015 as they met when Ashley booked him to do a show at a nightclub.
Post Malone Net Worth
Taking us further in our discussion on Post Malone Net Worth and Biography is about Post Malone net worth. The young talented music artist has been consistent in his music career even though his music career is still young. Post net worth is estimated to be $20 million as of the time this article is written. The major contributor to Post's net worth includes streaming, touring and sales.
Post Malone Houses and Cars
Post is a fast-rising hip-hop star who possesses excellent songwriting skills who is gaining the attention of music lovers worldwide. Post owns two multimillion-dollar properties.
Post makes big earning and at the same time, he is a big spender. He has two houses and one is a huge 13,000 square-foot home in northern Utah, which the rapper bought for around $3 million in the year 2017.
The mansion comprises of 5-bedroom, 6-bathroom, equipped and furnished with modern amenities, excellent kitchen, bar, basketball court, separate guest quarters as well as a private office.
Post's second and most recent house is located in Encino California, Los Angeles and he bought the house for an estimated value of $US2.5 million. The house covers a land area of 4,169-square-foot and it comprises 5 bedrooms, 4.5 bathrooms, a fireplace, a massive kitchen, an outdoor barbecue/patio area, a private pool and spa as well as two parking spaces.
The house is elegantly designed including a gorgeous glass double-door at the entrance as well as a beautiful tree design, granite counters, and also a large swimming pool in the back.
Aside from these two elegant houses, he also owns quite a few car collections. If you are interested to know the list of cars owned by this fast-rising music artist who is gaining the world's attention. The cars owned by Post includes Bugatti Chiron, Subaru WRX STI, Chevrolet C-10, Rolls Royce Wraith (crashed and sold at auction for $100K), and a Rolls Royce Phantom.
Post Malone Tattoos
Post like other celebrities inked himself with tattoos of different shapes, sizes and characters. His first tattoo was of the Playboy Bunny. He has tattoos on his face, his hands and fingers of artists, he has a snake coiled around a rifle inked on his triceps who have impacted and influenced him.
Post also has a tattoo on his triceps of a snake coiled around a rifle. On his arm is inked the face of a deceased rapper Lil Peep. He has on his face several tattoos including a line of barbed wire across his forehead, two playing cards, a smiley face, a Playboy bunny and a heart, the words "Stay Away" is inked above his right eyebrow, while the word "always" and "tired" is tattooed below both of his eyes, also, the word "STONEY" is inked just below his chin and a sword on the right side of his face
Awards
In terms of awards & achievements, Post Malone hasn't yet received any official award that we know of but the talented songwriter and rapper have been nominated and awarded on several occasions in order to show how wonderful hard work he puts in his music. So far Post Melon has 20 nominations from which he has won just one.
Also, two of his songs "Congratulations" and "Rockstar" have already been ranked among the top 10 lists on the US Billboard Hot 100 songs. Both songs are reported to have received over 500 million views worldwide.
Height and Weight
Post Malone is not height measures 1.84 m (6ft.); his body weighs 88 kg (194 lbs.); he has an athletic body meaning his body type is on average.
Famous For: Introspective songwriting, and his laconic vocal style
FAQs
What is on Post Malone's teeth?
He spent $1.6 million on 40 carats of Belgian diamonds that were cut in Israel. A 12-carat raw cube is needed to manufacture a six-carat canine tooth-shaped diamond. A great deal of garbage is generated," the dentist explains.
How did Post Malone get famous?
Malone created his debut mixtape, Young and After Them Riches, at the age of 16 using the audio editor Audacity. Grapevine High School students were able to see it. High school classmates selected him "Most Likely to Become Famous" as a senior. A couple of days after composing the song, Malone recorded it.
What song is Post Malone famous for?
Although Malone released his first album, Stoney, in late 2016, he achieved prominence in February of 2015 with his viral single "White Iverson."
Is Post Malone nice?
But his unkempt aesthetic, including a scraggly beard and tattooed facial features, is often ridiculed. When it comes to success, Malone has had quite a bit of it! A billion times have listened to Sunflower, the most popular song. His music video for Circles has been seen over 100 million times.
Song recorded By Post Malone (Song list)
A Thousand Bad Times (2019)
Candy Paint (2017)
Allergic (2019)
Ball for Me (2018)
Circles (2019)
Better Now (2018)
Enemies (2019)
Congratulations (2016)
Déjà Vu (2016)
I Fall Apart (2016)
Go Flex (2016)
I'm Gonna Be (2019)
Goodbyes (2019)
Hollywood's Bleeding (2019)
Die For Me (2019)
Motley Crew (2021)
Rich & Sad (2018)
On the Road (2019)
Spoil My Night (2018)
Patient (2016)
Rockstar (2017)
Saint-Tropez (2019)
Psycho (2018)
Stay (2018)
Same Bitches (2018)
Take What You Want (2019)
Sunflower (2018)
Paranoid (2018)
Staring at the Sun (2019)
White Iverson (2015)
Zack and Codeine (2018)
Wow (2018)
Read Also: R. Kelly Net Worth And Biography [Height, Age, Songs]
Conclusion
That is the much we can provide you on Post Malone Net Worth and Biography. The young talented music artist has a lot rolled up on his sleeves. He is believed to drop a new hit anytime soon and he is currently making a huge fortune from his album sales and music tours. His manager made it known that Post is planning on starting his record label and film production company. I believe you have been well informed about this prolific rapper and inspirational songwriter. Let us know what you think about this article.