The 15 Best Universities In The World 2022/2023
Do you care to know the best universities in the world? Thousands of people aspire to study in them, but few get it. The best universities in the world arouse admiration and stand as a beacon of knowledge for all humanity.
Academic quality is guaranteed in these establishments which, in many cases, have several centuries of history behind them. Tradition, of course, is combined with modernity, since these study houses are constantly updated and take advantage of the technological advances of the 21st century to optimize their operation and meet their objectives.
Of the world's best universities, according to the prevailing opinion of students, faculty, and analysts, the vast majority are in the United States and England. These two countries treasure an invaluable legacy in terms of university education, with institutions that are a true emblem.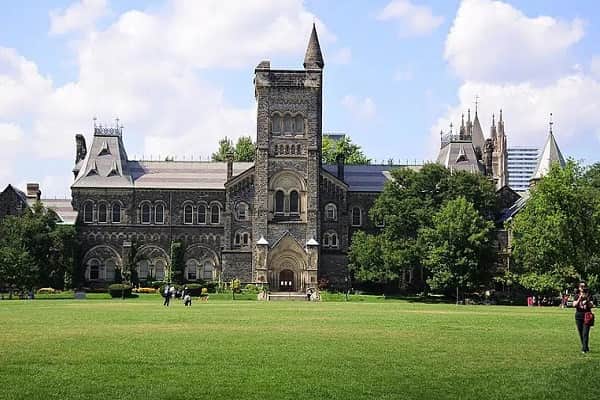 Switzerland and Canada, meanwhile, also have entities in which studying is a real privilege. Those who manage to graduate from this type of university know that they have a distinctive seal, a plus that allows them to excel in the scientific and professional fields.
Oxford, Harvard, Cambridge, Yale … There are names that are immediately associated with excellence in university matters. Its buildings, its halls, its laboratories, its auditoriums and its museums are visited by lucky students and professors who have the pleasure of spending their days in a unique environment, enriching themselves with knowledge. 
Read Also: Top 10 Richest Countries In Europe
With their contributions in multiple fields, the best universities in the world contribute to the progress and development of societies.
The 15 Best Universities In The World
1. MIT, Cambridge
The Massachusetts Institute of Technology, better known as MIT usually leads the majority of the rankings that present the best universities in the world. This private entity, founded in 1861, is globally recognized for its contributions to scientific research and applied technology.
At this institution based in the US city of Cambridge, more than 1,000 professors teach some 11,500 students. Five schools and one college make up its educational structure.
It should be noted that 95 Nobel Prize winners studied at MIT. Today it has professors Nicholas Negroponte (creator of the famous MIT Media Lab) and Tim Berners-Lee (responsible for the creation of the World Wide Web ), among other highly respected intellectuals and scientists.
Astronaut Buzz Aldrin, linguist Noam Chomsky, former UN Secretary General Kofi Annan, and economist Paul Krugman are among the personalities who trained at MIT. They make up a privileged group, since it is estimated that less than 10% of the total applicants to study at the university manage to enter.
2. Harvard University, Cambridge
With origins dating back to 1636, Harvard University is the oldest higher education institution in North America. Like the Massachusetts Institute of Technology (better known as MIT ), it is located in the city of Cambridge.
More than 36,000 students take advantage of the different educational options proposed by this institution whose library, the largest of an academic organization, has 20.4 million volumes. Harvard's structure is made up of eleven main units: ten faculties and an institute for advanced study.
Various data demonstrate the enormous global significance of Harvard University. For example, among its graduates there are 32 professionals who were heads of state, such as presidents Barack Obama (United States), Felipe Calderón (Mexico), Juan Manuel Santos (Colombia), and Sebastián Piñera (Chile). Also Nobel (Oliver Hart, Alvin Roth, Seamus Heaney) and Pulitzer Prize winners (Robert Frost, Caroline Elkins, Bernard Malamud).
3. Oxford University, Oxford
Although its foundation date is not clear, it is estimated that the University of Oxford was founded around 1096. This British institution is an educational reference throughout the planet.
Oxford has about 24,000 students, who can feel very lucky. According to the statistics of the university itself, each year it receives seven applications for each available place.
Tony Blair, Bill Clinton, TS Eliot, Graham Greene, Hugh Grant and Aldous Huxley are just a few of the famous people who passed through Oxford classrooms in the 20th and 21st centuries. No less than twenty-eight Prime Ministers of the United Kingdom, on the other hand, studied at this university, including the last two: Theresa May and Boris Johnson.
Another sign of the prestige of the University of Oxford. The extensive list of Nobel Prize winners among its graduates: in 2019, three of the recipients of the award were former students of this entity.
4. Stanford University, Stanford
Business magnate Leland Stanford and his wife, Jane, founded an institution of higher learning in 1891. His goal: to honor Leland Stanford Junior, his only son, who died at the age of 15.
Leland Stanford Junior University (Leland Stanford Junior University), colloquially known as Stanford University, gradually became one of the most recognized in the United States. Currently, a campus of more than 2,200 teachers teaches about 16,400 students.
As is often the case with all educational establishments that rank among the best universities in the world, Stanford trained important personalities in the scientific and cultural environment, including several Nobel Prize winners. In fact, more than a dozen intellectuals who received this award work as teachers in this entity.
It is worth noting that the Stanford University campus is home to nearly seven hundred buildings. Its infrastructure includes seven schools (Engineering, Medicine, Law and others).
5. University of Cambridge, Cambridge
The University of Cambridge (University of Cambridge) began to take shape in 1209, when a group of academics left Oxford and settled in this town. That is why it is among the four oldest universities on the planet.
More than 22,000 students, from 147 countries, are trained in this British institution that has 31 colleges and some 150 departments, faculties, schools and other dependencies. Its graduates, professors, and researchers include 109 Nobel Prize winners, 47 heads of state, and 190 Olympic medalists.
It must be said that studying at Cambridge is a very difficult dream to fulfill. In 2018, for example, 18,378 people tried to get one of the 3,000 vacancies available in undergraduate careers.
Niels Bohr, Bertrand Russell, Milton Friedman, Octavio Paz and Joseph Stiglitz are some of the celebrities who, at some point in their lives, were part of the Cambridge University family.
6. California Institute of Technology, Pasadena
The lists of the best universities in the world usually present the Massachusetts Institute of Technology in the first place. But it is not the only technological institute that appears in these rankings: the presence of the California Institute of Technology, known as Caltech by its name in English (California Institute of Technology), is also common.
This private institution with a campus in Pasadena was established in 1891 and has about 2,200 students. In its history, counting former students, professors, and researchers, it accumulates 38 Nobel Prize winners, such as Robert C. Merton, Linus Pauling, and Martin Karplus. It should be noted that, since 1968, the Caltech Archives preserve the collective memory of the entity.
Proof of Caltech's scientific relevance: The university is in charge of directing NASA's Jet Propulsion Laboratory (JPL). In this way, it participates in sending probes for extraterrestrial exploration.
7. University of Chicago, Chicago
Since it began its activities in 1890 thanks to the impetus of billionaire John D. Rockefeller, the University of Chicago (The University of Chicago) has positioned itself as an institution of enormous influence in various spheres of knowledge.
One speaks of the Chicago School of Economics, to cite one case, to refer to a current of liberal thought that was born in its classrooms by professors Milton Friedman and George Stigler. The Chicago School of Sociology, meanwhile, arose from the work of professors at this university such as George H. Mead and Florian Znaniecki.
Almost 17,000 students are part of its educational community. This entity has 2,300 full-time professors, including six Nobel Prize winners. In the last three awards of the Nobel, on the other hand, there were winners linked to this house of studies.
Some famous University of Chicago students and professors; Barack Obama, John Maxwell Coetzee, Friedrich August von Hayek, and Paul Samuelson.
8. Zurich Federal Polytechnic School, Zurich
In general, among the best universities in the world, American and English institutions tend to be positioned. However, the Federal Polytechnic School of Zürich (Eidgenössische Technische Hochschule Zürich) has sufficient merits to be considered part of the select group.
Known as ETH, it is a public university famous for its research work. It opened its doors in 1855 and to date it has some 22,200 students from 126 countries.
If we focus on the Nobel Prizes, as is usually done to measure the prestige of a university, we find that 21 winners were or are linked to the ETH. The first name that stands out is that of Albert Einstein, who studied and then worked at this house of studies.
ETH Zürich has two main facilities: one in the city center (near the old town) and one on the outskirts ( Hönggerberg ). In both cases, they have the necessary infrastructure for teaching and research, without neglecting leisure.
9. Imperial College London, London
Imperial College London emerged in 1907, when the Royal School of Mines, the Royal College of Science and the City & Guilds College joined. The institution soon became an educational reference in London and the rest of the United Kingdom and Europe.
Some 17,000 students study at this establishment, coming from 125 countries. Engineering, Science, Medicine and Business are the most important areas of this university where fourteen Nobel Prize winners passed.
Three faculties and the business school constitute the axis of the educational infrastructure of Imperial College London, which also has different centers and institutes. Different campuses in London and the South East offer all kinds of comforts and facilities to students, teachers and researchers.
The research and social work carried out by Imperial College London is very important in many areas. Thanks to the entity's professionals, for example, the population of saiga antelopes –an endangered species– grew by nearly 190%.
10. University of Pennsylvania, Philadelphia
Benjamin Franklin, one of the so-called Founding Fathers of the United States, was the one who promoted the creation of the University of Pennsylvania (University of Pennsylvania, in English).
Known as UPenn or Penn, this private institution opened in 1751 as the Academy and Charitable School in the Province of Pennsylvania. Franklin was its president until 1755.
With almost 27,000 students, UPenn has three campuses and more than three hundred buildings. Some 18,000 people, including teachers, administrative staff and the rest of the staff, make up its workforce.
The University of Pennsylvania stands out for its intense sports and cultural life. In this sense, it is worth mentioning that it presents men's and women's basketball, soccer and other disciplines teams, which compete in the Ivy League of the National Collegiate Athletic Association (NCAA). It also manages numerous museums and cultural centers, with the Penn Museum standing out, which focuses on anthropology and archaeology.
11. Yale University, Connecticut
More than three hundred years of history make Yale University one of the most traditional institutions of higher education in the United States. This private university, which was born inspired by the European liberal tradition, took its first steps in 1701.
Current data indicates that more than 13,500 people study at Yale. Of that total, 21% are international students, which demonstrates the importance of the entity at a global level. The teaching staff, meanwhile, is made up of some 4,900 teachers.
Yale's museums and art galleries are recognized around the world. They are not only available to students but are also open to visitors. In them, it is possible to find from a Gutenberg bible to original paintings by Vincent Van Gogh.
Former US Presidents Bill Clinton and George W. Bush are among the most famous graduates of Yale University. Nobel laureates like Paul Krugman and Edmund S. Phelps and Pulitzer winners like Bob Woodward and David McCullough also passed through its classrooms.
12. University College London, London
In 1826, University College London, a public university established in the heart of the English capital, was founded.
Multidisciplinary in nature, UCL has a staff of 13,000 people who provide services to 42,000 students. In its eleven faculties, it offers training in Art, Law, Engineering, Mathematics and Medicine, among other areas.
The institution has sixteen libraries and study spaces. It also has a number of museums and art galleries, including the UCL Art Museum, the Petrie Museum, and the Grant Museum of Zoology.
The Bloomsbury Theater and Studio, meanwhile, opened its doors in 1968 to house plays, concerts, dance performances and other proposals. Among the UCL alumni who took the stage at the Bloomsbury Theater were singer Adele and comedian Ricky Gervais.
When it comes to famous UCL students, it's impossible not to mention Mahatma Gandhi. The Indian leader, a symbol of pacifism, studied Law.
13. University of Toronto, Toronto
The University of Toronto (University of Toronto) defines itself as the leading Canadian institution for learning, discovery and knowledge generation. It was founded in 1827 and has already exceeded 560,000 graduates.
Known as U of T, it has three campuses in Mississauga, St. George, and Scarborough. Of its 93,000 students, just over 23,000 are international, from 159 countries. The nation that contributes the most students is China, followed by India and the United States, in that order.
The University of Toronto faculty comprises more than 14,600 members with research and/or teaching responsibilities. Almost 160 librarians also work at the entity.
About the U of T library system, it should be noted that it contains 12 million volumes in 314 languages. It also houses more than 2 million digital books and some 250,000 maps and aerial photographs. The materials are available to students, teachers, researchers and visitors in general.
14. Princeton University, Princeton
Established in 1746, Princeton University is the fourth oldest university in the United States. Among its almost 1,300 professors, there are 27 Nobel Prize winners.
More than two hundred buildings, six student residences, ten libraries and thirty-seven teams that compete in inter-university competitions are part of the reality of this institution. It should be noted that Princeton is a municipality in New Jersey with a population of 30,000.
Two US presidents studied at Princeton University: James Madison and Woodrow Wilson. The actress Brooke Shields and the founder of Amazon, Jeff Bezos, were also among the students of this house of studies.
Those who want to enter Princeton University apply to the institution in general, not to a particular school, program or department. Once they are part of this educational community, they can choose between two degrees: Bachelor of Science in Engineering or Bachelor of Arts.
15. Cornell University, Ithaca
Cornell University or Cornell University was created in 1865 by Ezra Cornell and Andrew Dickson White. Founder of Western Union, Cornell made a fortune as a partner of Samuel Morse.
It is a "private university with a public mission", as defined. Its central campus is in Ithaca, in the state of New York.
More than 24,000 students and 1,600 faculty live in Cornell University buildings. Fifty Nobel Prize winners, on the other hand, made up the family of this renowned university that is usually ranked among the best universities in the world.
Read Also: The 7 Best Airports In The World
It is interesting to note that the Weill Cornell Medicine – Qatar (WCM-Q), which is part of Cornell University, is the first American medical school to operate outside the national territory. Inaugurated in 2004, it is located in the Education City of Doha, in Qatar, and is an initiative developed in conjunction with the government of that Arab nation.