The 10 Best Hotels In The World 2022
Love to know the best hotels in the world? While there are people who dream of visiting a wild natural site devoid of any human comfort, others prefer to achieve it with all the luxuries. There are, for this second group, luxury venues where you can appreciate the advantages of a natural adventure without giving up luxuries.
If you are here it is because you probably belong to the second group. If you want to find those complexes that combine nature and enjoyment, without giving up the exciting pleasures of life, be sure to read this list in which we present the best hotels in the world.
Below we present some of the places most recommended by tourists for dream vacations. And, although a stay in these hotels can be somewhat expensive, enjoying them even once in a lifetime can be a fantastic way to spend our money. Don't you think?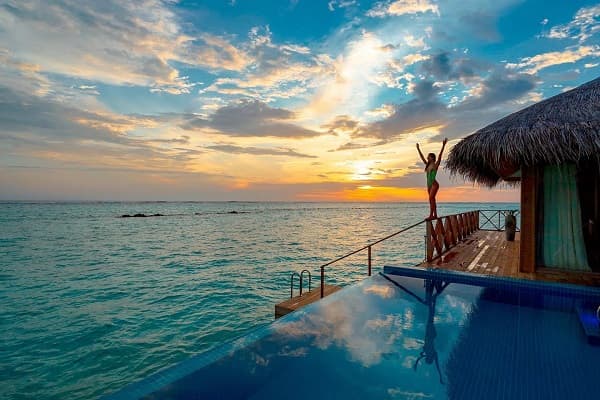 So now you know, if you are looking for a good destination for your next vacation, you can opt for one of these luxury hotels, located all over the world, where you can get closer to the wonders of nature (deep forests, wild vegetation and fantasy beaches) and at the same time enjoy an unforgettable stay (complete rooms, local gastronomy and establishments with all the luxuries).
Have a wonderful stay in the best hotels in the world!
The 10 Best Hotels In The World
1. Tulemar Bungalows & Villas
If we want to make a list of the best hotels in the world, we cannot leave out Tulemar Bungalows & Villas, a resort that has gained great importance in recent decades.
The Tulemar Bungalows & Villas complex offers a wide range to visitors. You can choose between luxury houses, bungalows and other types of properties.
For many, it is one of the idyllic places to feel comfortable in the middle of nature. It is a complex surrounded by the wild tropical jungle and with unforgettable views over the ocean.
One of the characteristics that make it a popular place is that it has the only private sandy beach in the region. This allows its visitors to enjoy unforgettable days at the beach.
Its services include, of course, transportation from the airport, exquisite gastronomic quality, spa and recreation services, and personalized treatment. All comforts serve to justify its high cost.
2. Hotel Belvedere
Many visitors recommend the "Hotel Belvedere", located in the town of Riccione, in Rimini. And they are right.
It is an exquisite establishment, with amazing views and where you can live an unforgettable intimate experience.
A complex located on a private island, where tourists can do a wide variety of activities. One of the most popular is to tour the place by bicycle, before sunbathing on its exclusive beaches. Also, in the establishment, there is a bar, recreational spaces and a large number of opportunities for leisure.
In the establishment, you can enjoy all the luxuries, because it is a place specially designed for people with a high purchasing power.
Without a doubt, a trip to the province of Rimini that is accompanied by a visit to the "Hotel Belvedere" can be one of those experiences that are not forgotten in life.
3. Baros Maldives Hotel
Among the most recommended luxury hotels in the world is the "Baros Maldives Hotel", located on the private island of the same name, which belongs to the Maldives Islands island complex.
It is an exquisite establishment, provided with all the luxuries, for demanding travelers who wish to enjoy a paradisiacal stay.
One of the fundamental characteristics of this place is that it offers us intimacy and exclusivity: two things that are difficult to find in these modern times. It is a hotel that has an exclusive island for its visitors, which means, beaches and natural space for their use and enjoyment.
It is an ultra-luxury resort, with bars, a spa, a swimming pool, a gym and everything a high-class traveler needs to enjoy their time. Those comforts that you think do not exist, are possible here. An extraordinary way to enjoy a vacation in the Maldives.
4. French Quarter Inn
In the United States, one of the most prestigious hotels is the "French Quarter Inn", located in Charleston. And it is that without a doubt, it deserves the popularity.
Surely getting a good place to rest can make our time in Charleston unforgettable. At the French Quarter Inn, we can enjoy a family atmosphere and a great location, without skimping on luxuries.
The rooms are spacious and have all services included. Among them, as expected, the refrigerator is not lacking, so that we are not tied to the establishment's schedules. It also has television, air conditioning and WIFI.
The best thing is surely its location, as it is close to some of the enclaves of the city: Rainbow Row and Nathaniel Russell House. In addition, in the surroundings, there are several well-known and recommended restaurants.
Without a doubt, it is a hotel that offers great advantages, whether we travel as tourists or for work; because we will have everything close and we will have a comfortable stay.
5. Viroth's Hotel
In the capital of the Kingdom of Cambodia, Siem Rap, there are many fabled hotels; among them we could highlight Viroth's Hotel.
One of its main characteristics is that it is a building set in the 50s, which offers a decoration and an atmosphere that makes the experience extremely incredible.
It is a huge hotel, with spacious rooms and located in a beautiful area: on the banks of the river that gives the city its name, very close to the city center and the impressive Angkor temple.
Nothing has been forgotten in the construction of this hotel. Not only do we find very careful interiors, with furniture carved in exquisite materials, but it also has beautiful green spaces, including a vertical garden that has given much to talk about.
Viroth's Hotel is surely one of those places to go to get lost and find peace, while we make a trip through one of the most fascinating countries in Southeast Asia.
6. Amanda Hotel Kenting
The "Amanda Hotel Kenting" is a fabulous establishment located in the center of Hengchung, in the city of Pungtung (Taiwan). A site that no one should miss if they have the opportunity to visit it.
It is located a few kilometers from the Kenting National Park, in a totally natural space that invites you to relax. Being in the middle of this exotic landscape gives it one of its greatest points in favor: no one has ever been in a place like it.
It is a hotel with all the luxuries you can imagine: with spacious rooms and all the comforts, and a wide variety of activities that will allow you to enjoy an unforgettable stay.
Among the things that make it special we could point out that it includes a visit to the Sichongxi hot springs, unforgettable walks in nature (being able to come into direct contact with it) and activities prepared so that the client never gets bored. Both in the forest and in the water, this hotel offers a wide variety of water activities that you will thoroughly enjoy.
7. Palacio Nazarenas
Lovers of ancient architecture and those who enjoy experiences anchored in time will appreciate the beauty and alternatives of the "Hotel Belmond Palacio Nazarenas", located in Cusco.
It is an old cloister refurbished for the enjoyment of the modern traveler with luxury needs.
Among its main qualities, it should be noted that it has the first infinity pool, located outdoors and surrounded by plants with scented flowers, which will make you think that you are in the middle of a story.
This hotel has its own orchard, in which the vegetables used in the preparation of various dishes of local cuisine are grown, and this is another of the establishment's strong points.
It is an ideal place to visit as a couple or in small groups, to be able to appreciate the advantages of tranquility and take a delicious swim in its pool. Without a doubt, an expensive place but it is worth knowing.
8. Kayakapi Premium Caves
Among the most popular tourist complexes in the world we cannot leave out Kayakapi Premium Caves, a neighborhood of Cappadocia known as the neighborhood of the owners of the land, which is made up of a set of fascinating cave-houses for the enjoyment of tourists.
We find several buildings ranging from hotels to houses and bungalows, all of them provided with all the luxuries for visitors, which you can rent for days.
It is an ideal place to enjoy a few days in Turkey, visiting its typical monuments and trying some of the typical dishes of its gastronomy.
Whoever has never stayed in a cave house does not know how fascinating this experience can be: it is like enjoying all the beauty of the earth in a house with all the comforts.
Regarding the price, having the possibility of renting individual rooms or complete houses, you can find a large number of offers.
9. The Egerton House Hotel
For lovers of big cities, the "Egerton House Hotel" is ideal to enjoy a dreamlike London.
It is a Victorian building built in 1829, conditioned with all the luxuries so that visitors feel they are in the most fascinating time in the history of Europe.
One of the qualities that make it such a fascinating and highly popular destination is that it contains an exquisite pictorial museum itself. This is because he has in his possession some of the most interesting works of universal painting.
Notable among these works are originals by Picasso, Matisse, and Toulouse-Lautrec. This means that visitors can enjoy a more artistic stay while appreciating the comforts of the place.
As for the property itself, it is located in the Knightsbridge neighborhood and offers exquisite views of the city and the River Thames. Each room has all the comforts, including a refrigerator and exclusive room service.
Without a doubt, it is another hotel for which it is worth paying what it costs.
10. Hotel Alpin Spa Tuxerhof
The Hotel Alpin Spa Tuxerhof is one of those establishments where you can go to disconnect from the busy life; without a doubt, an ideal place for any lover of the good life.
It is a complex located in a very large space, where you can relax and enjoy nature. Honestly, it looks like a fairytale place: a beautiful valley that looks fantastic at any time of the year, with great views and also activities for the more adventurous.
One of the features that make it extremely popular among customers is the recreational alternatives it offers: hiking trails, water sports, air and snow sports, and interior spaces specially designed for enjoyment. In other words, it is a hotel for all tastes.
Read Also: The 7 Best Airports In The World
It is a suitable hotel to welcome the whole family, with activities for all ages and amenities such as we find in few other places. Without a doubt, a place that is worth what it costs.