Mariya Dangote Biography & Net Worth: Dangote Daughters Age Career & Facts
Who is Mariya Dangote? I'm sure it's one question Nigerians have in mind upon hearing the Dangote associated with the name above, but not to worry there is more information on who Mariya Dangote is and how she is related to the Dangote family.
We can't talk about Aliko Dangote's daughter- Mariya Dangote and not say one or two about her siblings, parents, her father, his love life/wives and what transpired between them. Even though most of us can rightly tell who Aliko Dangote is because of his numerous vast wealth and property.
It was gathered that the richest black man Aliko Dangote a famous and wealthy businessman whose products are well known in the whole of Africa, some of his products include salts, sugar, cement, etc and not to forget about his oil and gas refinery too.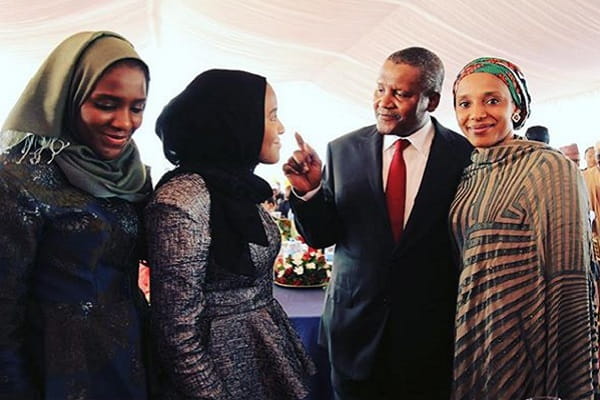 Aliko Dangote who had gotten married at the very youthful age of 20 to his first wife Zainab though selected for him by his parents due to their northern traditional beliefs and custom had given birth to two pretty girls Halima and Mariya for Aliko Dangote.
Read Also: DJ Switch Net Worth and Bio; Songs, Awards, Love-Life & Activism
The two partners later ended things amongst themselves that same year. After the divorce, Aliko Dangote later got married again to Mariya Mohammed the daughter of the former commissioner for women affairs in Bauchi state. Their union also didn't last as they got separated, she bore a female child named Fatima Dangote.
Aliko Dangote later fell in love with the daughter of the late former president of Nigeria Umaru Musa Yar'adua but this relationship didn't work out she got married to the then former Governor of Bauchi.
There has not been much information about Aliko Dangote's love life except that rumor had it that he was having an affair with an ex-beauty queen who goes by the name Sylvia Nduka but their relationship ended due to some reason we are not aware of .
Before we dive into Mariya Dangote biography and net worth including her age and other facts about her, let us quickly introduce to you Mariya Dangote brief profile information.
Mariya Dangote Profile
| | |
| --- | --- |
| Full Name: | Mariya Dangote |
| Date Of Birth: | N/A |
| Age: | N/A |
| Nationality: | Nigerian |
| Education: | Coventry University, UK |
| Relationship status: | Single |
| Occupation: | Businesswoman |
| Net worth: | N/A |
Now that you have little information about her you definitely must be interested in knowing more, continue reading the article to get the full gist.
Mariya Dangote Educational life/Career
Mariya Dangote is one of Aliko Dangote's three daughters. Her father Aliko Dangote is the current richest man in Africa according to Forbes Ranking and one of the most powerful influential figures in Nigeria and also in Africa.
With hard work and dedication, she received her masters in the united kingdom from Coventry University. She is more concentrated on her work and her education.
Mariya net worth is not really known, although she is currently one of the top managers in Dangote group a multi-conglomerate owned by her successful father Aliko Dangote.
Mariya Dangote isn't so much into the public not as much as her father is, she tends to avoid the unnecessary drama that comes along with fame. Although she has a lot of friends that she mixes with, she tries her possible best to stay off from cameras and the public as her status as the daughter to the wealthiest man in Africa draws attention to her anytime she is in public space. Mariya doesn't show off just as some other influential and wealthy figure children do.
She had her first degree before doing her master's in a foreign university. All Aliko Dangote children also had their education done abroad.
Mariya Dangote's Relationship
Who is Mariya Dangote's husband? Who is mariya Dangote's dating? Who is mariya Dangote's boyfriend? This as caused heated arguments in the internet space but then Mariya Dangote marital life is not known, as report suggest that although one of her sisters (Halima Dangote) is married, she, Mariya Dangote is not known to be married.
Since she relocated to Nigeria as a permanent resident after completing her education. Just like her sisters, Mariya hardly posts pictures on social media hence the reason why it is almost hard to see a recent picture of her or any of the Dangote sisters except family pictures that they take at any event they are invited to.
Mariya Dangote Siblings
Mariya Dangote has two extremely beautiful sisters Halima Dangote and Fatima Dangote. Halima Dangote being the eldest of the sisters is married to Sulaimon-Sani Bello and the marriage is blessed with two beautiful daughters.
Halima studied marketing and is a graduate of American Intercontinental University, she furthered her education by going to Webster Business School in London to know more about business and marketing.
She is currently a part of her father's company as an executive. Fatima Dangote the youngest of the Dangote sisters also has a standard educational background as she studied and finished her education in the United kingdom, she is amazingly the founder of a cupcake factory based in Lagos.
Read Also: Top 10 Richest Fuji Musicians In Nigeria
Aliko Dangote has a son though not biological but adopted and his name is Abdulrahman Fasasi. Dangote children keep a very low-key profile, The Dangote children are well cultured and humble that one wouldn't know that their father is a successful wealthy businessman.