20 Cities With The Most Millionaires In The World [2023 Updated]
Here's a list of cities with the most millionaires in the world. The new study carried out by Henley Global Citizens, a firm that tracks investment and private wealth trends around the world, has analyzed how and where money moves throughout the world, with the aim of knowing which cities concentrate the largest number of millionaires.
With all this, New York has become the city that leads the ranking of the 20 richest cities in the world in 2023, with a total of 345,600 millionaires.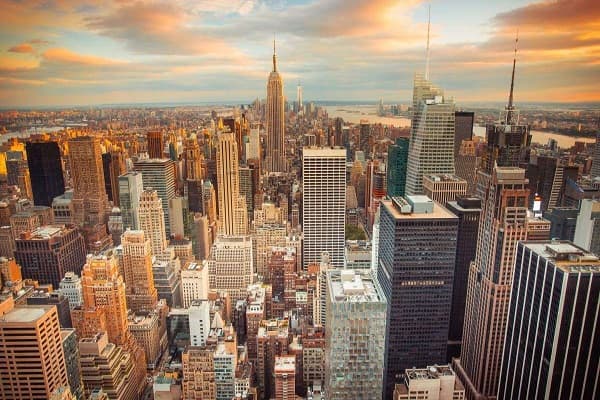 In terms of countries, the United States is the outstanding leader, bringing together five cities among the top 10 and a total of six among the 20 with the most millionaires. In this sense, the North American country has seven of the 10 richest people in the world, such as, in this order, Elon Musk, Jeff Bezos, Bill Gates, Warren Buffett, Larry Page, Sergey Brin and Larry Ellison.
Following New York is Tokyo, with 304,900 millionaires, and the San Francisco Bay Area, with 276,400 millionaires. Rounding out the ranking of the top 5 cities are London (272,400 millionaires) and Singapore (249,800 millionaires). Precisely New York, with 12%, and London, with 9%, also stand out for having experienced a decrease in residents with high purchasing power
The data only includes residents and is taken up to June. Furthermore, according to the report, "of the 20 cities listed, 14 are located in countries that host formal investment migration programs and actively encourage foreign direct investment to change of residency or citizenship rights".
On the other hand, the report analyzes which cities that have grown the fastest in the number of millionaires during the first half of 2022. Here the United Arab Emirates is the great dominator, with three cities (Sharjah, Dubai and Abu Dhabi) among the 10 first. 
"Cities with strong oil and gas industries have done especially well, such as Riyadh, Sharjah, Luanda, Abu Dhabi, Doha and Lagos. The states of Texas and Florida have also done well as they are increasingly moving their headquarters to these states," explains Henley Global Citizens.
The 20 cities with the most millionaires:
1. New York (USA)
2. Tokyo (Japan)
3. San Francisco Bay (USA)
4. London (UK)
5. Singapore (Singapore)
6. Los Angeles and Malibu (USA)
7. Chicago (USA)
8. Houston (USA)
9. Beijing (China)
10. Shanghai (China)
11. Sydney (Australia)
12. Hong Kong (Hong Kong Special Administrative Region of the People's Republic of China)
13. Frankfurt (Germany)
14. Toronto (Canada)
15. Zurich (Switzerland)
16. Seoul (South Korea)
17. Melbourne (Australia)
18. Dallas (USA)
19. Geneva (Switzerland)
20. Paris (France)
Read Also: Richest States In The United States [GDP Per Capita]
The 10 cities with the highest growth of millionaires:
1. Riyadh (Saudi Arabia)
2. Sharjah (United Arab Emirates)
3. Lusaka (Zambia)
4. Dubai (UAE)
5. Luanda (Angola)
6. Abu Dhabi (UAE)
7. Lagos (Nigeria)
8. Austin (USA)
9. Doha (Qatar)
10. Hangzhou (China)