How To Make Money From Article Writing [Full Guide]
Do you want to know what are the different ways to earn money writing from anywhere in the world or without having to leave your home? In this article, we have selected the 5 most feasible options to make money writing. Take note because some of these may be your future full-time job. Let's go for it!
Article writing has existed from time immemorial, there is a need to get updated with the latest trends so as not to be left behind.
Every day there is always a reason to write and trust me you can make fortunes from this if you learn the proper way to write and market your profession to those who need your service.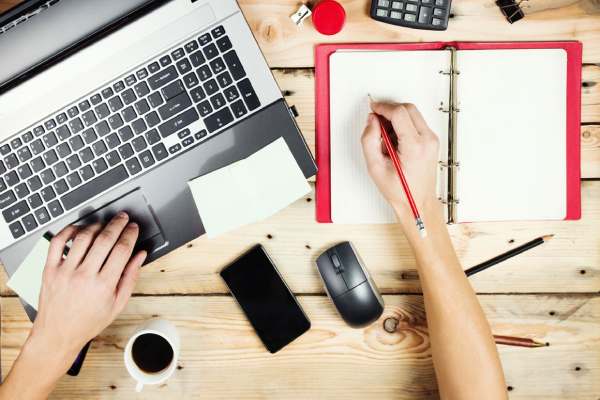 Write for blogs, magazines and newspapers
Publications that appear on blogs, magazines, and digital newspapers could be waiting to feed off your talent with letters. There are many outlets that will pay for your writing skills.
This way of making money writing is ideal for people who have training in the area of ​​communication or journalism, but it is not exclusive to "niche writers", that is, fans of a specific topic or specialized in a particular field, who have writing skills that allow them to work writing pieces for blogs, magazines or leading newspapers in their field.
You will have work options within digital media (the majority, obviously), but also traditional physical circulation media, which although they already fall into the area of ​​traditional and low-attention publishing, continue to generate opportunities to make money writing, especially, for specialized editors. Focus on looking for options on both sides.
Any company that is dedicated to communication needs writers, and it is very difficult to find them, therefore, it will be essential to make yourself known and show your talent.
Read Also: How to Create a Podcast and Make Money Today
Work as a content creator and copywriter for brands
As you know, jobs linked to the marketing area are currently experiencing their greatest boom, so it is very likely that you will not lack opportunities if you specialize as a freelance content creator or copywriter.
Brands top the number one spot if we talk about sectors hungry for content, so if you choose to write texts focused on the world of marketing, this option to make money writing surely fits you.
The main thing you should know is that this is an eclectic profession; Your copy and content can be aimed at very varied commercial sectors and be worked on in totally different formats, so you must constantly be reinforcing your writing skills based on each one: one day you could be writing valuable content for a brand's blog. and the next a script for the promotional video of a product.
When entering the marketing family, you must also exercise your fundamentals in the area and relate to new skills such as SEO/SEM-oriented writing, copy structure for social networks, appropriate writing strategies for promoted posts, etc…
The key factor is to train your power of persuasion through the appropriate use of words, in the end, your objective will always be: to convince, whether through valuable content or content focused directly on selling.
Do you like this way of making money writing? Here is a guide to working as a copywriter.
Create a niche blog and monetize it
Is your thing more about following your instinct and your passions instead of working all the time for someone else and having to deal with different clients?
If so, your solution to making money writing may be to create a niche blog and monetize it through different strategies.
In this case, the best strategy is to promote affiliate products on your blog and earn commissions on sales. To do this, it is essential that with your blog you are very clear about who your target audience is, frequently generate valuable content focused on your niche and position it with the relevant tools.
In addition, it will be important to reinforce it with other digital marketing strategies such as promotion on social networks and the creation of a personal brand. A blog does not survive on its own. Later, you can use your blog as a bridge to generate your own products and expand your income methods by offering some infoproduct.
Realistically, although it is a way to make money writing that is not going to happen overnight if you truly focus on working hard for it day after day, the outlook will begin to work in your favor, leading to large amounts of income.
The ideal is that at first you work on this option in parallel with other ways of making money writing that we propose in this list, at least until you can establish an economic return that is more in line with your needs.
Become a freelance e-book author
Although this option would have sounded a little crazy before, today it is more than feasible thanks to platforms like Amazon.
The e-commerce company that we all know has a special section for independent authors to self-publish their e-books for Kindle, iBooks, similar tools or even a physical version. Here we tell you step-by-step how to publish a book on Amazon.
The process is very easy: you write a book, you enter the link that we shared above, you take care of the basic design and convert it to the appropriate formats to be able to upload it to the Amazon bookstore, where the latter will charge a commission for each sale and the rest is yours.
The important thing is to really write books focused on potential market niches, accompany your sales strategy with promotional content and position your books with very well-defined keywords.
Work as a "ghostwriter"
In this world of possibilities to earn money writing, you will also have the opportunity to work as a "ghostwriter" or "ghostwriter" on a freelance basis.
A ghostwriter is a person who can earn money writing texts for third parties, mostly books, while at the same time giving up all the rights so that they receive official credit for authorship and publication.
This practice is very popular because various celebrities, famous people, businessmen and even renowned writers come to hire professional services from ghostwriters, so its greatest advantage is that if your work is of quality, you will be able to access much higher financial compensation. higher than in other ways of making money writing that we have mentioned.
Something you should keep in mind is that many times you will have to sign contracts that prohibit the disclosure of authorship, so you will have to be very careful when validating your experience to look for new opportunities. If you decide to make money writing as a ghostwriter, the best thing for you will be to reinforce your demonstrable experience through your own works that open doors for you in this sector.
It's time to choose your path to start making money writing
As you may have noticed, today there are a lot of options to make a living from writing. Many people try to make a living from writing but don't succeed because they don't focus on one of these options. Like everything, it is not a bed of roses, you will have its difficulties until you manage to start making money.
Read Also: How to Make Money With a Blog – The Definitive Guide
Choose an option that suits you, and that you like, and start working on it to start getting results now. Let's turn your dream into a reality, and make a living from writing .