The 10 Most Expensive Cars In The World 2022
We have highlighted the top 10 most expensive cars in the world this year. You can find exclusive and precious cars of various brands anywhere in the world. All these cars have been carefully designed with extreme dedication, worthily representing the house that made them. 
You can appreciate the power of its engines, the horsepower and other extraordinary aspects. For all these characteristics they are positioned within the list of the 10 most expensive cars in the world in 2022.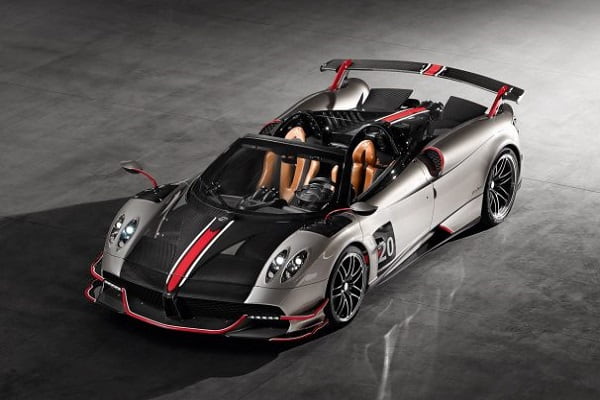 For those who have the money to spend on expensive and classy cars let us not take much of your time on introduction, withouth further ado below are the top most expensive cars in the world.
Top 10 Most Expensive Cars In The World
1. Rolls-Royce Boat Tail
Rolls Royce is known for its luxurious cars. The new Boat Tail looks spectacular, descended from the lovely Sweptail from 2017, its price was $12.8 million. Until now, the house has not published its price, however, rumors say it may be around $28 million. 
The exterior is two-tone, which is not seen in many cars, a high quality finish, its interior with an "accommodation suite", includes a parasol and champagne fridge.
2. Bugatti La Voiture Noire
Bugatti La Voiture Noire arrives with the quad-turbocharged 8L W16 engine. It develops 1,479 hp and 1,600 newton-meters of torque, and six exhaust tips. The new and stylish Buggati La Voiture Noire features radical wheels, the fascia is half-crafted, and the badge on the taillights is raised to where the brand can be read. 
Voiture Noire is a distinction to the trajectory of the proverbial Bugatti. With its sophisticated elegance. It 's fast, beautiful looking as well as luxurious, and with technology that is ultimately iconic . Its price is 18.7 million dollars.
3. Bugatti Centodieci
Centodieci is a strange car, it was exhibited by Bugatti during Pebble Beach car week. Centodieci builds on Bugatti's 110-year tradition with outstanding design and performance, as well as distinguishing itself from the recent brand. The house designed the vintage EB110 with the Centodieci – Italian for 110.
With high performance and design, motivated by the historical model, it challenges all extremes of creativity. The modern version of Centodieci with W16 engine, introduces the EB110. 
Only 10 units are manufactured and the 10 elegant and perfect limited edition cars are a true work of art. The price of this exclusive car is $9 million.
4. Mercedes Maybach Exelero
Mercedes-Benz Exelero is an exclusive car of its kind, one of the most expensive cars in the world today. Exelero was produced in 2004 by Fulda, a German Goodyear division, to test their new tires. Exelero comes with a V12 biturbo engine, develops 690 hp (510 kW) and 1020 Newton-meters (729 pound-feet) of torque.
Super sporty design painstakingly created to avoid aerodynamic stress. It offers great potential, weighing 2,660 kg (5,864 lb). It reaches a top speed of an  extraordinarily fast 351 km/g (218 mph). Get acceleration from 0 to 100 kilometers per hour (0 to 62 miles per hour) in 4.4 seconds. Exelero is priced at $8 million.
5. Bugatti Divo
Divo is one of the favorite cars of Bugatti brand fans. It's 77 pounds lighter compared to the Chiron, it comes with a carbon fiber intercooler, missing some sound dampeners. It generates 1,500 hp (1,119 kilowatts) the same as the Chiron. 
Divo has a different aerodynamic layout, being 8 seconds quicker around the Nardo test circuit. The house will play 40 units, each priced at $5.8 million.
6. Koenigsegg CCXR Trevita
Trevita is a Swedish acronym that translates into English "three whites". Koenigsegg's visible carbon-based bodywork is accredited for its elegance and finesse all over the world. The brand has created a unique coated fiber solution that turns the fibers from pitch black to a brilliant silvery white. 
Trevita radiates in sunlight as if it had fine diamonds embedded in its carbon fiber body. It comes equipped with a double carbon rear spoiler, inconell exhaust, carbon ceramic ABD brakes, airbags, gear lever, chronograph instrument panel, multimedia system, tire monitoring system and hydraulic lift system. This limited edition model brings a price of $4.8 million.
7. Lamborghini Veneno
The Lamborghini brand evokes the 50th anniversary of its creation with the Veneno , and the Veneno Roadster, apart from the exclusive roadster super sports car designs, which have crossed all extremes of racing in the world. 
During 2014 and 2015 Lamborghini built 14 Veneno based on the Aventador. Each priced at around $4.5 million based on spec, convertible and coupe versions. 
Lamborghini created a powerful version with a 6.5L V-12 engine from the Aventador, developing 740 hp (552 kilowatts) and 509 pound-feet (609 Newton-meters) of torque, reaching 96 kilometers per hour (60 miles), in as only 2.9 seconds. It is the most expensive Lamborghini ever made.
8. Bugatti Chiron Super Sport 300+
The Bugatti house with its Super Sport 300+ continues to attract attention, it is a road legal variant. This version is limited to a creation of only 30 pieces, it is an extraordinary version of the Chiron, with sliding bodywork and an eye-catching pinstripe theme. 
Bugatti has limited the top speed of each car to 277 mph. The body is aerodynamically designed for considerably high speeds. Performance and stability are optimized by the perfect combination of aerodynamic drag and minimal load. The super sports car is priced at $3.9 million.
9. Lamborghini Sian
Sian is a connection to the future of Lamborghini in many ways. It looks brutal, it is the first electric manufacturing option of this brand, although its creation is based on the Aventador SJV. Sian brings a 48-volt mild-hybrid system, in addition to SVJ's 6.6L V-12. With a power of 819 hp (611 kilowatts), being Lamborghini's most powerful car. 
Only 63 units will be built, as seen by the 63 decals on each side of the Sian's wing. His price will be for $3.6 million.
Read Also: Top 10 Best Eletric Cars In The World
10. Pagani Huayra Roadster BC
Huayra Roadster BC is a barbarian that makes 800 hp (597 kilowatts) and 774 pound-feet of torque. Remarkably, Pagani increased the roadster's horsepower by fifty percent over its coupe cousin. Featuring a 6.0L twin-turbocharged V-12 sourced from AMG. It is an excessively strange car, the engine produces a sound that satisfies the driver. The brand will only build 40 units, each priced at $3.5 million.