The 7 Best Makeup Brands In The World
If you like beauty and want to learn a little more about the most recommended and top best makeup brands to take care of your skin, this article is for you.
Some people consider makeup a fundamental part of the routine. It can be a great companion to look good and highlight the beautiful features of our face. Experimenting with shadows, colors and textures can be a good idea to take care of our image.
Finding beauty products that are kind to our skin can be hard work. Therefore, once we find the one that suits our needs, we usually take it as a reference. As with cream and hygiene products, the same happens with makeup. There are highly recommended brands in this field and others that we should avoid.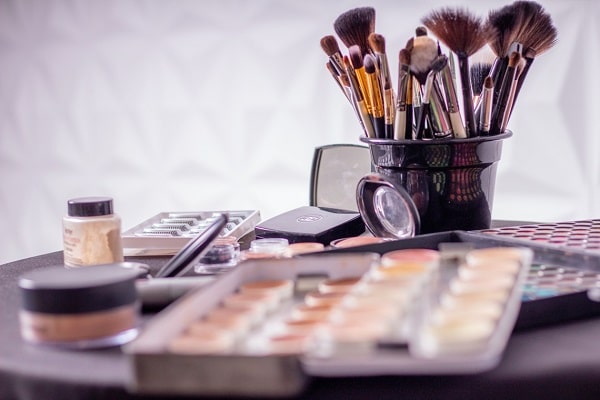 Choosing cheap makeup can be an attitude that has consequences. Certain cheap products are made with ingredients that are harmful to our skin and, in the long term, can bring us all kinds of problems. For this reason it is extremely important to investigate well before trying and look for good references to use those products that are not harmful to our body.
Having a trusted brand is extremely important, but as we know that finding it can be a complicated job, we present you the best makeup brands so you can find the one that best suits your needs. And don't forget that just like soaps and skin cleansers, good makeup can make a difference in the health and appearance of your skin.
Top 7 Best Makeup Brands In The World
1. Chanel
For many, Chanel is the most prestigious brand in the field of beauty. Its products are characterized by offering great quality and a glamorous style. It is the brand of choice for elegant people who want makeup to match sophisticated clothing.
Chanel is a French fashion house created in 1910 by Coco Chanel. It has specialized in the development of luxury items: clothing, accessories and perfumes. It is also a company that stands out as a makeup manufacturer for demanding people.
Chanel beauty products tend to be somewhat expensive; however, those who love the sophisticated have no qualms about the price, because the products offer excellent value for money.
Chanel has a large collection of cosmetics, both for personal hygiene and for beautification. Foundations, lipsticks, other makeup items and perfumes are surely its most outstanding products.
2. Lancóme
Some brands dedicated to beauty offer a great relationship between science and beauty, concerned with innovating in products that help care for the skin and, at the same time, collaborate with its appearance. This is the case with Lancóme, which for many is one of the most important firms when it comes to makeup products.
The brand was created in 1935 by French businessmen Armand Petitjean and Guillaume d'Ornano. Lancóme is a name that derives from the Lancome forest, whose beauty they have tried to reflect in their products. The company's symbol, the golden rose, is inspired by the beautiful rose bushes that grow in this forest.
Since its foundation, Lancóme has served as a house of luxury products, both for the care and health of the skin and for its beautification. Facial creams, lipsticks, makeup base, eye shadows and perfumes are some of its star products.
3. L'Oréal
When it comes to famous brands, L'Oréal cannot be left out, it is one of the most popular French firms in the world. Thanks to their sophisticated products and their excellent quality, they have managed to become the name day of France.
L'Oréal was created in 1909 by a chemical engineer, Eugène Schueller, as a company dedicated to the development of cosmetic and beauty products. Little by little it has grown to become what it is today: the largest cosmetic company in the world.
L'Oréal products are characterized by their wide field diversity. We find both body care creams and perfumes, hair items and makeup. In addition, it is one of the companies that has best known how to innovate in the development of anti-allergenic products, thanks to its dermatological research department that works side by side with health sciences. 
It is worth mentioning that it is the firm that holds the most patents in the United States in the field of nanotechnology.
4. Revlon
The United States is another country that has important firms in the field of cosmetics. Without going any further, Revlon is one of the most prominent in the world.
It is a company that has managed to carve out a place for itself in the market thanks to its extensive fields of research and its ability to offer innovative products.
Revlon was created in 1932 by brothers Joseph and Charles Revson and Charles Lachman. Since then it has managed to become a reference brand in the cosmetic field.
Revlon's main objectives are to offer products that respect certain glamor and innovation requirements and that, when used, provide people with safety and well-being. When it comes to their makeup products, we find all kinds. 
One of the reasons why many people choose this brand is that, although it offers sophisticated products, it does not go overboard on prices. We can find both high-end and mid-range products, without the quality varying considerably between them.
5. Clinique
Clinique is another American cosmetic company. It emerged as a branch of the Estée Lauder Companies brand, an important multinational in this field.
It was founded in 1968 by Estée Lauder and Carol Phillips and since then it has worked on the development of products for facial care, skin in general, and makeup. They also have an important weight in the manufacture of perfumes and fragrances.
You have surely heard of Black Honey lipstick; For many, it is the best created in the history of cosmetics, thanks to the excellent results it offers, highlighting the natural color of the lips and protecting them from inclement weather. This bar is one of Clinique's star products.
In addition, the firm works hard to offer products to improve skin that has suffered extreme situations, such as acne, recurring allergies and psoriasis. Without a doubt, it is one of the great firms to trust if we have a delicate face.
6. Shiseido
Japan is one of the indisputable examples of innovation and development. From this country comes the unquestionable firm Shiseido, in which many people trust the health of their skin.
One of the characteristics of this brand is that it usually shares the results of its research with others, being one of the brands that has contributed the most to the world's knowledge of skin and beauty.
Shiseido was created in Tokyo by Arinobu Fukuhara in 1872. What began as a Western-style pharmacy in the Japanese heartland gradually became one of the most important brands when it comes to the development of skin care and beautification products. of the skin.
They offer high-end makeup products backed by research that reports the enormous responsibility and commitment that the firm feels towards its clientele.
7. Dior
If you are looking for luxury makeup par excellence, this is undoubtedly your brand. Dior is one of the companies that has best known how to do and take care of its reputation in the world of cosmetics.
Although originally it was a clothing company, little by little it has been expanding until reaching great importance in various ranges of the world of personal care. Their products feature in major movie scenes and are considered highly glamorous and desirable.
The brand was created by Christian Dior in 1947 and currently develops clothing, accessories, lingerie, shoes, personal hygiene products and makeup.
Dior products are known throughout the world for their sophisticated looks and durability. If it's Dior, we know we can trust it. Among its most prominent items is the Dior Addict lipstick, one of the most famous and best-selling in the world.
Read Also: 10 African Countries With Most Beautiful Women In Africa [+Pictures]
Here comes the conclusion of this list, aside from the listed there are other top brands that need to be mentioned like Urban Decay, Bobbi Brown, MAC, Nars and many others.