Types Of Mirrors: Quick Guide To Buy Without Doubt
Undecided on what types of mirrors to buy? Don't worry! It is a very common question, taking into account the different styles of mirrors, colors, sizes, etc. In today's post, we have prepared a quick guide on the types of mirrors for you to choose the right model.
The traditional use of mirrors is still indispensable for all of us, that's a fact! But how about using them to decorate the environment and give it a different look?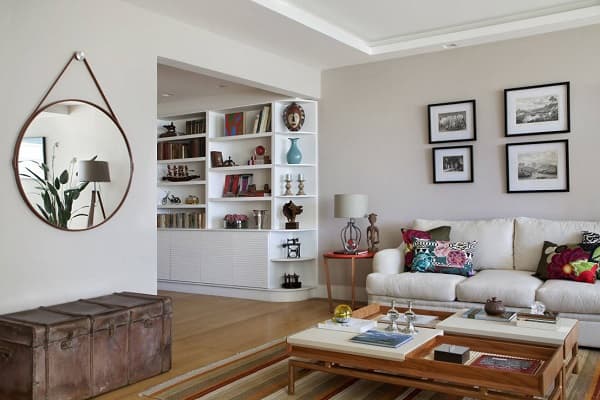 I'm sure the decoration with mirrors will make your home even more beautiful and elegant!
1) Types of Mirrors
Currently, there are several types of decorative mirrors present on the market and it is a great subject when this is an interior designer.
It is a resource widely used when necessary to fill a wall, hide a defect, reflect the decoration of the space, give amplitude to the environment and even increase the luminosity.
Therefore, we will present the most used and most sought-after mirrors on the market for you to choose yours.
One of the most common models is the classic model or also called rectangular. The rectangular/square model guarantees several frames around the mirror, changing the look of the accessory an matching the decor of the environment.
If the mirror frame is horizontal, we recommend that it be placed on top of a piece of furniture of the same size, or that the mirror is never bigger.
Using smaller classic vertical or horizontal mirrors is also a great idea to leave the environment differentiated. The frameless models (the finish made with the glass itself) guarantee a more modern style to the decoration.
And it still eliminates the worry of the combination with the furniture.
The Venetian decorative mirror comes from Venice, until the mid-17th century, this piece was only produced by Venetian artisans and had a very high cost.
These mirrors come from the royal era and of course, they couldn't help but be elegant. The Venetian mirror gains frames made of glass and, in turn, are rich in details, and this is yours differential. Despite coming from an ancient technique, it is still a classic mirror.
Even though it is a classic accessory, it does not prevent it from being used in more modern environments. It's even a mix that makes the environment even more sophisticated for your home.
One of the most used types of mirrors is the round mirror or it can also be called an oval mirror. It is more modern than the classic (rectangular) mirror, but it is still traditional.
The interesting thing about this decorative mirror is that it can be used in many ways. The first one is just to reflect part of the environment. But it needs to be of considerable size to get the expected result.
The second is to make a composition of larger and smaller mirrors (various sizes) to decorate a wall empty, for example.
Finally, in order not to leave the environment too heavy, since the mirror seems to be bigger than it is, the mirror must be smaller or compatible with the space in which it will be installed.
As the name implies, this mirror is typical of those vintage dressing tables with lights around them. Despite being quite common in the artistic world, the dressing room mirror has invaded homes and left the even more elegant environment.
This decorative mirror is an item used in spaces that need great lighting. For example, when used to make makeup and also for dressing table as it was used in the past.
2) Decorative Mirrors
Decorating with mirrors together or partitioned is an alternative to add information to the environment as well as lightness. If you have a big room, you can use this style.
Decorative mirrors with frames should be in harmony with the rest of the environment and should not be used in very small environments, if the mirror is large.
With something so robust, it is necessary to know how to dose when choosing other decorative items, so as not to overload the environment.
In smaller spaces, for example, apartments you can use larger mirrors as long as you don't get too much information in the environment. It is recommended to use smaller mirrors, because you can use and abuse your creativity to leave the environment still differentiated.
Another factor in selecting the ideal mirror type is colors. Colors are an important part when we want to buy a mirror and we must take into account the decoration of your home environment, as mirrors should act as a complement to the decor.
And of course, when choosing colors, it is also important to keep in mind the types of finishes that we will talk about in the next topic. But first, let's get to the colors, ok?!
Smoked 
The smoked mirror has little reflective power, and its use in washrooms or closets is not recommended. By having shades of gray and black, it makes any environment darker, however, very sophisticated. In addition, smoke is great for "breaking" excessive light in a certain place.
Bronze
The bronze mirror is more focused on earth tones, but it guarantees elegance and the transformation of any environment. Because it is less reflective than smoked, this model is ideal for brightening the environment.
In addition, bronze mirror is more resistant to scratches and shows them with less intensity.
As well as choosing colors, finishing is also critical for any type of mirror. Thinking In this, we will talk about the main finishes on the market. See below:
Beveled
A beveled finish is one with edges cut at some angle so that it is framed around it. It is recommended to use this type of mirror in environments with a more vintage look, that is, more classic.
The bevel can be used in the most diverse rooms of your house and with different purposes, including, as a decorative item. Because due to its delicate frame, the mirror shows lightness and softness to the environment.
It's a good idea, even for those who want to leave the environment with a less heavy air or highlight some part of the house.
Faceted
The cut mirror is ideal for covering walls in environments where a good definition of the reflected image is essential. This type of finish is very resistant and has high durability. For this reason, it is usually installed in places with higher humidity such as bathrooms, saunas, etc.
Junction
A trend of decorative mirrors is the junction of several mirrors which is considered a type of finish too. This type of finish (grouping of mirrors) can cover walls in the most different environments of your home your office or for anything you want mounted mirrors.
It is a great option for those who are more creative and want a differentiated space without losing their personality.
3) Most used types of mirrors
Despite the wide variety of mirrors found on the market, consumers still do not look for just for the beauty and sophistication, they expect the materials to be quality and affordable for their pocket.
That's why we thought of highlighting the most used mirrors in houses and apartments. The first one is the classic rectangular one, mainly the vertical ones, since they take the whole body, which is ideal for those who want a mirror for their traditional use.
But the horizontal rectangular model is also widely used, especially to highlight some object or fill some wall.
Another type of mirror that is very popular is the round (oval) mirror, although it is more modern and even a little more expensive than rectangular, but still affordable for consumers who don't want to spend too much.
It is a model that can be used for various purposes as a decoration item, for its natural and clear use, those portables that we can carry wherever we go.
Environments to apply mirrors
Living room
Mirrors in the living room is one of the best environments to apply this feature, since you can abuse the creativity. Both larger and smaller mirrors can help make the environment even more beautiful.
But of course, it depends on what goal you want to achieve be it enlargement, just for decoration, etc.
Bedroom
The use of mirrors in bedrooms is quite common for their traditional function. But nowadays it is synonymous with creativity and style when decorating the environment. So, how about starting to invest in mirrors in your bedroom? as part of the decor?
As already mentioned, there are several styles (some even customized) to make your face!
WC
Mirrors are very common in rooms such as bathrooms, especially in bathrooms. And of course, a mirror that matches the bathroom composition can make the environment even more interesting.
4) Tips for installing Mirrors
Mirror to enlarge spaces: the mirror is able to leave the feeling of amplitude in the decorated environment, representing an interesting tip for small rooms that seek greater visibility inside the house.
For the trick to work, it is necessary to find the ideal position for the mirror, it must be installed on a neutral wall and not directly in front of the entrance door. Magnification is a trick that mostly works in the living room.
Mirror with or without frame:   mirror with frame is usually used more often in a classic or a little more vintage decor, leaving the environment sophisticated.
On the other hand, the mirror with just the glass can be installed on the wall in different compositions. This makes the space much more interesting and clear, original.
Be careful with the position: not every place is compatible to place a mirror and some bets can interfere with the privacy of the room.
For example: when it is improperly positioned in a room facing a window, the sun's rays can reflect off the mirror and result in something disastrous.
Creativity with a mirror: To get away from the basics, it is worth betting on smaller round or Venetian mirrors and making a charming composition in the living room, for example. But it is important that there is balance between the pieces, so be careful not to overload the decoration!
Another interesting tip is instead of drilling holes in the wall to hang the mirror, you can simply lean it and with that, you will change the atmosphere of the environment, leaving it differentiated.
5) What is the best mirror?
As you can see, there are different types of mirrors and even decorative mirrors that go beyond their traditional functions. However, each of them can offer a different purpose for your home.
It is worth mentioning that it is important to keep in mind the pretension you want to have when installing a mirror so that there is no different result than expected.
Read Also: The 7 Best Makeup Brands In The World
In addition, we recommend that you consult an interior designer for further clarification.