The 5 Best Universities in Canada for Foreigners 2023
What are the best universities in Canada for foreigners? If you planning to take a course or do your degree abroad studying in Canada could be an excellent option.
Canada is an academic paradise worldwide. The enormous social diversity in universities means that student life is nourished by cultures from all over the world.
Canada has the best university options for foreign students and a fairly friendly immigration system. If you still think that studying abroad is a pipe dream, this article will change your mind.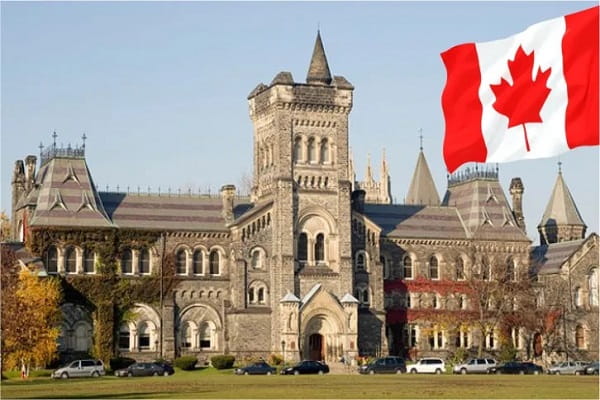 Here we will tell you which universities in Canada that have been best positioned this year due to the advantages they offer to international students.
What Do I Need To Study In Canada?
Do not doubt the possibility of studying in Canada. From 2019 to date, each year more than 400,000 permits are granted to international students, and you could be one of them.
But it is important to know some basic immigration requirements. These may vary depending on the study program and the university you choose.
Canadian eTA: electronic Travel Authorization is required to process a study permit. It is a requirement that Canada requests from 45 countries to travel by air, including several countries such as Mexico, Argentina, Chile, Brazil, Colombia and some African countries.
Passport: essential requirement for those who want to travel abroad. The process can take a few hours or a couple of days depending on your country of origin.
Visa: you can process it by presenting your acceptance letter from the university of your choice.
Read Also: Top 10 Best Engineering Colleges in Canada
Once the immigration requirements have been met, you must pay special attention to the academic recommendations:
Know all the admission requirements: the educational offer in Canada is immense. It offers intensive English and career programs, postgraduate, diploma and even master's degrees. It is essential to know your requirements in detail.
Pay attention to the admission periods: the process can take between 2 weeks and up to 2 months in the case of majors. Some English courses have simpler processes, it is enough to request your right of admission, make the payment and process your acceptance letter.
Consider the academic demand: there are cities with high demand such as Vancouver and Toronto, so you should consider the difficulty of being admitted before applying.
Speaking English: a fundamental requirement to study in Canada
Like any English-speaking country, Canada requires its foreign students to have an acceptable command of the language. The level will depend on the university and the type of course or career you want to take.
Most universities require a minimum of good performance in the English language. On a scale from 0 to 9, universities require a level of English between 7 and 9.
Level 7 (Good Performance): You have a functional command of the language, with some occasional inaccuracies and misunderstandings in some situations, although you are generally good in the language and understand complex reasoning.
Level 8 (Very good performance): you have some inaccuracies that are not occasional and can misunderstand complex conversations. However, you can argue in detail.
Level 9 (Expert): your command of the language is complete. You speak appropriate, precise and fluent English, with a degree of complex comprehension.
Top 5 Best Universities In Canada For Foreigners
The following Canadian universities were selected based on several criteria, but the most important is that they have flexible and friendly systems for receiving international students.
They also stand out for their large number of international students, their academic quality, research areas, as well as the exchange and support relations they establish with other foreign universities and organizations.
1. University of British Columbia (UBC), Vancouver
It is among the top 3 best universities in Canada according to the Shanghai International Ranking, (the other two are the University of Toronto and McGill University in Montreal), as well as being among the 20 most important in the world.
It has more than 65 thousand students, of which 16 thousand are international and come from more than 150 countries. This is very encouraging data, since close to 25% of its student population is international.
Its main campus is at West Point Grey, half an hour from Vancouver, British Columbia. It also has three smaller campuses within Vancouver.
It stands out in Engineering, Technology, Economics, Business. As well as Mathematics, Chemistry and Physics.
2. University of Manitoba, Winnipeg
This old University founded in 1877 receives more than 30 thousand students each year. Nearly 6 thousand are international students who come from more than 100 countries.
It has two campuses in the city of Winnipeg: the Fort Gary campus, and the Bannatyne Campus, in the center of the city.
Its research centers such as the SmartPark Research and the Technology Park stand out, which together form a scientific community of experts and innovators who work closely with the industrial sector.
Another advantage is the low number of students per teacher, which improves the level of attention and academic performance.
Economic advantages: Manitoba's tuition cost is the third lowest in Canada. But if you still require extra income, it also offers attractive plans to carry out practical and research work, which includes cooperative and paid work!
3. Victoria University, British Columbia
Founded in 1963 in Victoria, the capital of British Columbia, it is among the best economics and law schools.
Of its 22,000 students on average, 4,000 come from 115 countries, so it also has enormous multicultural wealth.
Its research work and collaboration with international universities stand out: the Peter B. Gustavson School of Business School of Economics has a close relationship with more than 40 universities and business schools around the world.
He has an impressive level of mobility around campus and the city in general. The University is interconnected with the center of the capital through a successful design of routes where buses and bike paths are the priority.
Its areas of study are also very diverse: Computer Science, Engineering and Mathematics, as well as a language center dedicated exclusively to more than 17 languages.
4. University of Calgary
The University of Calgary is practically a small ecosystem that concentrates hundreds of cultures on its campuses, where it is normal to connect with a different culture in each corridor, it is also one of the best universities in Canada for foreigners. 
Founded in 1966, Calgary is home to 30,000 students, of whom 6,800 are international students from more than 152 countries.
With 14 colleges and more than 85 research institutes and centers, Calgary is renowned for its high level of scientific patronage. Since its foundation, it has invested more than 360 million dollars in various areas, concentrating mainly on engineering and geology, which is why it has a very close relationship with companies in the oil sector.
5. Simon Fraser University (SFU), British Columbia
It is another of the most prestigious public and research universities in British Columbia. It has three campuses in Burnaby (the main campus), Surrey, and Vancouver.
Of an enrollment of 30,000 students, 6,000 are international.
SFU has close relationships with other universities to operate such important research facilities as TRIUMF, Canada's largest center for nuclear physics and particle acceleration, home to the world's largest cyclotron.
But it not only excels in the physical sciences, it also has a strong involvement in sports: it is a member university of the National Collegiate Athletic Association, the largest collegiate sports association on the planet.
Read Also: The 15 Best Universities In The World
Do not miss the opportunity to study abroad and live a unique experience. Remember that an essential requirement is to master the English language and have a valid certification worldwide.